If you are looking for some fun and festive ways to celebrate the holiday season as a family, I've got 50+ Christmas advent calendar activity ideas to share with you!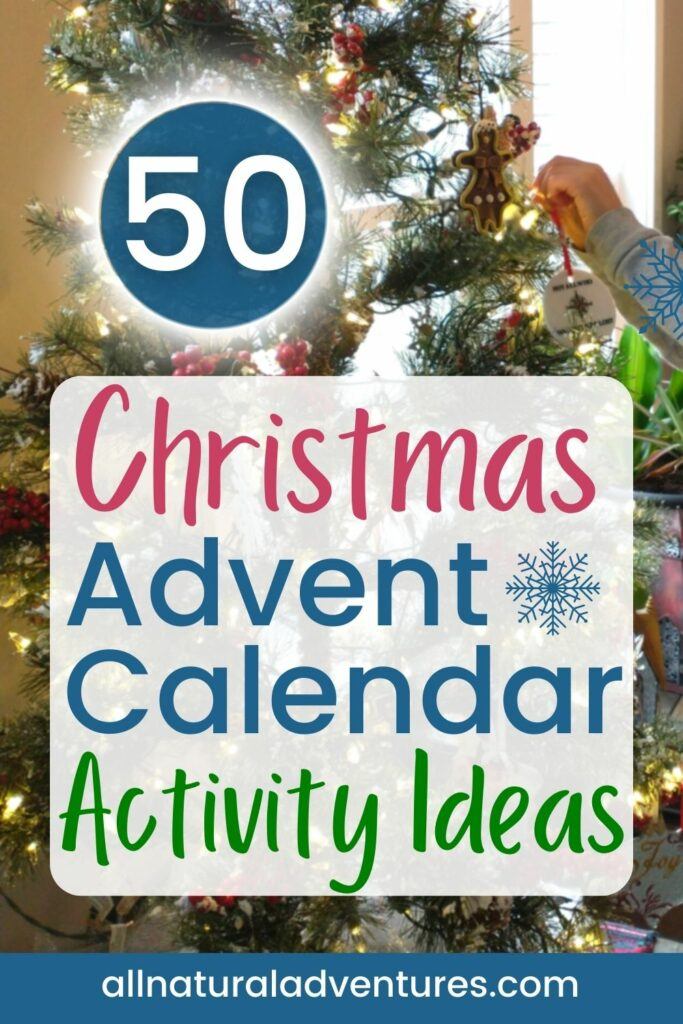 This post contains direct affiliate links. If you make a purchase through these links, I may receive a small commission at no additional cost to you.
Getting Started with an Activity Based Advent Calendar
In the hustle and bustle of the holiday season, taking time to spend quality family time together is so important. One creative way to do that is through a Christmas advent calendar.
Here's a few ways you can set up your activity-based advent calendar (which can all be saved and reused again next year!):
Popsicle sticks: Write activities on popsicle sticks and pull from a jar. 
Envelope system: Craft your own system with mini recycled envelopes, twine & wooden clothespins. Place printed activity ideas inside each envelope.  
Wooden or felt advent calendar: Invest in a nice wooden advent calendar or a felt advent calendar to hold your printed paper slips.
Now, let's get to those holly, jolly Christmas advent activity ideas!
50+ Christmas Advent Calendar Activity Ideas
Outdoor Winter Activities
While you may or may not have snow in December, bundle up and make some family memories in the great outdoors!
Take a winter hike
Go sledding
Have a winter campfire
Build a snowman
Go skiing
Go ice skating
Spend the evening stargazing
Go on a gratitude nature scavenger hunt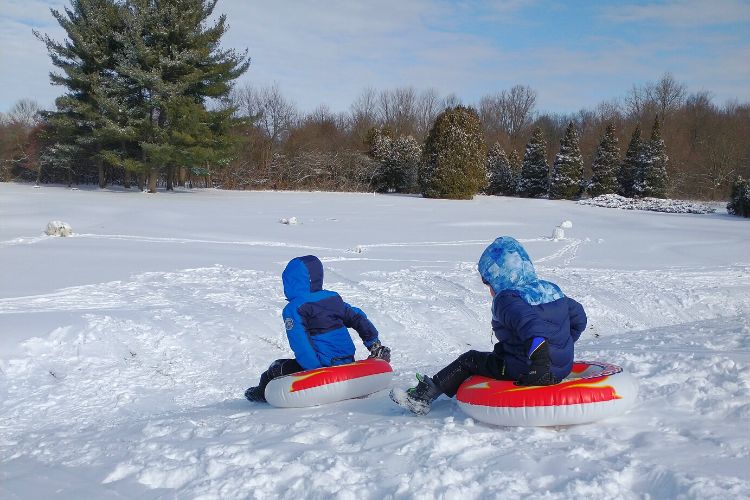 Christmas Crafts
Family Togetherness
Watch a holiday movie
Have a family game night
Sing Christmas carols
Drive around to look at holiday lights
Go to a family Christmas party
Have a holiday music dance party
Read holiday stories
Wear pajamas all day
Decorate the Christmas tree
Call a family member & wish them a Merry Christmas
Take a family photo
Have a family subscription box night (order ahead of time!)
Look through family photos of previous holidays
Put up Christmas lights
Read the Nativity story
Put together a holiday puzzle
Choose your own adventure (put each child's name on a separate slip and they can choose the fun activity for the day)
Local Traditions & Activities
Attend a Christmas parade
Visit Santa
See a local Christmas play
Attend a Christmas concert
Visit a reindeer farm
Attend a local tree lighting ceremony
Ride a Santa train
Go to the library & check out holiday books
Food & Drink Traditions
Make hot cocoa
Bake Christmas cookies
Build a gingerbread house
Eat peppermint ice cream
Make a Christmas tree veggie tray
Bake homemade bread
Have breakfast for dinner
Dine in an outdoor igloo
Make cinnamon covered almonds
Giving Traditions
Donate to a food pantry
Donate gently used toys & clothes
Give Christmas cookies to neighbors
Donate to a favorite charity
Send Christmas cards (Paper Culture has some beautiful & sustainable cards!)
Clean up a local park
Buy new gifts to donate to a family in need
Christmas Advent Calendar Activity Ideas – Free Printables
3 Tips for a Low Stress Approach to an Activity Advent Calendar
Make it easy on yourself! If you have specific plans already (like a family Christmas party or a school holiday concert) – use those as your advent calendar activity that day.
Shorten your advent calendar to the 12 days of Christmas if planning activities for 24 days seems overwhelming.
Mix it up between activities and other simple advent calendar fillers like mini treats. 
Related: Eco-Friendly Stocking Stuffers for Kids Under $15
Enjoy a Fun & Festive Holiday Together
I hope this list of Christmas advent activity ideas leaves you inspired and ready to carve out some quality family time during this busy holiday season. 
If you have additional ideas you would like to share, I'd love to hear from you in the comments below!