Looking for a gift for a mom who loves the great outdoors? I've got tons of brilliant ideas for gifts for outdoorsy moms and all the adventurous women in your life.  Including outdoor adventure gear, practical travel supplies & more!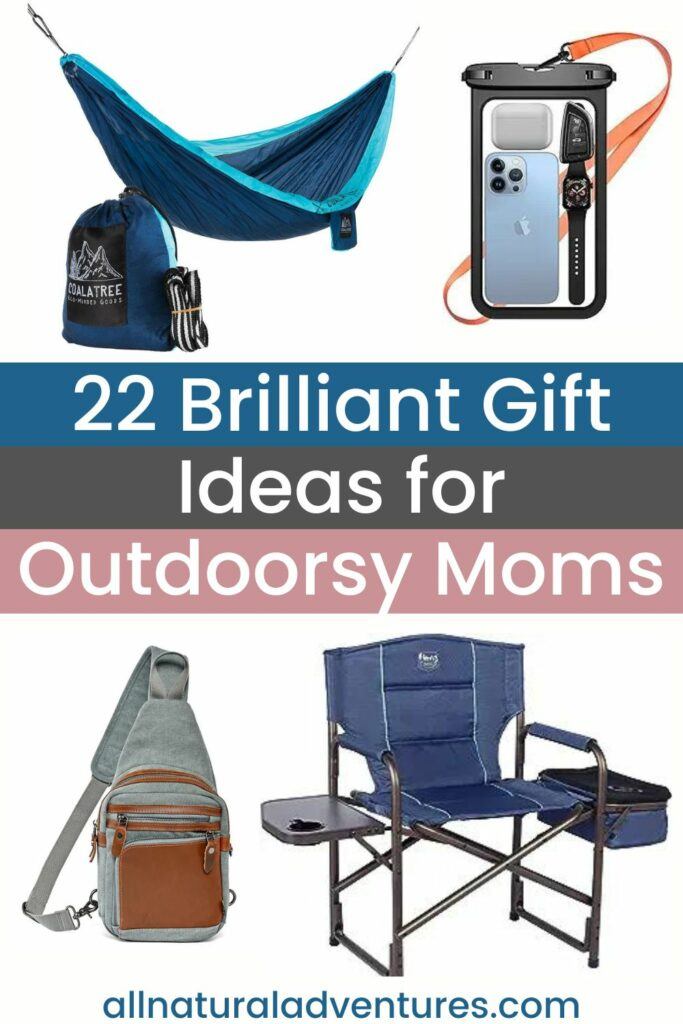 For your convenience I have included direct affiliate links for my favorite gifts for outdoorsy moms. If you make a purchase through one of these links, I may receive a small commission at no additional cost to you.
Outdoor Adventure Gear Gifts for Outdoorsy Moms
Double Hammock (from CoalaTree Eco-Minded Goods)  
Super portable yet big enough to share, a double hammock makes every adventure better. Add on the hammock straps for extra length, sturdiness and easy set up. 
I love snuggling with my kiddos in this roomy hammock in the backyard and out on our adventures!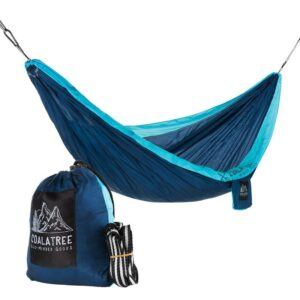 Quick Dry Beach Towel (from Etsy)
Stylish and practical, these quick drying Organic Turkish towels are perfect for a day at the beach or a camping trip. 
I've used these exact towels for years and they've held up really well!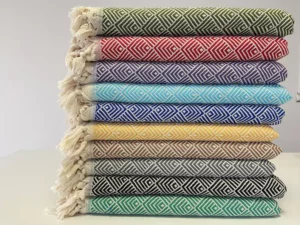 Portable Director's Chair (from Amazon)
These flat-bottomed director's style chairs are a game changer for portable comfort. Plus, the attached side table and mini cooler come in handy for easy outdoor dining.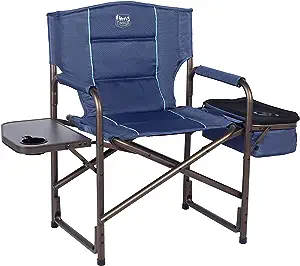 Outdoor Apparel & Accessories Gifts
Respect Your Mother Tee (from Etsy)
An adorable and ethically-made top with an important message – on more than one level.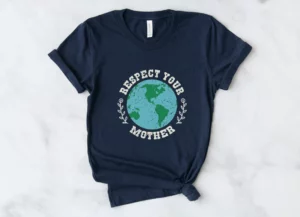 Women's Guide Pro Pants (from Eddie Bauer)
These guide pro pants are my favorite for outdoor adventures. The regular style is light enough to wear in the summer and the Guide Pro Lined Pants are extra cozy in the colder months.
(My husband lives in the lined Men's Guide Pro Lined Pants all winter long too.) 
Silicone Wedding Ring (from Etsy)
Travel and exercise without worrying about losing precious jewelry with a silicone wedding ring. These colorful bark pattern rings or striking mountain pattern rings are lovely options for outdoorsy moms.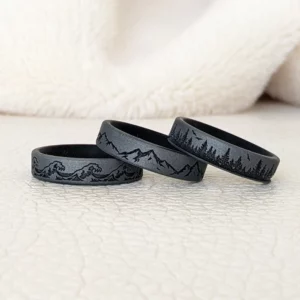 Recycled Hiking Socks (from CoalaTree Eco-Minded Goods)
Made from a blend of cotton, recycled water bottles, and recycled coffee grounds, these hiking socks are so comfortable on the trail or for everyday use.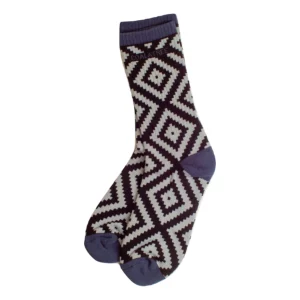 Neck Gaiter (from Etsy)
A versatile accessory for every adventurous woman – perfecting for protecting the face, neck, and hair from the elements in style.
Crossbody Bag (from Etsy)
With understated style, this handmade sling bag has plenty of pockets for storage and is sturdy enough for any outdoor adventure.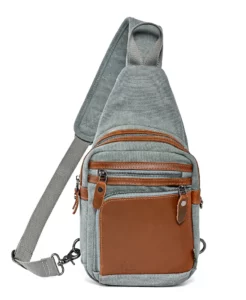 Vinyl Decals (from Etsy)
Great for spreading positive messages, these vinyl decals come in multiple sizes to fit on water bottles, laptops or car windows.
Food & Beverage Travel Gear for Outdoorsy Moms
11. YETI Travel Mug (from Amazon)
Made of sturdy stainless-steel, this insulated and leak-proof mug is perfect for travel. Dishwasher safe and it comes in a whole rainbow of color options too.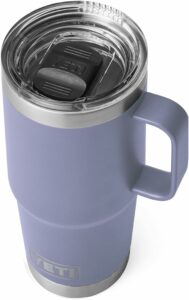 12. Stainless Steel Travel Lunchbox (from EarthHero)
Helpful for packing healthy lunches during the workweek or for a special outdoorsy trip.
13. Campfire Hygge Box Coffee Gift Set (from Etsy)
A cozy gift box filled with campfire coffee, a stainless steel campfire mug, rustic knit socks, and hand-crafted salted caramels.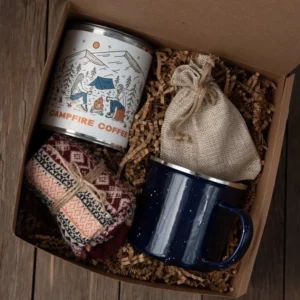 Practical Travel Toiletries & Gear
14. Waterproof Phone Pouch (from Amazon)
Large enough to protect a phone & other necessities at the beach or on any water adventures. I've used this exact pouch for multiple trips and haven't had any issues with water.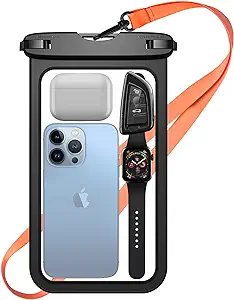 15. GoGirl Female Urination Device (from Amazon)
Made from medical grade silicon, this device comes in handy for rustic hiking and camping.
16. Portable Hand Wash System (from Amazon)
The Suds2Go stainless steel water bottle has an attachment for foaming soap, so you can easily wash and rinse your hands on the go. So helpful for keeping clean during all those outdoor adventures – especially with younger kids in tow!
17. Refillable Travel Sized Shampoo & Conditioner (from EarthHero)
Sustainable hair care in a convenient travel size. This rosemary mint vanilla scent is my favorite – so invigorating!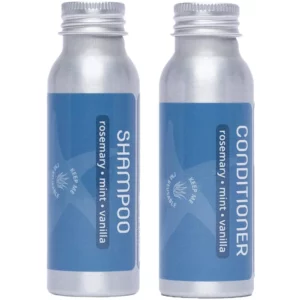 Travel Memory Gifts for Outdoorsy Moms
18. Travel Journal (from Etsy) 
The perfect way to remember all the best details from each new travel destination – big or small.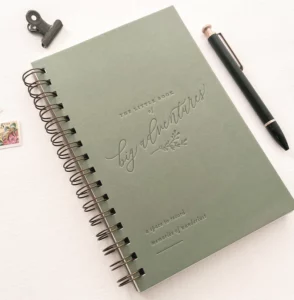 19. Wooden National Parks Travel Map (from Etsy) 
A decorative way to track (and display) all the national parks she's visited.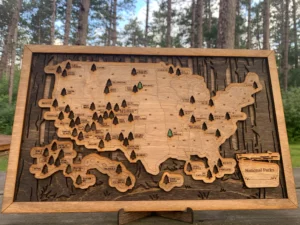 Experience & Non-Physical Gifts for Outdoorsy Moms
20. Annual pass to a local or national park system.
An experience gift she can use again and again all throughout the year.
21. Donation to an environmental charity.
Especially for the mom who says she doesn't need anything, a donation in her name to an environmental charity can make a great gift. Consider donating to effective organizations that protect nature like The Nature Conservancy or the Rainforest Alliance.
22. A gift of carbon neutrality.
Make a one-time gift or a monthly subscription through an organization like Wren that takes on climate projects to offset carbon emissions.
For even more stellar gift ideas for all the outdoorsy moms and special women in your life, check out Etsy's Gifts for Her Guide.
More Gift Guides for Adventurous Moms & Families: