Subscription boxes are an awesome option for an experienced based family gift! With so many subscription box options out there though, it can be hard to narrow in on the best choice for your family.
If your family loves to adventure together, I've got you covered. In this blog post, I'm sharing the best subscription boxes for adventure seeking families including mystery boxes, educational boxes, and outdoor boxes.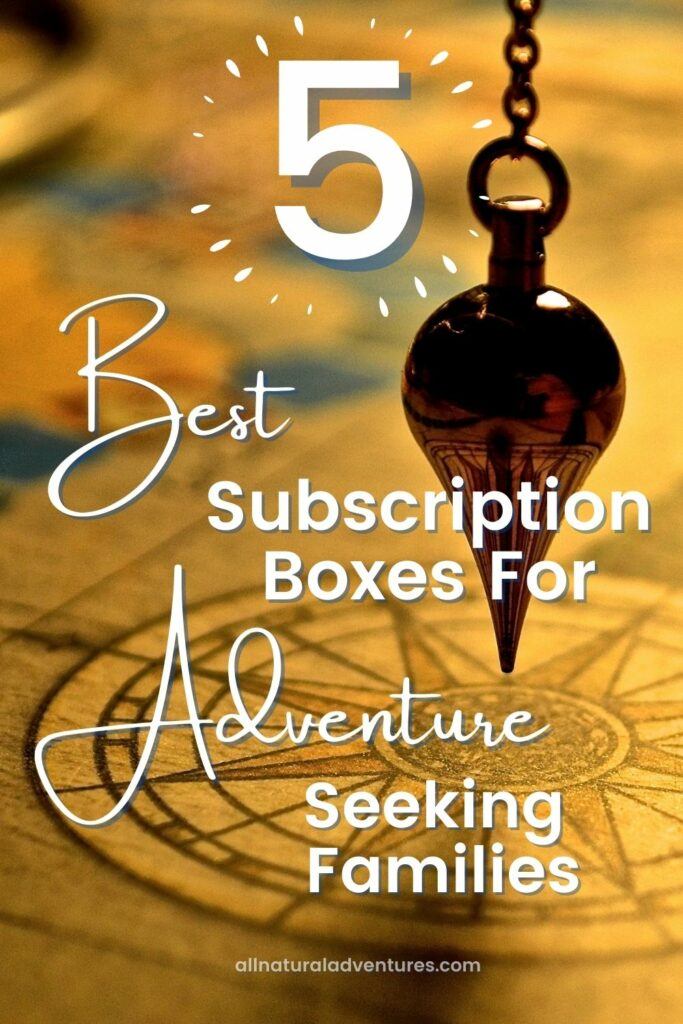 Why give a subscription box?
There are lots of great reasons why subscription boxes have gotten so popular lately! Here's just a few of the benefits…
It's a unique experience gift that creates fun family memories.
You can continue to enjoy the gift even after the holidays with monthly subscriptions.
It's the perfect option for sending to out of town friends and family.
My favorite subscription box resource…
Also, can I share a secret with you? My favorite resource for subscription boxes is Cratejoy. It's a subscription box marketplace where you can find tons of different boxes for everyone on your list. Plus, if you are purchasing multiple boxes (for yourself or others), it is so convenient to manage them all on one site.
5 Best Subscription Boxes For Adventure Seeking Families
Whether you are shopping for your own family or gifting to another family, these are my top suggestions for subscription boxes that help create fun family experiences.
If you enjoy a mystery adventure…
Ages: 10+
Description: The closest thing to going to an actual escape room, but one you can enjoy from home! Escape the Crate is designed for small groups of 2-6 and can take a couple of hours to complete all the puzzles. Connect to the Escape the Crate website for the audio/visual storytelling component and as well as extra hints. I've done several Escape the Crate boxes with groups of 4-6 adults and would highly recommend this one!
Ages: 10+
Description: Solve mysteries and explore a new city and culture each month! Perfect for families who love solving puzzles and travelling. Each box takes about 2-4 hours to complete. Enjoy this fun combination of learning about new cultures and solving mysteries!
If you enjoy an educational adventure around the world…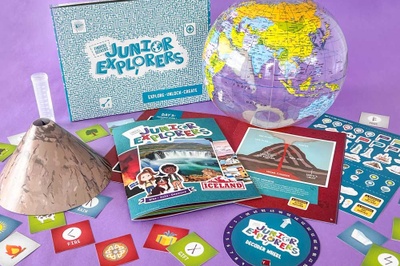 Ages: 5-10+
Description: Explore the world while solving puzzles, discovering natural wonders, and making works of art! Featuring a different country each month, each box provides hours of S.T.E.A,M. (Science, Technology, Engineering, Art, and Marth) activities. Plus, mystery solving puzzles! A very well-rounded subscription box.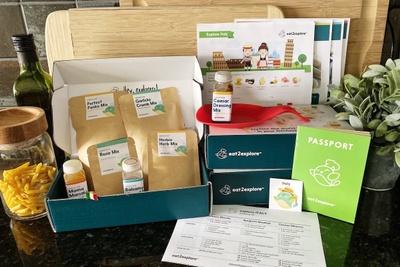 Ages: All ages
Description: Explore the world from your kitchen! Each box features a new country and contains 3 new recipes, spices and sauces, shopping list for fresh ingredients, educational materials and a fun cooking tool. Curated by culinary chefs and educators, eat2explore is an amazing way to learn about different cultures through food!
If you enjoy an outdoor adventure…
5. Think Outside Boxes
Think Outside Boxes Jr (Ages 4-7)
Description: Perfect for curious kiddos who love exploring nature! Designed by parents and teachers, the junior box encourages kids to get outside and complete hands-on challenges. Each box contains toys or gear, flashcards, and educational activities to explore the great outdoors. Free shipping in the US too!
Description: In addition to promoting outdoor exploration, the regular Think Outside Box also teaches outdoor survival skills. Each monthly box has a new theme like outdoor shelters and night-time discovery and includes high quality outdoor gear. It's a great way to learn important life skills and to create family adventures with older kids. Free shipping in the US on this one too!
Read my full review: 3 Reasons Your Kids Will Love Think Outside Subscription Boxes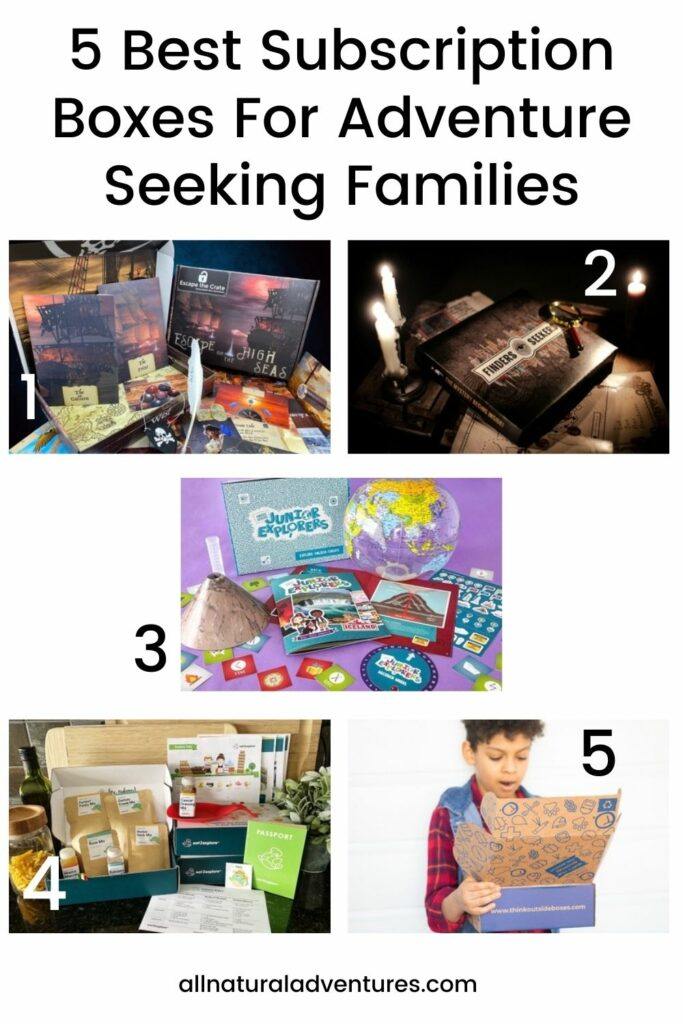 For your convenience, I've included affiliate links for specific subscription boxes. If you make a purchase through one of these links, you rock! At no cost to you, I may receive a small commission which helps cover the expense of this blog. Thank you for the support!
Happy Subscription Box Adventuring!
Are you a subscription box expert or newbie? I'd love to hear your experiences with these family adventure boxes or any others you would recommend!
For more gift ideas for adventure seeking families, check out How To Gift Family Adventures For The Holidays.