For a sweet family tradition at Thanksgiving or any time of year, try starting a gratitude jar. Today. I'm sharing our family's simple gratitude jar approach. Plus, a few gratitude jar poems to go with it!
What Is A Gratitude Jar?
A gratitude jar is a fun, tangible way to practice expressing thankfulness for the little things in every day life. It involves writing down things you are thankful for on pieces of paper and adding them to a specific jar.
Why Practice Gratitude?
Taking time to reflect on and express gratitude has so many benefits including…
Increased happiness
Better physical health
Stronger relationships
Read more at 14 Health Benefits of Practicing Gratitude According to Science.
How To Start A Gratitude Jar Tradition
Step 1: Choose your container.
Pick a container that makes sense for your family. Glass jars look pretty and would work well for older kids and adults. With my active young boys, we chose to reuse a sturdy plastic container. Not the prettiest option, but it does the trick!
Step 2: Decorate it.
Make it your own! Leave it plain or add a label and tie some ribbon around the top. You could also print out and glue on one of the suggested gratitude jar poems listed below.
Step 3: Decide how frequently you want to add to the jar.
Contribute daily, weekly, monthly, or whenever you feel motivated. Choose a frequency that works best for your family – that keeps it a fun, engaging activity rather than an item on the to do list.
Step 4: Fill it up with bits of gratitude.
Now the best part – reflecting and expressing everything you are thankful for! You can write on word or a couple sentences on each piece of paper. For our family, I include the date and one gratitude item from each family member.
If you or your child need some inspiration, here's a few ideas to get you started…
Gratitude Jar Prompts
Something good that happened today
Something in nature that brings you joy
Someone special in your life
Something you own that you appreciate
Something you are excited about
Step 5: Pour out your jar and read aloud as a family.
Re-reading your gratitude slips is another highlight! Pick a day to read some slips when you need an extra dose of gratitude or save them for a special occasion like Thanksgiving Day or New Year's Day.
Gratitude Jar Poems
These short and sweet gratitude jar poems are great to read with your family as simple instructions for starting your new tradition. Also, they make an easy option to print out and use to decorate your gratitude jar.
A Gratitude Jar Poem
Take a moment
To think about
What brings you happiness
Write it down and
Fill this jar up
With slips of thankfulness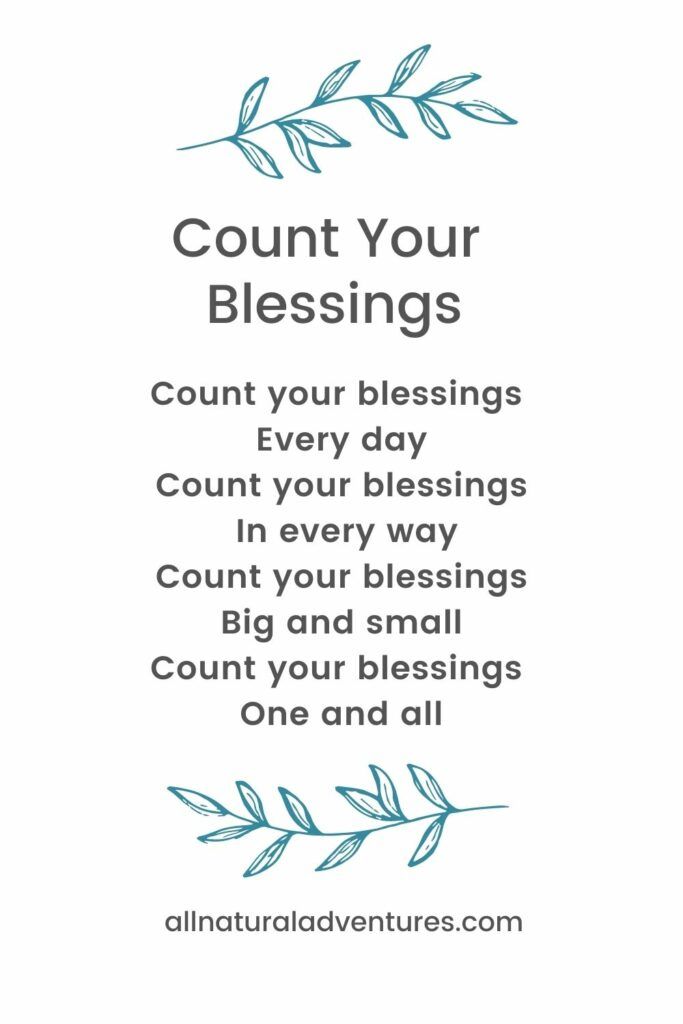 Count Your Blessings
Count your blessings every day
Count your blessings in every way
Count your blessings big and small
Count your blessings one and all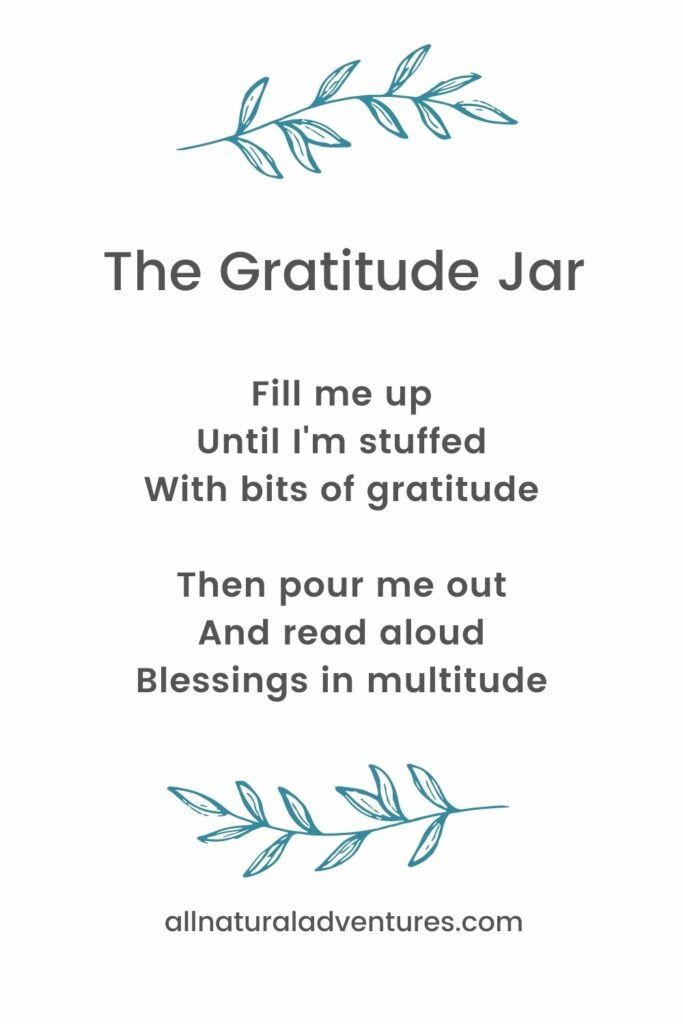 The Gratitude Jar
Fill me up
Until I'm stuffed
With bits of gratitude
The pour me out
And read aloud
Blessings in multitude
Happy Gratitude Jar Making!
I hope your family enjoys this sweet tradition of a gratitude jar. For another family gratitude activity, check out my Finding Gratitude In Nature Scavenger Hunt.
With the holiday season approaching, you may also enjoy reading about How To Gift Family Adventures For The Holidays.