For a fun treasure hunting adventure, try the family-friendly sport of letterboxing! If you'll be going letterboxing with kids, I've got 7 tips for getting started and making the experience fun and memorable.
The post contains affiliate links. If you make a purchase through these links, I may receive a small commission at no additional cost to you.
What is letterboxing?
Letterboxing is an outdoor treasure hunt that uses written clues to find a hidden container or letterbox in a public location. Sometimes the clues involve using a compass.
There is also a fun stamping aspect to letterboxing!
Inside the letterbox will be a unique stamp to mark your find in your personal letterboxing journal. There may also be a logbook in the letterbox for you to stamp with your own signature stamp.
Did you know letterboxing is over 150 years old? It started in Dartmouth, England in 1854.
For all the details on the history of letterboxing, plus the similarities and differences between geocaching and letterboxing, check out: Letterboxing Vs. Geocaching: Treasure Hunting Adventures.
Letterboxing With Kids: 7 Tips For An Awesome Adventure
Everything you need to know for getting your kids excited about and engaged in your first letterboxing adventure together!
1.  Tap your kids' creativity for a family trail name.
When first getting started letterboxing, you'll want to pick a trail name to use on letterboxing forums, where you can find local letterboxes. The two main letterboxing websites are atlasquest.com or letterboxing.org.  
Kids always come up with some fun suggestions for names! Choosing a trail name together is a great way to get your children involved in the letterboxing fun from the beginning. 
For inspiration, Hopping Hikers, Trail Ninjas, and Team Awesome were some letterboxing trail names our family kicked around.
2. Pick out special letterboxing supplies.
With kids, sometimes having special gear is half the fun when exploring! 
For a letterboxing adventure, you may already have everything you need to go letterboxing at home. If not, picking out some new items can get your kids excited for your treasure hunting experience.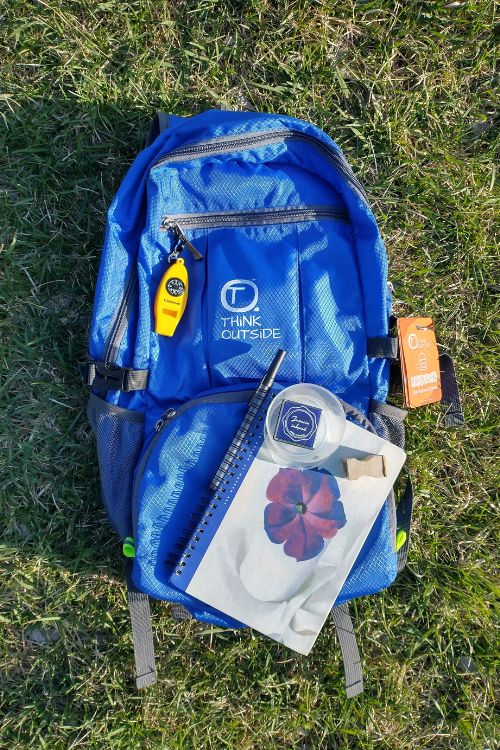 Supplies For Letterboxing With Kids:
Backpack or satchel
Compass
Journal
Signature stamp
Ink pad
Wet wipes/rag to clean stamps
Garbage bag/gloves/hand sanitizer for trail clean up (optional)
Backpack: We love our Think Outside backpack for hiking. Nice and light for kids to carry, but roomy enough with extra pockets to hold all our supplies and water bottles.
Also, if you enjoy outdoor family adventures like geocaching and letterboxing, you'll definitely want to read 3 Reasons Your Kids Will Love Think Outside Subscription Boxes.
Compass: A compass is not always needed, but it's handy to have one with you. This mini compass and whistle combo easily clips on our backpack.
On our first letterboxing experience, we didn't have a compass with us. Luckily, the direction clues were simple enough to get by without a compass. (The clue was to look under the southwest corner of a wooden platform.)
Journal: Grab an extra notebook you have around the house or buy an eco-friendly notebook with a cute cover. 
Signature stamp: For beginners, use a cute stamp from your craft supplies or pick up a fun new one. Once you have a few letterbox finds under your belt, you may want to try carving your own signature stamp for a new challenge. 
Ink pad: In the letterbox will be a stamp, but you will need to bring your own ink pad with you. Sometimes the letterbox clues will suggest a specific color stamp pad, but really any color should do.
Wet wipes/rag to clean stamps: To be courteous to the next letterbox finders, make sure to bring something to clean the ink off the letterbox stamp as well as your signature stamp.
Garbage bag/gloves/hand sanitizer for trail clean up: These supplies are optional, but letterboxing provides a great opportunity to do a bit of good for the environment while you explore. You can even make a game of it and see who can find the most trash while you hike.
3. Research letterbox locations with a recent Last Found date.
Now you've gotten all your letterboxing supplies, it's time to research letterbox locations!
Besides the general geographic location, the next aspect to check is the Last Found date. Since letterboxes are out in the elements in public spaces, sometimes they can get moved or damaged, intentionally or unintentionally.
A recent find within the last few weeks or even months is best. Any letterbox without a find in over a year I'll typically skip.
Once you've selected the letterbox you will search for, you can print a copy of the clues, save a screenshot of the clues to your phone or look up the clues on your phone while you hike.
4. Prepare your kids for the possibility that you might not find the letterbox.
Even with thoroughly researching a letterbox ahead of time, it's a good idea to prepare your kids for the possibility that your treasure hunt may not be successful.
My approach is that we are going on a fun nature hike and if we happen to find the letterbox, it will be an extra special adventure. Either way, we will still have fun exploring.
We have had a couple unsuccessful letterboxing attempts and one where we found a soaking wet letterbox that was unusable.
If you are not able to find the letterbox or it is damaged, send a quick message to the letterbox owner through the website you used to locate it. That way they can fix the letterbox or mark it as an inactive box.
Not finding a letterbox is a bit of a disappointment, but also can provide some motivation to try a different one!
5. Have your child lead the way on the trail.
With your clues in hand either read the clues aloud or have your child read them, if they are old enough. Encourage your child to take the lead in solving clues and deciding which direction to head.
"Turn right at the tree with an old wooden sign that is no longer readable."

~Letterboxing clue
6. Use your letterboxing adventure as an opportunity to teach trail etiquette.
Letterboxing with kids provides a wonderful opportunity to teach about principles of taking care of the environment.
As you hike and search, here are a few ways you can model and teach trail etiquette to kids while you are letterboxing:
Help pick up any trash you find on the trail. That's where those gloves and garbage bags come in handy!
Sometimes the clues will lead you off the designated trails. Be mindful not to damage any plants and wildflowers while you search.
When you find the letterbox, be discreet with your discovery to avoid attention from "muggles" or people who are not familiar with letterboxing. 
After you finish stamping, make sure to carefully reseal the container and hide the letterbox well for the next seekers.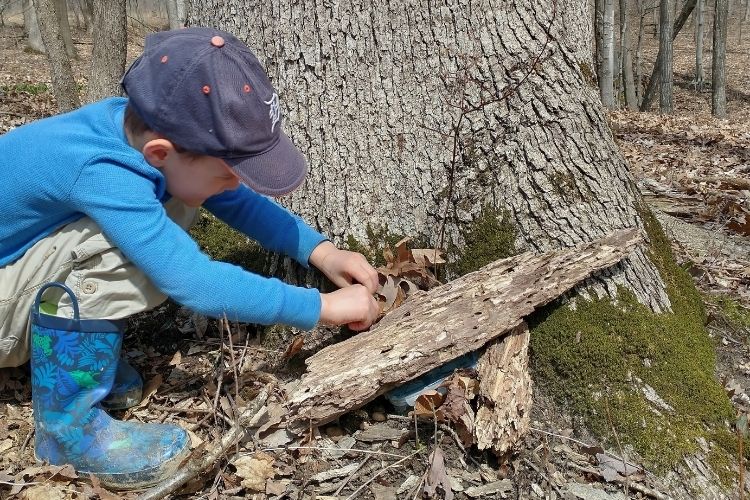 7. Celebrate your successes.
Did you find the letterbox? Yay! Did you not find the letterbox, but worked together as a family and had fun exploring on the trail? Hooray!
Add any special observations or notes from your hike into your letterboxing journal. This makes a lovely memory book to look back on and read together as a family.
Happy Letterboxing
Have you gone on a recent letterboxing adventure? Any additional tips for letterboxing with kids you would add? I'd love to hear from you in the comments below!
For more family adventures, check out: