Let's explore some beautiful Lake Michigan hikes in West Michigan…
During summer, or any time of year really, some of my favorite places to hike are along the Lake Michigan shoreline.
Shady forests keep you out of the sun for most of these hikes and at the end you are rewarded with gorgeous Lake Michigan beaches.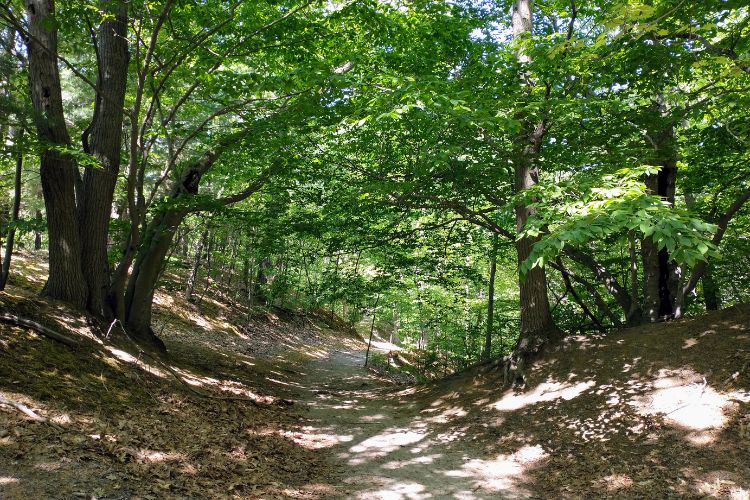 6 Awesome Places for Lake Michigan Hikes in West Michigan
Saugatuck Dunes State Park
Mt. Baldhead to Oval Beach
Olive Shores
Rosy Mound Natural Area
North Ottawa Dunes
PJ Hoffmaster State Park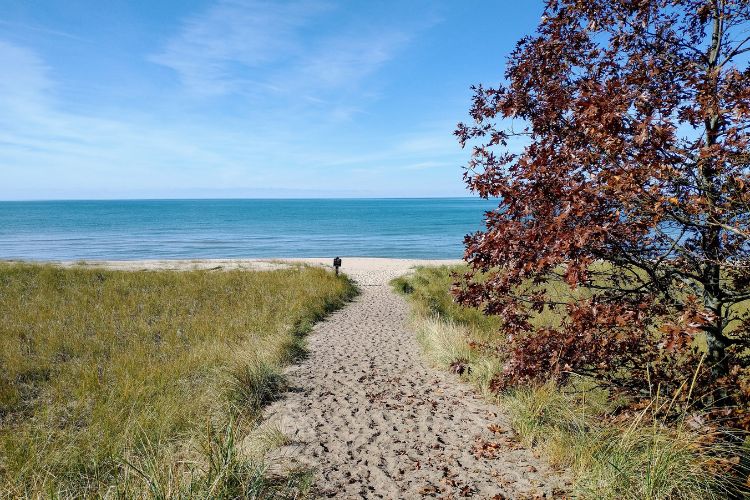 6575 138th Ave. Holland, MI 49453
With miles of hiking trails along 4 different paths, Saugatuck Dunes State Park is one of my all-time favorite places to hike to Lake Michigan. The trails range from 1.5 miles to 5.5 miles through wooded backdunes with several options to hike out to the lakeshore.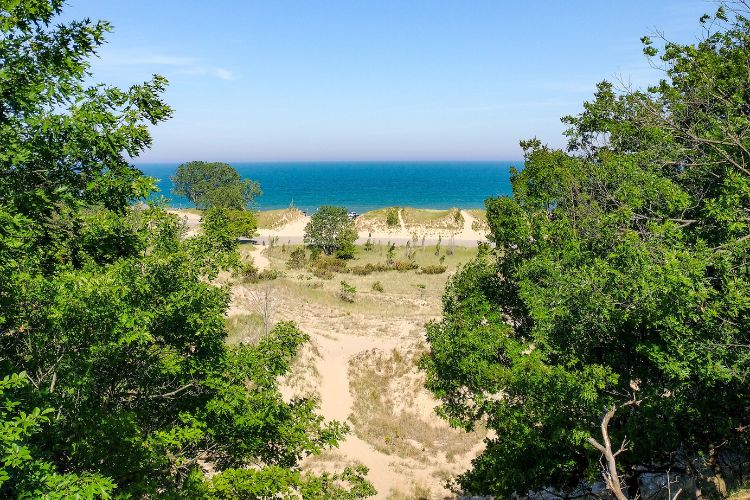 Mt. Baldhead to Oval Beach
769 Park St, Saugatuck, MI 49453
This hike starts out with a short, intense climb up 300 stairs to the top of Mt. Baldhead. At the top, catch your breath at the observation deck and enjoy a beautiful view of the Kalamazoo River.
From there, you can either climb back down the stairs or hike the 1 mile out and back North Woods Trail to the lovely Oval Beach. This moderately difficult trail has a sandy, narrow path and lots of tree roots. All the trees provide lots of shade for most of the journey, which is very helpful on a hot summer day!
8555 Olive Shore Ave, West Olive, MI 49460
For a shorter hike to Lake Michigan, Olive Shores is a lovely option. The trail to the beach is less than a quarter of a mile, only 0.19 miles one way. Part of the beach path includes wooden staircases up and over the dune with a total of 311 steps. 
The Dune Ridge Loop and Dune Meadow Loop add another 0.25 miles of trails to the park. Along the wooden boardwalk Dune Ridge Loop, there are scenic overlooks to enjoy the view of Lake Michigan.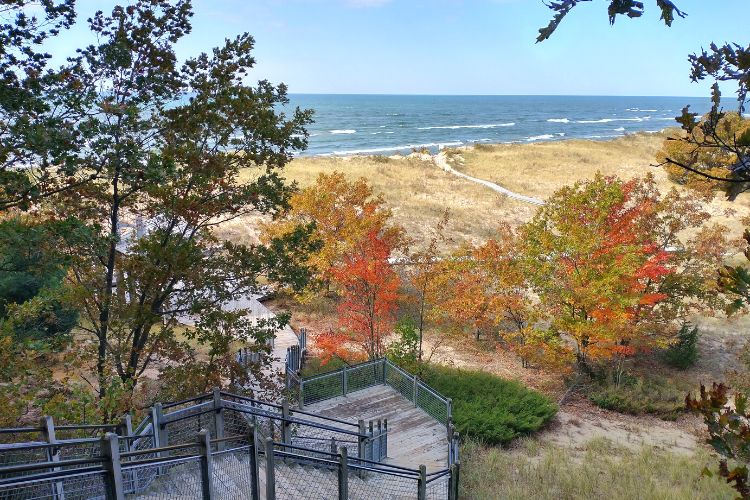 13925 Lakeshore Ave, Grand Haven, MI 49417
A scenic 3/4 of a mile hike (1.5 miles round-trip) takes you through a shady backdune forest up and down several sets of stairs. Take advantage of the benches and outlooks to catch your breath along the way to the lake.
Once you make it to the open dunes, take the short boardwalk path to the spectacular Lake Michigan beach.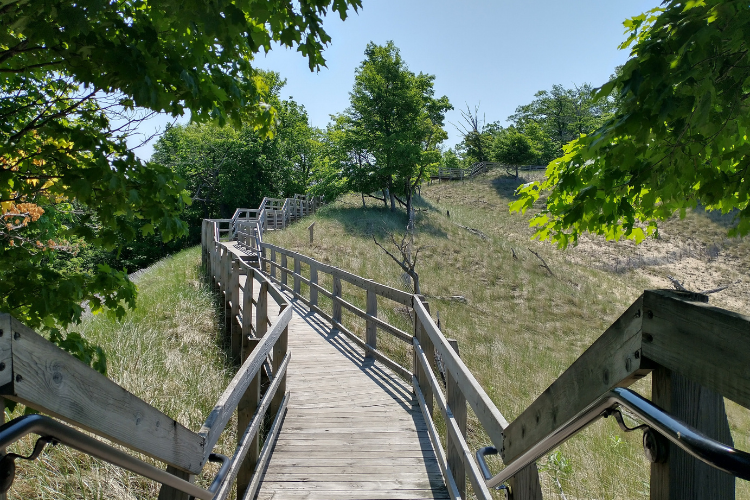 18201 N Shore Dr, Ferrysburg, MI 49409
North Ottawa Dunes is another amazing spot for a Lake Michigan hike, especially in summer.
10 miles of wooded hiking trails includes a stair climb for a scenic view of Lake Michigan, which will take you out to North Beach Park.
Plus, for longer hiking adventures, the North Ottawa Dunes trails connect to even more trails in the neighboring PJ Hoffmaster State Park.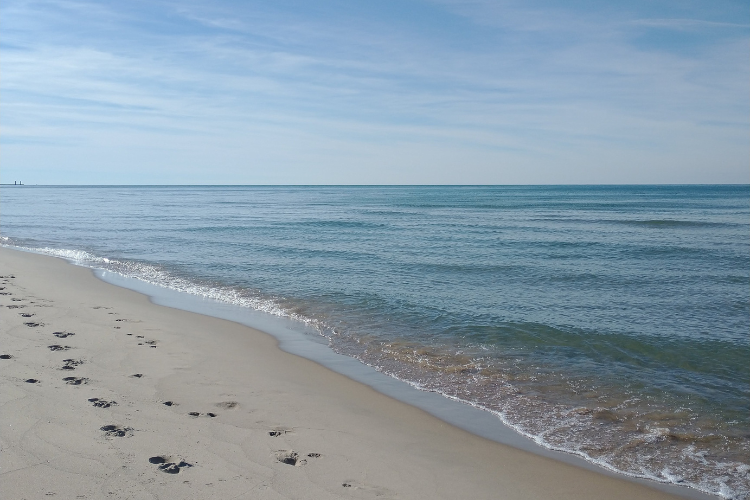 6585 Lake Harbor Road, Muskegon MI, 49441
Out of all of these awesome Lake Michigan hikes, Hoffmaster State Park is the only one you can also camp at.
There are several different trails throughout the park starting either in the campground area, the day use area or by the Gillette Visitor Center.
The Walk-A-Mile trail is one of my favorites!
Note: In Summer 2023, construction started in Hoffmaster State Park resulting in temporary closures. Find the latest park updates here: Hoffmaster State Park Detail.
More Awesome Michigan Hiking Trails
For more Michigan hiking trails check out: