Have you made any eco friendly switches around your home lately?
Being more eco conscious doesn't have to be difficult! One simple switch to reduce household plastic waste is using laundry detergent sheets instead of powder or liquid detergent.
Recently, I tried out Earth Breeze Laundry Detergent Eco Sheets and just had to share a review of my experience.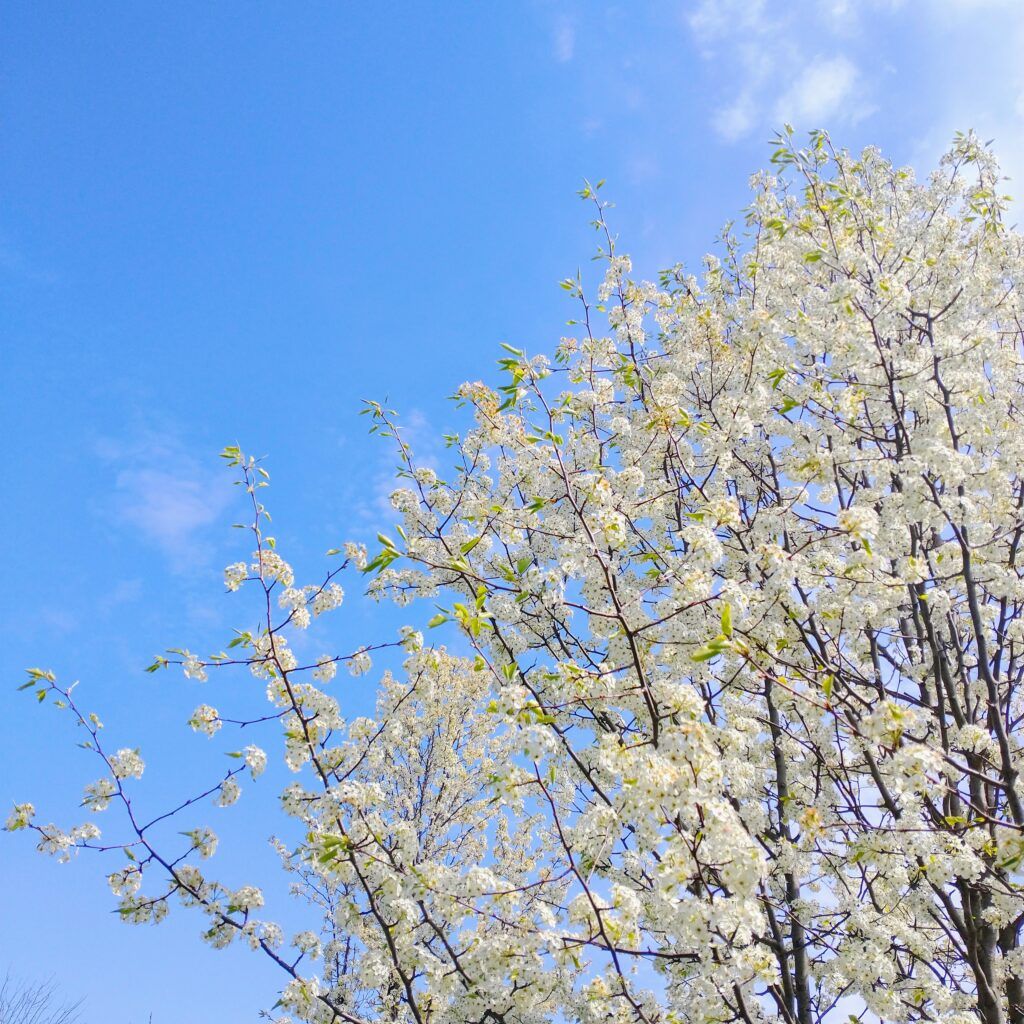 This post includes affiliate links. If you purchase through these links, I may receive a small commission at no additional cost to you.
Pros & Cons of Earth Breeze
After using Earth Breeze for about a month, I've found 5 great reasons to give these laundry sheets a try and 2 possible concerns to consider.
Pros
Super easy to use
No mess
Plastic free packaging
Effective
Great scent
Cons
Average safety rating for ingredients
Expensive single purchase without a subscription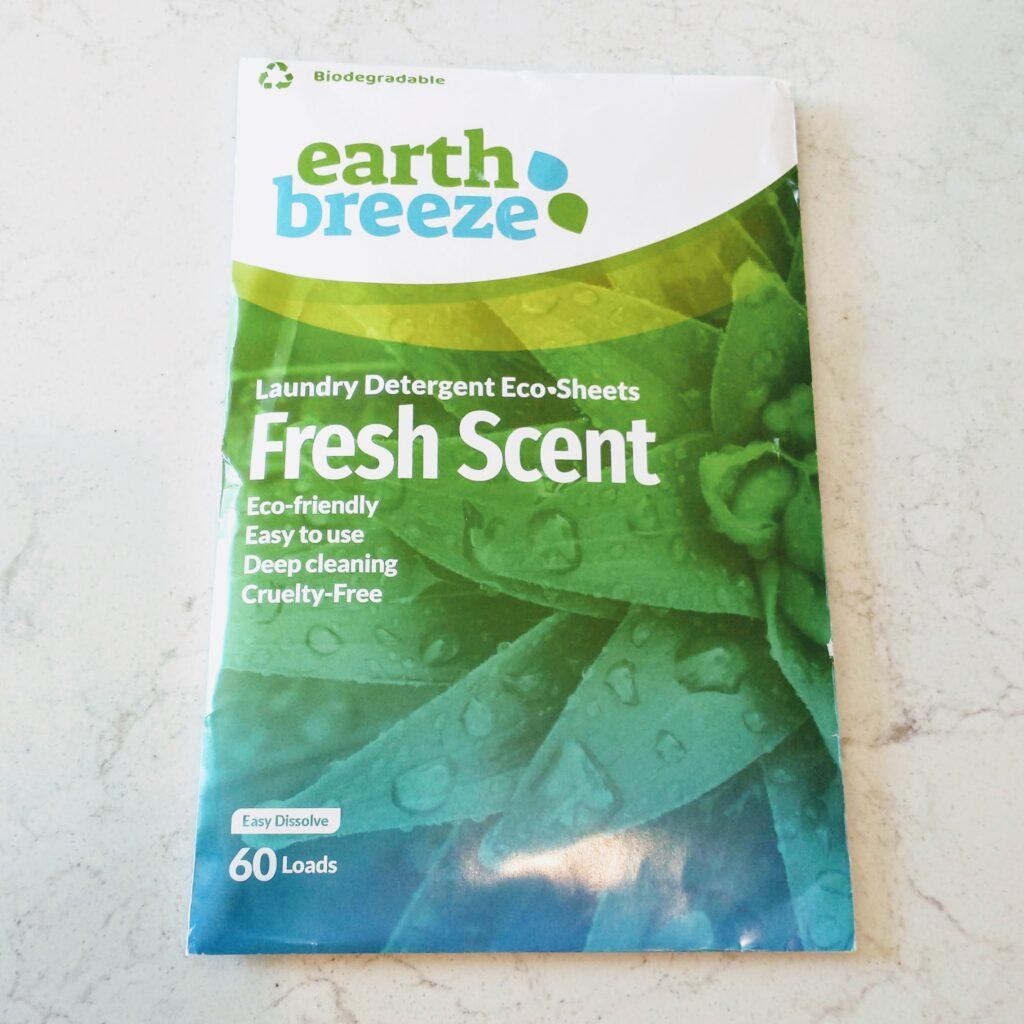 Pro #1: Super Easy To Use
The directions on the back of the package are super simple.
With a top load washer, you place your laundry sheet inside the washer. With a front load washer, you place the laundry sheet in the detergent dispenser.
Half sheet = regular load
Full sheet = full load
2 sheets = heavily soiled load
Earth Breeze works on both hot and cold cycles and on all washing machines including HE. I love a detergent that is flexible on cycle usage.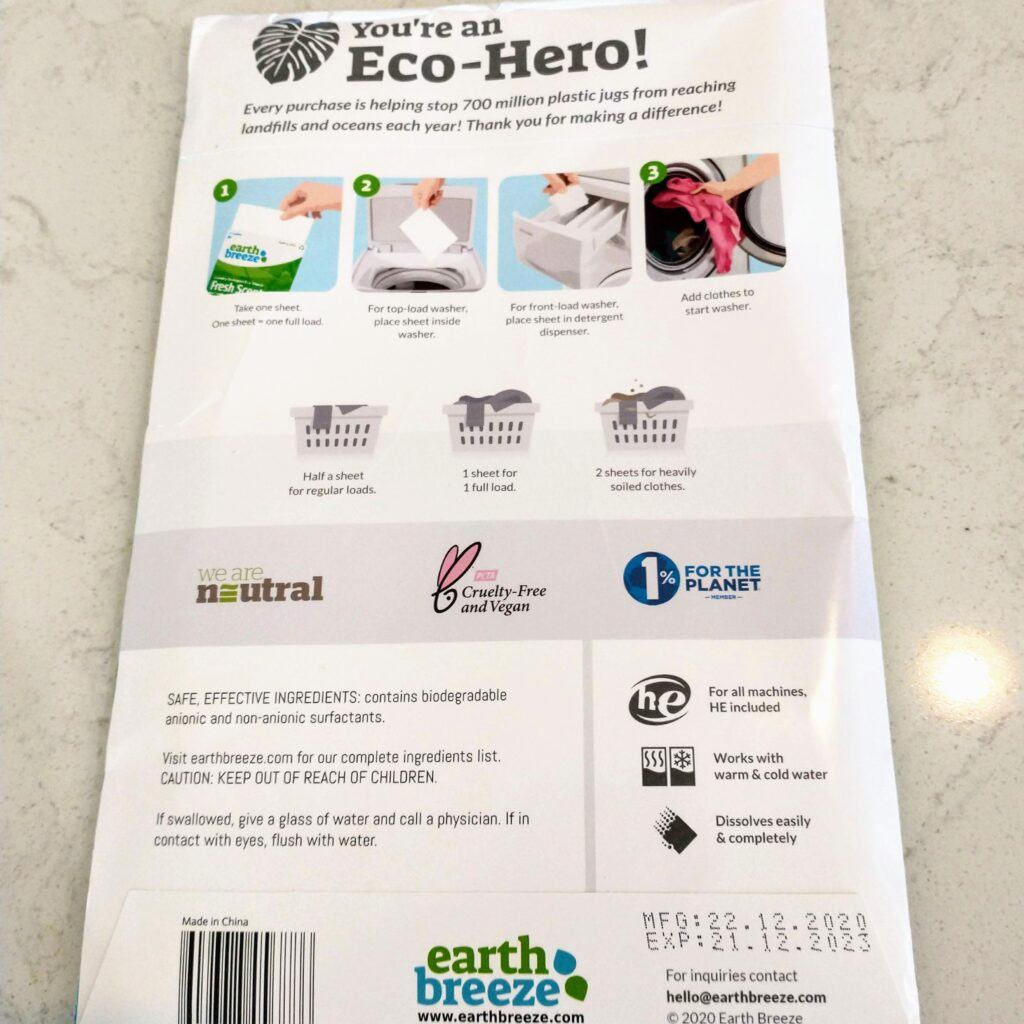 Pro #2: No Mess
With laundry detergent sheets there is no mess involved. No powder or liquid detergent to accidently spill and no huge plastic bottle to try to rinse out before recycling.
Also, am I the only person who turns plastic laundry detergent bottles upside down, trying to get the last drops out? None of that here!
Pro #3: Plastic Free Packaging
Since these laundry sheets come in a compostable cardboard envelope, Earth Breeze packaging is completely plastic free. A big plus in my book!
Because the packaging is so compact, these laundry detergents are great for storage. Earth Breeze would be the perfect option if you needed a travel friendly detergent.
Pro #4: Effective
Typically, I use either powder or liquid natural detergents, so this was the first laundry detergent sheet I've tried.
After using almost the whole package, I've found that Earth Breeze works really well at getting our clothes clean and smelling fresh.
Now, for bad stains, I do use a conventional stain stick remover occasionally, since I have not found a good natural one yet. If you have a great natural laundry stain remover you use, I'd love to hear in the comments!
Pro #5: Great Scent
The Fresh Scent version I tried has a classic fresh laundry scent. Very minty!
Earth Breeze also makes an Unscented version, if you are sensitive to scented detergent.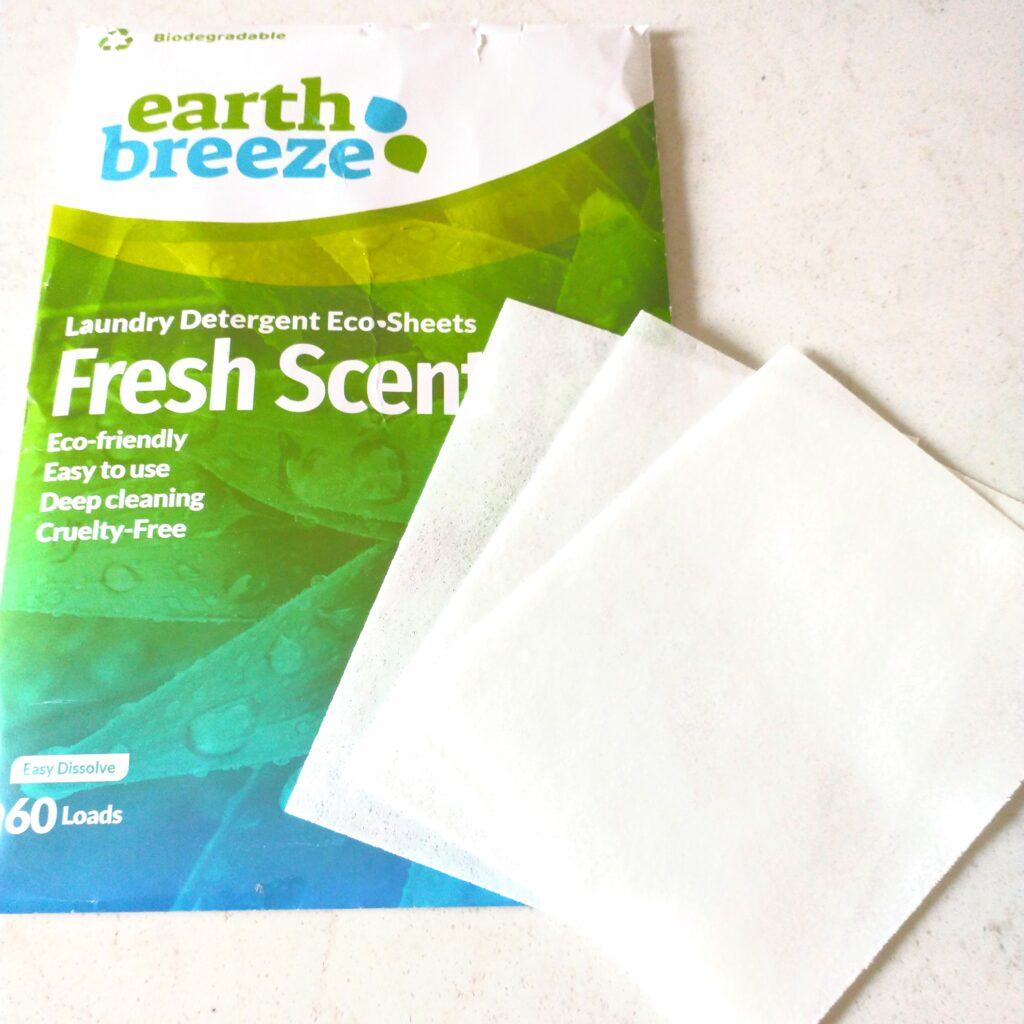 Overall, Earth Breeze has a lot of great pros going for it, but there are a couple cons to consider as well.
Con #1: Average Safety Rating For Earth Breeze Ingredients
Earth Breeze Ingredients
According to Earth Breeze FAQ Page, these are the ingredients in their laundry detergent sheets:
Glycerol, Primary Alcohol Ethoxylate, Sodium Dodecyl Sulfate, Sodium Acetate Trihydrate, Polyvinyl alcohol, Polyethylene Glycol, Fragrance, Deionized Water, and Starch (Corn).
C Rating on Environmental Working Group
My go to source for checking the ingredient safety ratings of products is the non-profit organization, Environmental Working Group (EWG). For cleaning supplies, EWG's Guide to Healthy Cleaning is a very helpful resource.
Currently, Earth Breeze has a C safety rating on EWG. 
Polyvinyl Alcohol
One particular ingredient of concern is polyvinyl alcohol. PVA (polyvinyl alcohol) biodegrades slowly and can have harmful effects on the environment.
While Earth Breeze is not the most natural laundry detergent available, it is a more natural choice than conventional laundry detergents. For comparison, Tide laundry detergents rank from D – F on EWG's database.
Con #2: Expensive Single Purchase Without A Subscription
Through the Earth Breeze website, the price is $20 for a single purchase or $12 for a monthly subscription. Since each pack has enough sheets for 60 loads, it works out to be $0.33 per load for a single purchase or $0.20 per load for as subscription
Personally, I prefer to try products before signing up for a subscription, so a smaller sample pack option would have been nice. Since that wasn't an option, I paid $20 for the single order, which is a little pricey. The $12 subscription is much more reasonable, but I didn't want to commit without trying it out first.
Another option is to order through Amazon, which is typically in between the $12 – $20 range for a package. Check here for the current Amazon prices:
Earth Breeze – Liquidless Laundry Detergent Sheets – Fresh Scent – No Plastic (60 Loads) 30 Sheets
Earth Breeze – Liquidless Laundry Detergent Sheets – Fragrance Free – No Plastic (60 Loads) 30 Sheets
Bottom Line
If you want mess-free convenience and effective cleaning power in plastic free packaging, Earth Breeze is a great option.
If natural ingredients are more important to you, there are cleaner laundry detergents out there. Currently, Meliora Eco Laundry Powder is my go-to laundry detergent.
Looking for more eco-friendly products? Check out My Favorite Natural & Eco-Friendly Products + Discount Codes.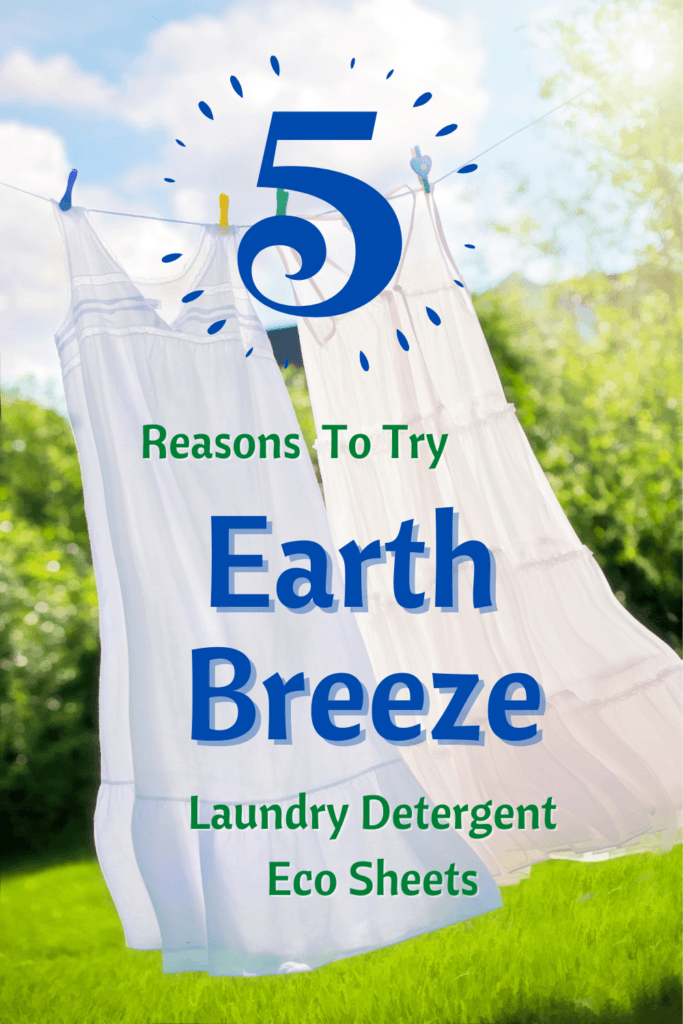 Happy Laundry Day!
Have you used laundry detergent sheets before? Try out Earth Breeze and let me know what you think!