It seems like ads are all over the place for getting a free gift kit from Grove Collaborative. If you are wondering if their monthly subscription program is worth it, check out my honest review of Grove Collaborative's services.
Psst…This post is not sponsored by Grove. These are just my real opinions and experiences. 🙂 I have included my personal referral links if you want to try the free Grove gift set yourself!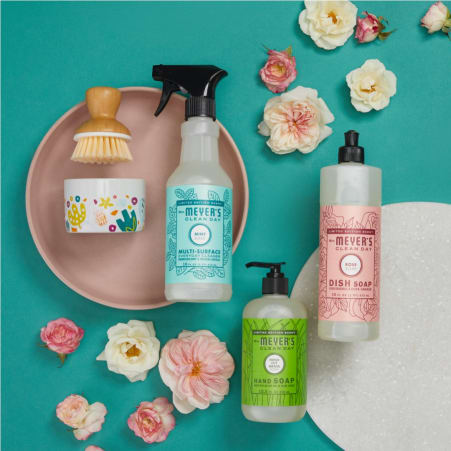 My Story
I had heard about Grove Collaborative for years as a sponsor of some of my favorite podcasts. Honestly, I usually tune out or skip over sponsored content, so I hadn't really given the company much thought. However, around Christmas time, I was looking to purchase holiday gifts from more sustainable companies and to set up regular shipments of consumable goods for myself.
All those sponsored podcasts eventually paid off, because Grove Collaborative came to mind. Since they offer a free gift set with your first purchase and a free trial period of their VIP program (for free shipping), I decided to check it out.
What Is Grove Collaborative?
Grove Collaborative is an online retailer for household and personal care products. Their mission is to offer more natural and sustainable products through flexible monthly deliveries. As a Certified B Corporation, Grove Collaborative meets high environmental and social business practice standards.
Sounds good so far, but let's dive into the positives and negatives I have found in my experience of using Grove Collaborative.
Pros Vs. Cons of Grove Collaborative

Pro #1: Lots of Free Gift Opportunities
Grove Collaborative seems well-known for their free welcome gift kit with a first purchase that includes Mrs. Meyer's cleaning supplies. Honestly, Mrs. Meyer's is not my favorite cleaning brand (see more in Con #4: Not All Products Are The Most Natural), so this specific freebie wasn't the most enticing for me. However, the other free gifts of the glass cleaning bottle, ceramic tray, and walnut scrubbers were totally worth it for me.
Here is the cost break down of my first order:
Total Order Value: $98.48
Free Gift Values: $45.03
Taxes: $3.22
Amount Paid: $56.67
Free Gifts Received With First Order
Cleaning Concentrate Starter With Glass Cleaning Bottle ($14.95 value)
Ceramic Sink Side Tray ($12.95 value)
Walnut Scrubbing Pads ($4.95 value)
Mrs. Meyer's Dish Soap, Hand Soap & Multi Surface Cleaner ($12.18 value)
As you can see, the first purchase provides a great opportunity to get about half of your order for free. If you want to check it out for yourself, use my personal referral link for your own free gift: Free Grove Gift Kit.
Just make sure to read through the rest of this review first!
Free Gifts For Subsequent Orders
With Grove's system, if you spend a certain amount on each order, you can receive a free gift in subsequent purchases as well. You typically need to spend $60 or more to add a free gift. These are the current options for March 2021:
If you want to take advantage of the free gifts, stock up on some items. Try bimonthly purchases instead of less expensive monthly orders. I am all about those free gifts!
Pro #2 – Sustainable Business Practices
While this factor may not be as important to everybody, what really drew me to Grove Collaborative was their commitment to sustainability. Their goals are to reduce their plastic use, support reforestation, and reduce their carbon footprint.
Currently, Grove Collaborative is a plastic neutral company, which means they recycle an equal amount of plastic that they sell. Their goal is to be completely plastic free by 2025. I still have a long way to go, but I am working towards reducing the amount of plastic our household uses. One way to make a difference is purchasing from greener companies like Grove.
For the holiday season of 2020, I did my shopping almost entirely online and noticed how much plastic waste is involved in shipping. Grove Collaborative's commitment to moving Beyond Plastic is a big plus for me. All of their boxes use paper for shipping padding which can easily be recycled.
Related: Earth Day Vs. Arbor Day
Pro #3: Flexible Monthly Subscription Program
Grove Collaborative is set up as a flexible monthly subscription program. After you make your first purchase, your cart will be filled with the same or recommended items for the next month.
While some aspects of this system are not ideal (see more in Con # 2: Suggested Items Added to Your Cart), in general the program is quite flexible as long as you are managing your cart each month. You can easily add or remove items, change the frequency of how often they are delivered or change the order date.
There is a new $29 minimum to ship, so your order will not ship unless it meets that requirement.
Personally, I like having household consumable subscriptions set up, so I don't run out. I would rather stock up and have an extra stash of laundry detergent than not have any on hand when I need it.
Pro #4: VIP Membership Option
When you sign up for the free gift starter set with Grove Collaborative, you are automatically enrolled in a free 60-day trial of their VIP membership program. The VIP membership program includes free shipping and returns, full-sized free gifts and early access to new products.
Keep in mind you will be changed a $19.99 yearly VIP membership fee at the end of the 60-day trial. Make sure to put a reminder in your phone and check your email regularly if you are undecided about the membership.
As far as membership fees go, $19.99 a year is pretty reasonable. Since Grove Collaborative shipping is normally a flat $4.99 rate for any purchase, the membership pays for itself if you plan to make more than 4 purchases in a year.
Pro #5: Large Selection of Eco-Friendly Products
Grove Collaborative offers their own brand of eco-friendly products along with several other popular name brands. If you already use brands like Burt's Bees, Method, Seventh Generation, and Mrs. Meyer's, you will find their products available through Grove.
Another perk of using Grove is being able to find sustainable products that are hard to find locally. Some of my favorites so far are: Kids Foaming Hand Soap Concentrate, 100% Recycled Plastic Trash Bags, and 100% Bamboo Napkins.There are lots of great reasons to give Grove Collaborative a try, but before you do, there are some cons to be aware of first.
Con #1: Not Always the Lowest Prices (But They Price Match)
If you do a price comparison of name brand items, many times Grove Collaborative does not have the lowest price available. Sometimes items can be found for a dollar or two cheaper on Amazon or elsewhere.
Let's look at a few products:
Jason Vitamin E Oil – $7.99 on Grove vs. $6.97 on Amazon
Badger Baby Sunscreen – $14.99 on Grove vs. $14.44 on Amazon
Acure Brightening Day Cream – $16.99 on Grove vs. $13.99 on Amazon
Now, it is an awesome feature that Grove Collaborative offers price matching. To take advantage of this, you will need to email their customer service for each item with proof of the lower price. Grove will honor the lower price, but it will take some extra time to research and contact them for the price match.
Con #2: Suggested Items Added To Your Cart
After each order, Grove Collaborative will add suggested items to your cart for the next month based on the items you have purchased. Occasionally this has been helpful, but it can be time-consuming to delete items you don't want each month.
As I was writing this, I thought it would be nice to have the option to turn this feature on or off depending on your preference. Turns out if you click on that question mark at the bottom, they do have an option to turn it off!
For the time being, I am actually going to keep it on as I am still exploring all the different products available through Grove. I like that I have the option to turn it off in the future though.
Con #3: Mixed Online Reviews
As is common was a lot of companies, the online reviews for Grove Collaborative are mixed. There are some negative comments online from people who have had difficulties canceling their monthly subscriptions or yearly VIP memberships.
Personally, I have not had any negative experiences so far. I have purchased the VIP membership for one year and will reevaluate when it comes time to renew next year. If anything changes, I will make sure to update this review.
There are also lots of positive online reviews for Grove Collaborative as well. Keep in mind that people who have a negative experience are 10 times more likely to share that experience than people who have a positive experience.
Con #4: Not All Products Are The Most Natural
As part of the Grove Standard, the company lists these requirements from their products and partners:
While all of these requirements are good and do make for greener products, sometimes the ingredients used in certain products still are not the healthiest. The truth is, you still need to do your research.
In my research, I have found that a cleaning or beauty product can be more "natural" in that it has a low environmental impact in the way it was produced and packaged. That does not always mean that the ingredients used are the safest for your body.
When it comes to evaluating the safety of cleaning and beauty products, the non-profit organization, Environmental Working Group (EWG), has a couple of very helpful databases: EWG's Guide to Healthy Cleaning and EWG Skin Deep® Cosmetics Database.
Many of the more mainstream brands like Mrs. Meyer's have safety ratings in the 4-6 range for cosmetics (1-10 ratings, where 1 is the best) and B-D range for cleaning products (A-F ratings, where A is the best). Personally, I try to buy mostly 1-3 cosmetics products and A and B cleaning products.
Now, Grove Collaborative sells a lot of products with very high safety ratings as well. Acure is one of my favorite clean beauty companies with high EWG ratings that Grove carries. There are lots of natural and eco-friendly products available through Grove Collaborative. Just make sure to still do your own research.
Bottom Line
So, is Grove Collaborative worth it?
For almost everyone, the first purchase is worth it for all the free gifts you can receive. I would recommend getting your Free Grove Gift Set. After that, you'll want to evaluate the number of products and how frequently you will purchase to see if if makes sense for you to continue shopping through Grove.
Here's the bottom line: Try Grove to find natural products online through a green company. Skip it if you don't like managing a monthly subscription service.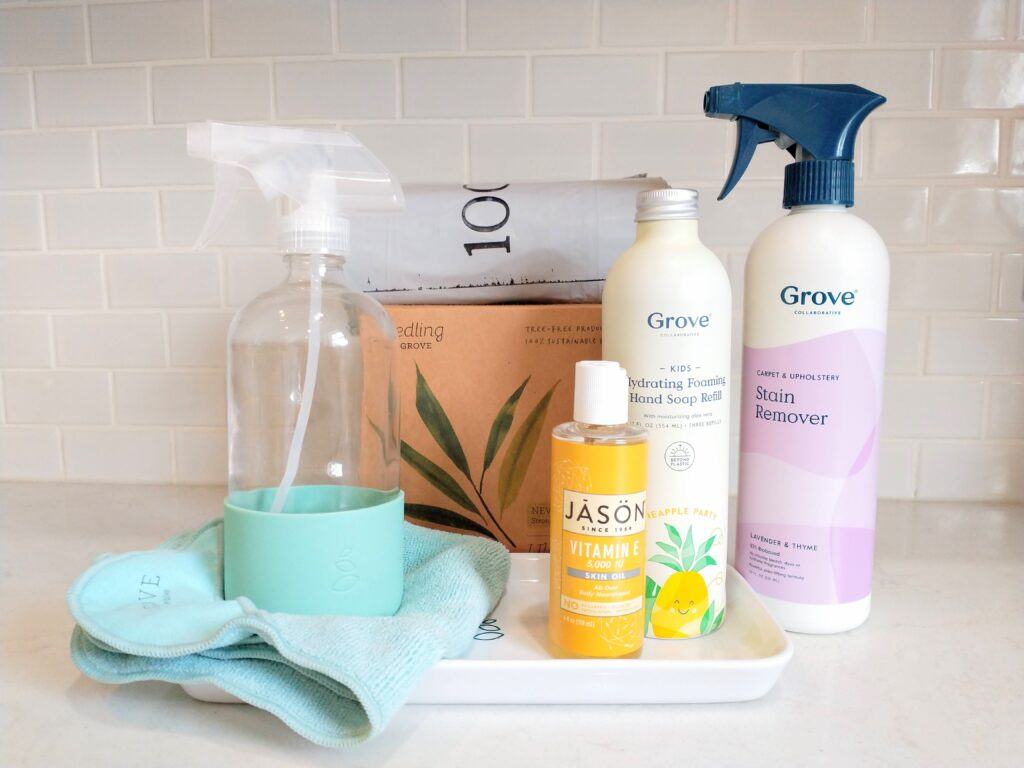 I hope you found my review of using Grove Collaborative helpful! If you are looking for suggestions for your first order, check out 10 Best Grove Collaborative Products To Try Today.
Do you use Grove? What are your favorite products they offer? Leave a comment below!