Let's chat all things spring equinox for kids! Read on for an explanation of what an equinox is, a yoga learning exercise and 7 simple ways to celebrate spring equinox with kids.
As the marker of a new season, the first day of spring (spring or vernal equinox) provides a great opportunity to learn about the natural world with your kids.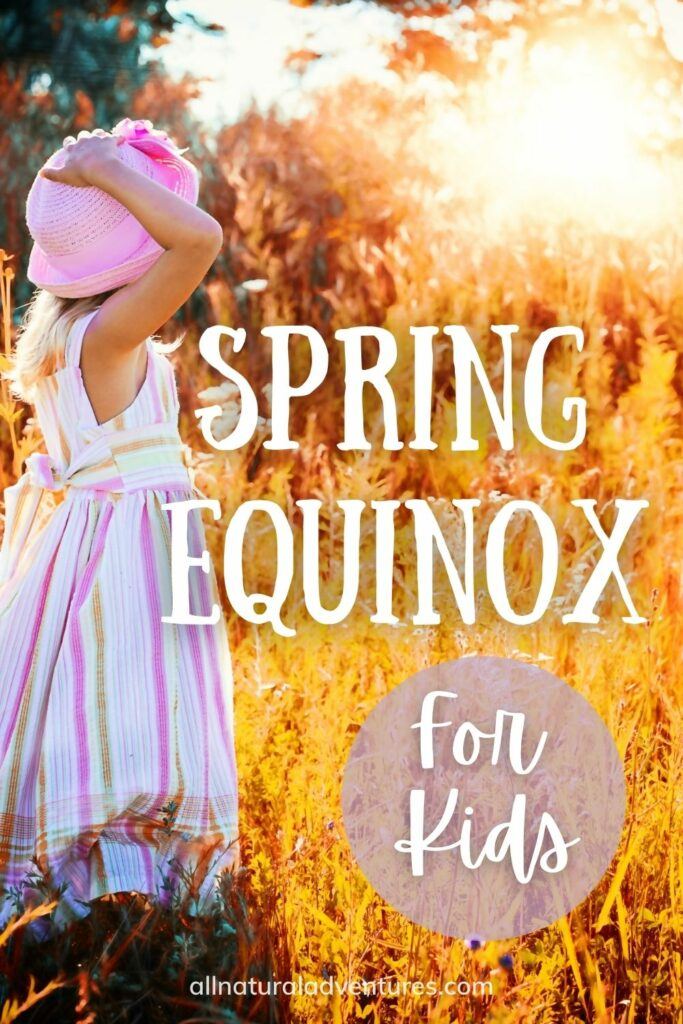 In This Spring Equinox for Kids Articles, You'll Find:
What Is an Equinox? An Explanation for Kids
Learning About Solstice and Equinox for Kids
Spring Equinox Yoga Learning Activity
7 Simple Ways to Celebrate Spring Equinox with Kids
What Is an Equinox? An Explanation for Kids
The word equinox is Latin for "equal night." On this day, everywhere on Earth sees about 12 hours of daylight and darkness as the sun passes over the equator. This special occurrence only happens twice a year on the spring equinox and the fall equinox.
The spring equinox is considered the first day of spring. Moving toward summer, we'll have longer days with more sunlight.
Learning About Solstice & Equinox for Kids
The start of each of the four seasons is designated by these special astronomical dates in the Northern Hemisphere:
Spring/Vernal Equinox – March 19, 20, or 21
Summer Solstice – June 20, 21, or 22
Fall/Autumnal Equinox – September 22 or 23
Winter Solstice – December 21 or 22
Spring Equinox Yoga Learning Activity
To help your child understand how the tilt of the Earth affects seasons, try this simple yoga exercise using mountain pose and crescent moon pose.
Choose an object to represent the sun, like a lamp or the actual sun if you can see it.
Put your arms over your head and lean to the side toward the sun in crescent moon pose. This is like summer, when the Northern Hemisphere tilts toward the sun and creates warmer weather.
Now stand up tall leaving your arms over your head in mountain pose. This is like fall, when the sunlight hits the earth more equally and results in milder weather.
Keeping your arms up, lean your body in crescent moon pose in the other direction away from the sun. This is like winter, when the Northern Hemisphere tilts away from the sun and results in colder weather.
Finally, stand tall and return to mountain pose. This is like spring, when the sunlight once again hits the earth more equally and provides milder weather.
7 Simple Ways to Celebrate Spring Equinox With Kids
As dormant plants begin to bloom and animals come out of hibernation, the season of spring embodies the concepts of rebirth and renewal. Here are some simple ways to mark the occasion of the beginning of spring with your family.
1. Watch the sunrise.
With daylights saving time scheduled the week before the Spring Equinox for clocks to move forward an hour, chances are you and your kids will be awake at sunrise. Take a few minutes to watch the beauty of the sunrise and feel thankful for the warmth the sun provides and all the other blessings in your life.
2. Try something new.
Spring is about turning a new leaf and trying something new. Maybe order takeout from a local restaurant you've been meaning to check out, pick up an exotic fruit from the grocery store or explore a new hiking trail. Spring Equinox is the perfect time to add a new experience to your day.
3. Let go of something you don't need.
In the spirit of new life, there may be some items you own that could use a new life of their own. Go through your clothes, books and household items to see what you can let go of and give to someone else. Have your kids go through their toys and books as well. See if you can fill a whole box to donate.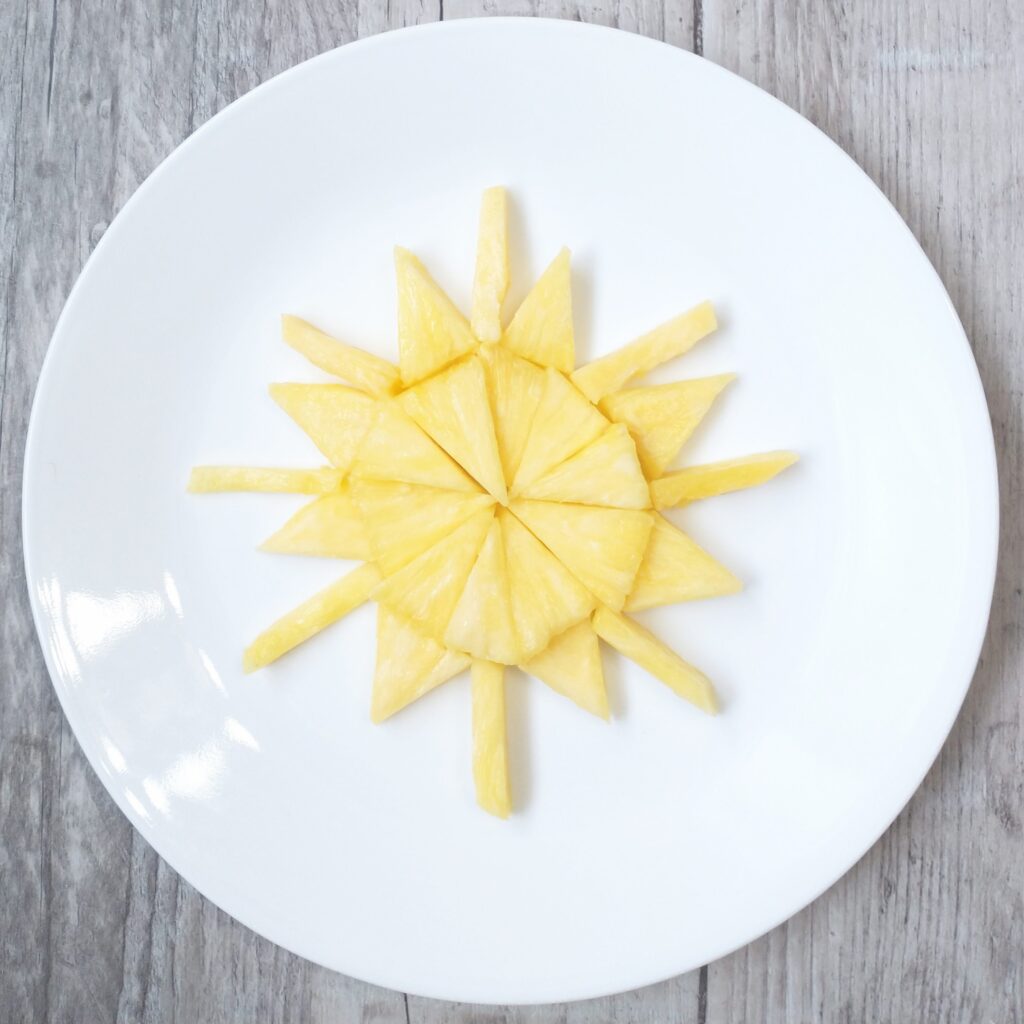 4. Make cute spring themed snacks.
Food art is the perfect excuse to play with your food! And making cute spring themed snacks, like this beautiful pineapple sun, is a fun way to celebrate the beginning of spring. Find some inspiration here: Healthy Spring Snacks For Kids.
5. Pick up fresh flowers or a new plant.
Nothing says spring like blooming flowers or foliage. Treat yourself to a pretty bouquet or a new houseplant. Besides bringing some new color to your home, houseplants can have several health benefits like improving air quality and reducing stress.
6. Plan a summer garden.
With the sun shining more, now is a fantastic time to start thinking about a summer garden. Planning a Garden with Kids is a great way to learn where our food comes from and practice responsibility for taking care of plants.
If you have never gardened before, start small with a container garden. If you grow a garden each year, start dreaming with your kids about what you want to plant – some old favorites or some new treasures?
Maybe try adding a compost bin to your garden this year. I have loved using our Subpod Garden Compost System!
7. Read children's books about springtime.
There are children's books for every occasion and spring is no exception. Look through the books you own to see which ones take place in spring or pick up one of these great spring children's books from your local library or independent bookstore.
For your convenience, this post contains affiliate links to my favorite children's books. If you make a purchase through one of these links, I may receive a small commission at no additional cost to you.
Looking for more great spring ideas for kids? Check out Spring Nature Activities for Preschoolers or 15 Creative Spring Break Activities At Home.
Happy Spring!
How do you plan to celebrate the Spring Equinox this year? Share below!