A printable treasure hunt for kids makes an epic at-home adventure. Perfect for a kid's birthday party activity, family event or any holiday celebration!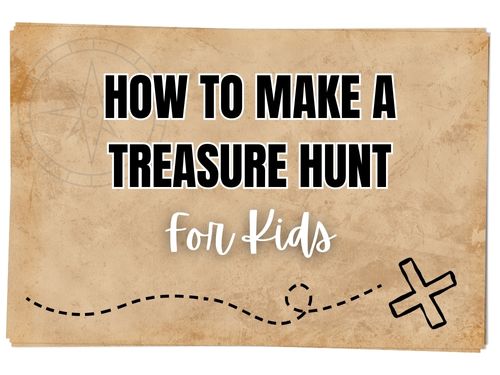 This post contains affiliate links. If you make a purchase through these links, I may receive a small commission at no additional cost to you.
5 Easy Steps to Make a Printable Treasure Hunt for Kids
Here's how I created my own Printable Treasure Hunt for Kids…
1. Brainstorm clue locations.
First, decide if you want your clues to be indoor, outdoor or a combination of both.
Look around your home and/or outdoor spaces to determine which areas would be good hiding spots. Brainstorm as many ideas you can think of. Then, narrow down the list to a manageable number of clues.
Here's some inspiration to get you started…
Indoor Treasure Hunt Clue Locations
Dining Chair
Houseplant
Dryer
Fridge
Freezer
Candle
Couch
Clock
Mirror
Microwave
Window
Pillow
Bathtub
Utensil Drawer
Shoes
Bookshelf
Stairs
Television
Lamp
Toy Shelf
Backpack
Outdoor Treasure Hunt Clue Locations
Mailbox
Swing
Welcome Mat
Flowers
Grill
Hammock
Tree
Bicycle
Hose
Bird Feeder
Sandbox
Garage/Porch Light
Garden
Trash Can
Patio Umbrella
Front Door
2. Write individual clues.
After you have your clue locations written down, you will write each individual clue.
Pick 2-3 features you want to include to describe that location.
Within these features, look for potential rhyming pairs to structure your clue around. Of course, rhyming is optional but it makes the treasure hunt a bit more lyrical.
I find a Rhyming Dictionary to be quite handy for this process.
Treasure Hunt Clue Example: Dining Room Chair
For example, let's look at my dining room chair clue.
I wanted to include the common chair riddle of "what has four legs but no feet." Since this is for kids, including that it's a place to sit makes it easier to identify. Specifically, since it is a dining chair, I wanted to add something about eating or meals.
For this one, I knew "feet" and "eat" would make a good rhyming pair.
That came together as this clue:
"Made with four legs, but without any feet

I'm the perfect place to sit when it's time to eat."

Treasure Hunt Clue Example
3. Write an introduction letter. (Optional)
Taking the time to write an introduction letter is an optional step that adds another layer of fun, especially for a special occasion like a holiday or birthday party.
In the intro letter, you will want to line out the basics of the hunt. There are clues hidden nearby, they need to find them in the right order, there is a prize waiting at the end, etc.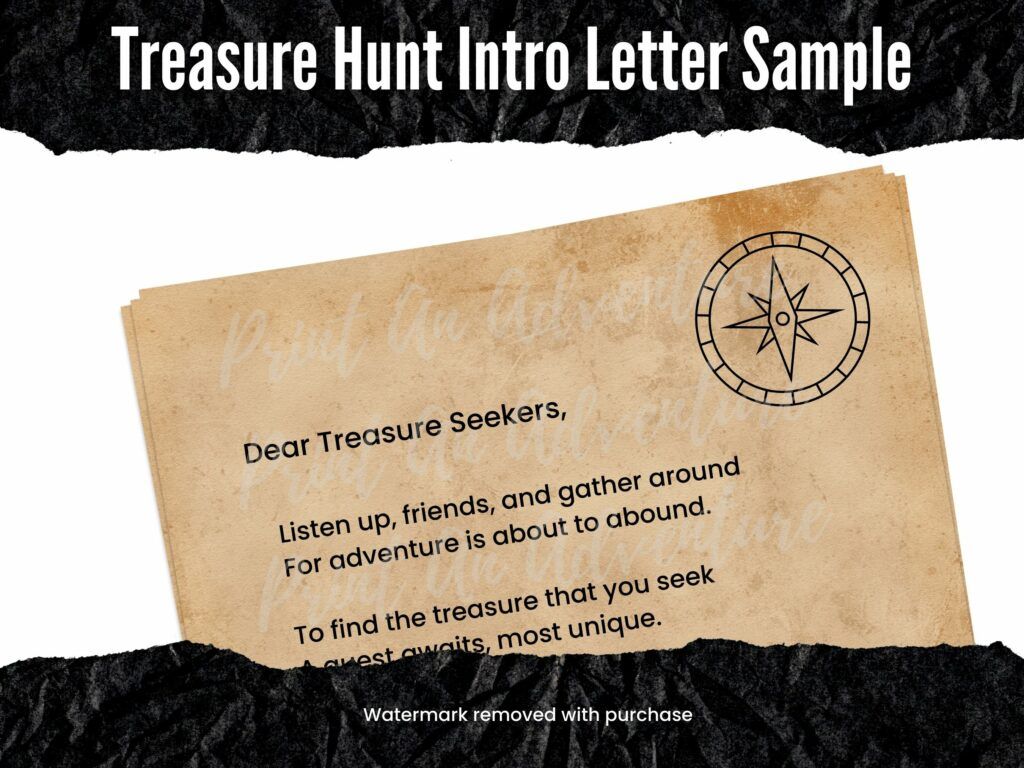 4. Plan out your treasure hunt.
Before you hide your clues, it is helpful to write down the order you'll be hiding them in for your treasure hunt. For the final location, consider a spot large enough to hold prizes.
5. Hide your clues and treasure.
Set aside CLUE 1 (example: PILLOW), this is the clue you will hand your child.
Go to your first location (example: PILLOW) and hide CLUE 2 (example: FRIDGE) there.
Go to your next location (example: FRIDGE) and hide CLUE 3 (example: BOOKSHELF) there.
Repeat these steps until all of your clues are hidden.
In your final location (example: BATHTUB), place the treasure.
Kids' Treasure Hunt Prize Ideas
Need some ideas for treasure hunt prizes? Besides chocolate gold coins or other treat prizes, check out these 15 Eco-Friendly Birthday Party Favors Kids Will Love.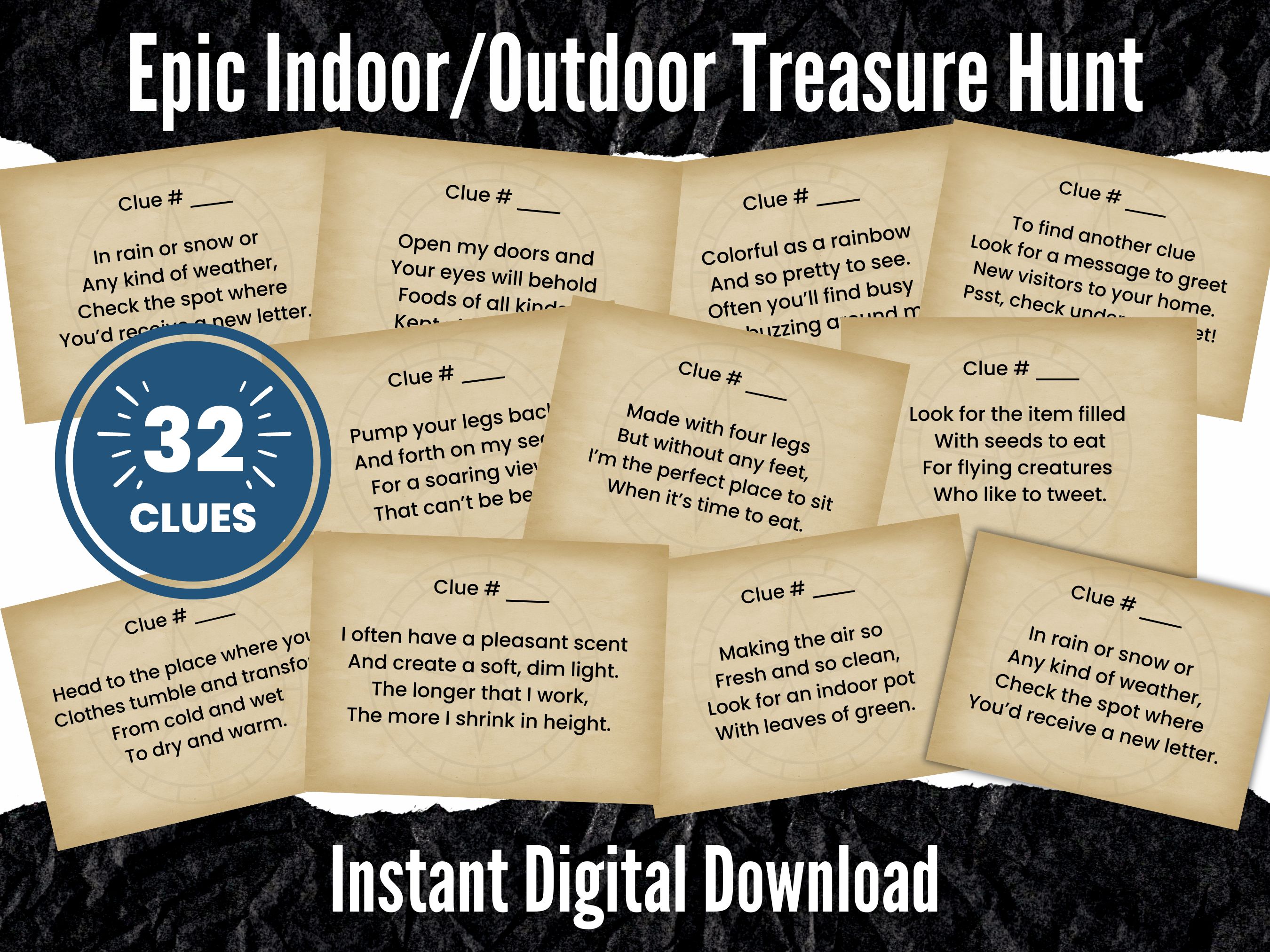 My Read-Made Printable Treasure Hunt for Kids
For an easy, instant digital download, you will love my Printable Treasure Hunt for Kids which includes:
Treasure Hunt Set-Up Instructions
Treasure Hunt Planner
"Dear Treasure Seekers" Intro Letter
32 Indoor & Outdoor Clue Cards
1 Final Congratulations Card
3 Blank Clue Cards
Happy Treasure Hunting!
Whether you write your own treasure hunt or purchase my Printable Treasure Hunt, I hope you have a blast on your treasure hunting adventure!