Summer time is full of family fun in the sun, which also means protecting that precious skin! For a natural sunscreen for babies and kids that is safe and affordable, check out Thinkbaby or Thinksport Kids sunscreen.
In this sunscreen review, we'll cover the difference between Thinkbaby and Thinksport Kids sunscreen. Plus, 7 great reasons to give Thinkbaby and Thinksport Kids sunscreen a try (including great coupon codes!).
Thinkbaby & Thinksport Kids Sunscreen Highlights
SPF50 Broad-spectrum UVA and UVB protection
Water resistant up to 80 minutes
Free of biologically harmful chemicals
Reef safe
Natural tropical scent
Absorbs easily
Affordable (coupon codes included down below to save even more!)
Available locally and online
Note: Sunscreen is not typically recommended for infants under 6 months. Please consult your pediatrician with any questions.
Thinkbaby Vs. Thinksport Kids Sunscreen
First off, are you wondering what is the difference between Thinkbaby sunscreen and Thinksport Kids sunscreen? Turns out, really just the name.
According to the GoThink website, "The base formulations of our sunscreens are identical." And if you review the ingredients, they are exactly the same for both Thinkbaby and Thinksport Kids sunscreen.
Note: Since they are the same formula, I'll just refer to Thinkbaby sunscreen for the remaining of this review to keep it simple. Just know that everything also applies to the Thinksport Kids version as well!
Speaking of ingredients, that brings me to the first reason to try Thinkbaby sunscreen…
1. Thinkbaby sunscreen is made from safe ingredients.
Personally, when I am deciding on what skincare products to buy, I always consult the EWG Skin Deep® Cosmetics Database. In their database, Environmental Working Group (EWG) reviews product ingredients and rates their safety. It's a great resource for finding top rated natural skincare products, like sunscreen.
With an EWG safety rating of 2 out of 10 (with 1 being the best score), Thinkbaby Sunscreen Lotion, SPF 50+ is one of the safest sunscreens available. For comparison, Banana Boat Kids Sport Sunscreen Lotion Spray, SPF 50+, has a score of 7.
Thinkbaby & Thinksport Kids Sunscreen Ingredients
Active Ingredient: Zinc Oxide 20% (Non-nano)
Inactive Ingredients: PURIFIED WATER (0), ALOE BARBADENSIS LEAF JUICE (0), CAPRIC CAPRYLIC TRIGLYCERIDES(0), SORBITAN STEARATE (COCONUT BASED) (1), PINE WOOD RESIN (0), VEGETABLE GLYCERIN (0), CETYL DIMETHICONE (0), HYDROGENATED CASTOR OIL (0), MAGNESIUM SULFATE (EPSOM SALT) (0), SUNFLOWER OIL, JOJOBA OIL (0), ASCORBIC ACID (VITAMIN C) (0), TOCOPHEROLS (VITAMIN E) (1), OLIVE OIL (0), RASPBERRY SEED OIL (0), CRANBERRY SEED OIL (0), HYALURONIC ACID (MADE FROM VEGETABLE) (0), GLUCOSE & GLUCOSE OXIDASE AND LACTOPEROXIDASE (0), PAPAYA (0)
2. With a light tropical scent, it smells great too.
When you are putting sunscreen all over your face and body, it helps if it smells nice!
Looking through the Thinkbaby sunscreen ingredients, you'll notice papaya on the list. That papaya ingredient gives the sunscreen a slight fruity scent similar to oranges. A lovely tropical vibe!
In our family, my oldest child can be sensitive to scents. For him, the unscented versions of lotions and sunscreens are the ones that are too "stinky" though. With a light natural scent that does not include any artificial fragrance, Thinkbaby is perfect for our family.
3. Thinkbaby sunscreen is reef safe.
Made from non-nano zinc oxide, Thinkbaby sunscreen does not contain any chemicals that damage the fragile coral reef system. So you can rest easy knowing you are using an environmentally safe sunscreen.
Plus, you can take Thinkbaby sunscreen to Hawaii, if you are lucky enough to go! To protect human and marine health, Hawaii has banned the following toxic sunscreen chemicals: oxybenzone, octinoxate, avobenzone and octocrylene. None of these chemicals are in Thinkbaby sunscreen.
4. At SPF 50, it has high ratings for UVA/UVB protection.
As part of EWG's sunscreen guide, UVA and UVB protection are also reviewed. Thinkbaby received a score of "Excellent," the highest rating for filtering out UVA and UVB rays evenly.
5. For a mineral sunscreen, it absorbs well.
Mineral sunscreens with zinc oxide are notorious for being difficult to rub in and leaving a white residue on the skin. As with most mineral sunscreens, Thinkbaby takes a little effort to fully rub in the skin to avoid a white cast. However, Thinkbaby sunscreen absorbs a lot easier than other mineral sunscreens I've tried.
Tip: For full effectiveness, apply sunscreen at least 15 minutes before going in the sun. This allows time for the sunscreen to absorb into the skin and dry.
6. Thinkbaby sunscreen is water resistant.
Once Thinkbaby sunscreen is absorbed, it is water resistant for up to 80 minutes. Make sure to reapply when needed!
7. It is affordable and easy to purchase.
For all the reasons listed above, it's easy to see why Thinkbaby sunscreen is a popular choice. Sometimes, it can be tricky to find the best place to purchase natural sunscreen. Thankfully, Thinkbaby sunscreen is available through several retailers.
Where To Purchase In Stores
In Michigan, I've found Thinkbaby sunscreen locally in large retail stores like Target and Meijer. Whole Foods and other health food markets may also carry it in store.
Where To Purchase Online
For your convenience, I have added direct links for places to buy Thinkbaby sunscreen. If you make a purchase through one of these affiliate links, you rock! As an Amazon Associate, I may earn a small commission on qualifying purchases at no cost to you.
GoThink
If you are looking to purchase online, the GoThink website has all the sunscreen options available for purchase. Plus, they have some great coupon codes to save even more!
For any purchase, get 10% off sitewide with code THINK10.
For a limited time, get 25% off with code SAVE25.
Amazon
Also, Amazon sells both the Thinkbaby and Thinksport Kids versions in 3 oz or 6 oz containers. Sometimes they go on sale, so click here for current Amazon prices:
Thinkbaby, Safe, Water Resistant Sunscreen – SPF 50+ (3 ounce)
Thinkbaby, Safe, Water Resistant Sunscreen – SPF 50+ (6 ounce)
Comparison Sunscreen Shopping
Quality, natural products usually cost a little more, and sunscreen is no exception. Thinkbaby mineral sunscreen will cost more than cheaper chemical sunscreen. However, it is one of the more affordable natural sunscreen options.
For comparison, check out the prices for Badger and Babo Botanicals sunscreen. Both great natural sunscreen options, just a little more expensive.
Badger – SPF 40 Kids Clear Sport Sunscreen Cream, 2.9 fl oz
Babo Botanicals Baby Skin Mineral Sunscreen Lotion SPF 50, Unscented, 3 Fl Oz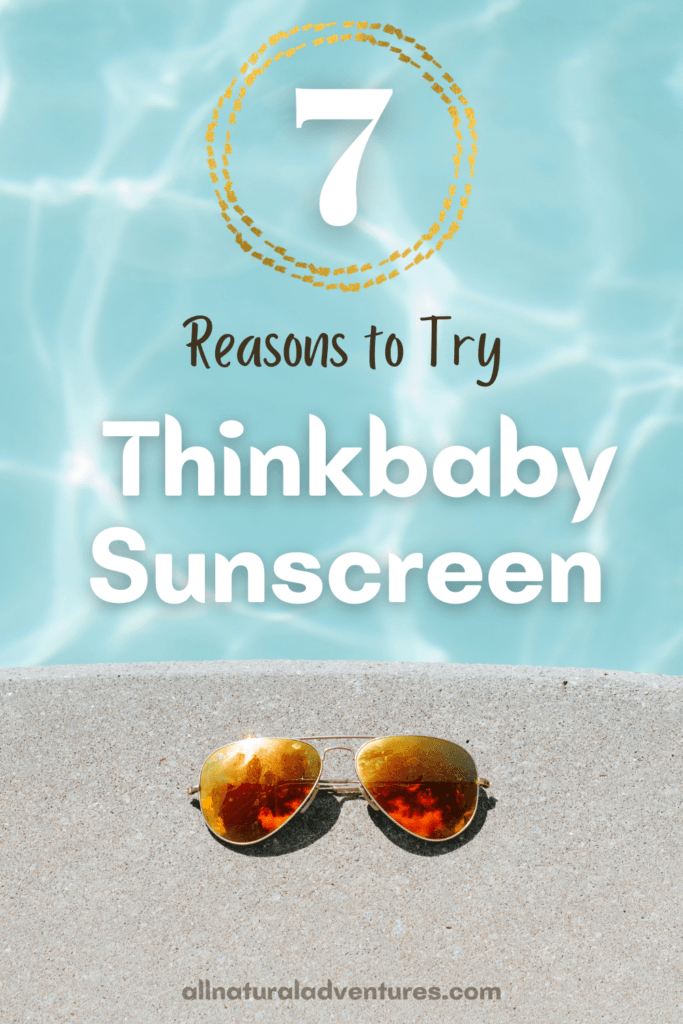 Enjoy those sunny days!
I hope you are able to enjoy lots of summer adventures with fully protected skin. For more of our family's adventures (in summer and all year long), follow along on Instagram.
 

 

View this post on Instagram

 
Have you tried Thinkbaby or Thinksport Kids sunscreen before? Or, do you have a different natural sunscreen you swear by? I'd love to hear from you in the comments below!
Read more about all My Favorite Natural & Eco-Friendly Products + Discount Codes.