What is the difference between Earth Day and Arbor Day?
Short answer:
Arbor Day started in 1872 and focuses specifically on planting more trees.
Earth Day began in 1970 and includes all aspects of environmental education and action.
Basically, both are awesome.
Long answer: Let's dive deeper and explore what makes these important days unique and what they have in common. Plus, we'll cover meaningful Earth Day and Arbor Day activities for families to observe these special days.
This post contains affiliate links. If you make a purchase through these links, I may receive a small commission at no additional charge to you. 
Earth Day Vs. Arbor Day: When Are They?
Earth Day is celebrated on April 22 each year in the US.
Arbor Day is mostly commonly celebrated on the last Friday in April (April 29 in 2022). Since the goal of Arbor Day is to plant trees, the celebration date can vary by state or region depending on the best growing season for the area. For example, Maine celebrates Arbor Day in May and Hawaii celebrates in November.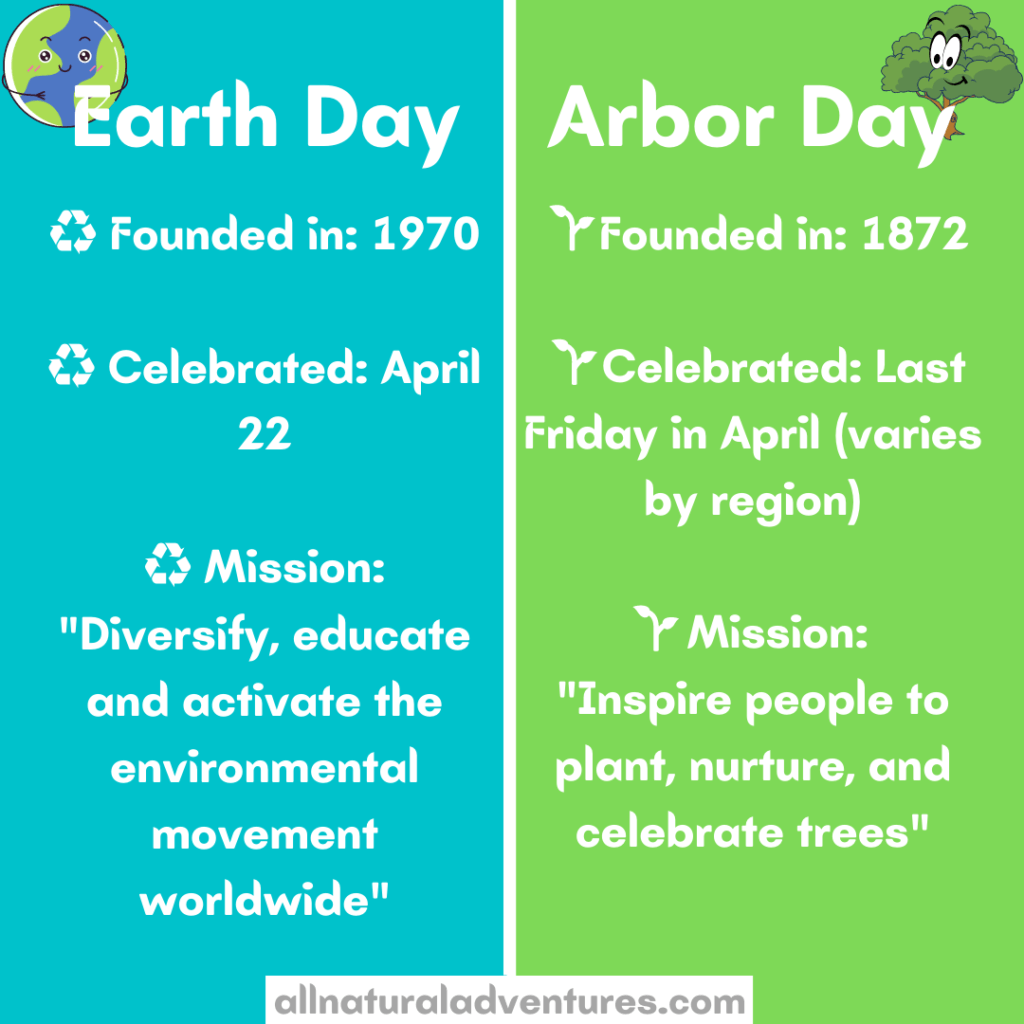 Earth Day Vs. Arbor Day: When Did They Start?
Arbor Day Fun Facts
1. Arbor Day originated in Nebraska in 1872.
2. In this Great Plains region, pioneers recognized how valuable more trees would be to provide much needed firewood, building materials, and windbreaks and shade for crops.
3. Nebraskan newspaper editor, J. Sterling Morton, is credited as the founder of Arbor Day.
4. On the first Arbor Day, April 10, 1872, it is estimated that one million trees were planted in Nebraska.
5. Considered a huge success, Arbor Day became an official Nebraskan state holiday.
6. Later, the celebration date changed to Morton's birthday on April 22.
7. Today, Arbor Day is recognized in all 50 states in the US and several countries throughout the world as well.
8. The official date of Arbor Day continued to evolve and is now commonly celebrated on the last Friday in April, although the date varies by region.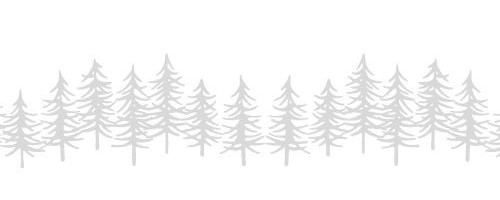 Earth Day Fun Facts
1. The first Earth Day took place a century later on April 22, 1970.
2. Concerned about recent damaging oil spills, Senator Gaylord Nelson from Wisconsin worked with volunteers to organize teach ins on college campuses across the country to raise awareness about air and water pollution.
3. The date of the first Earth Day was selected to take place on Arbor Day, to combine with environmental celebrations already taking place. It was also an ideal date for college students, falling between spring break and final exams.
4. On April 22, 1970, over 20 million Americans from different personal and political backgrounds joined together in rallies and educational programs to speak out about the damaging environmental effects on communities and wildlife.
5. Momentum from the first Earth Day in 1970 led to the development of the US Environmental Protection Agency (EPA) and many environmental protection laws including the Clear Air Act and Clean Water Act.
6. Today, Earth Day is celebrated by over 1 billion people in 193 countries and is recognized as the largest day of civic action worldwide.
Earth Day Vs. Arbor Day: How To Celebrate Today
While Earth Day and Arbor Day are observed on separate days, they share the same objective of making our planet a better place for all living creatures. Both days can include some of the same nature focused activities such as planting trees and learning about the environment.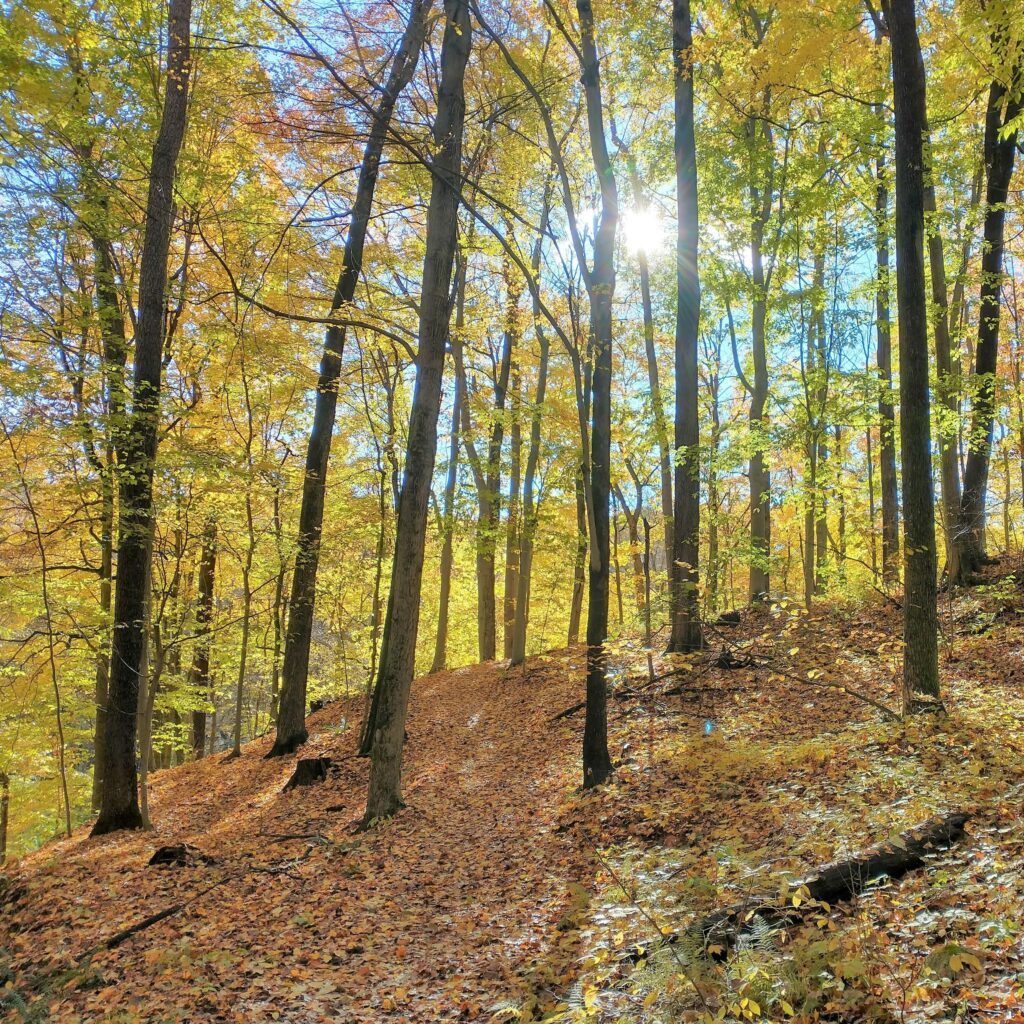 Arbor Day: It's All About The Trees
One of the most universal ways to help the environment is to plant more trees. This spring, consider either planting a tree yourself or donating to a tree planting organization.
Why plant trees?
Besides providing beautiful scenery, there are so many benefits to trees. According to the Arbor Day website, trees can help:
Improve air quality
Increase mental health
Provide habitats for wildlife
Clean drinking water
Increase property values
Reduce crime
Save energy on heating and cooling
Reduce climate change effects
Plant trees in your own backyard.
First, research which type of tree would be the best fit for your geographic region and the amount of shade or sunlight in the specific area of your yard you plan to plant.
As you plant your tree, follow these steps to help it thrive: How to Plant A Tree the Right Way.
One year for Christmas we purchased a living Christmas pine tree from a local nursery. We decorated it with Christmas lights and kept it outside on the deck all winter long. The plan was to bring put it in the garage the week before Christmas to acclimate to the warmer weather, but it was quite heavy and covered with snow. We ended up enjoying our Christmas tree outside that year! Then in the spring, a little after Arbor Day, we planted the pine tree in our backyard.
Donate to an organization that plants trees.
Besides planting your own tree, there are also many worthy organizations to support that plant trees throughout local and global communities. Click A Tree is one of those awesome organizations.
What makes Click A Tree so awesome? Two reasons: They plant trees in some of the most vulnerable places globally and they create jobs for locals by planting trees.
When you donate to Click A Tree, you have the option to plant trees for elephants in Thailand, Kenya, and India, trees for entrepreneurs in Ghana or trees for the seas in the Philippines and Madagascar.
Earth Day: How To Celebrate
While planting trees is an amazing way to observe both Earth Day and Arbor Day, Earth Day also emphasizes environmental education and action. Here are some other ideas to meaningfully celebrate nature with your family for Earth Day.
Learn Together
1. Read children's books about the environment.
Reading children's books is a great way to learn about a topic, even for grown-ups! These are some of our family favorites that have inspiring messages about planting trees and making small changes around your home to reduce, reuse and recycle.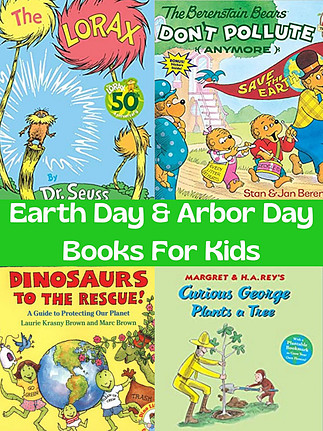 Dinosaurs to the Rescue: A Guide to Saving Our Planet
2. Visit a nature center or community garden.
There are so many beautiful places in nature to explore and hands-on experiences are one of the best ways to learn about the environment.
3. Listen to an educational podcast.
Check out a fun and educational podcast together as a family. For inspiration, these are our family's favorites: Best Science and Nature Podcasts for Kids.
Make A Difference Together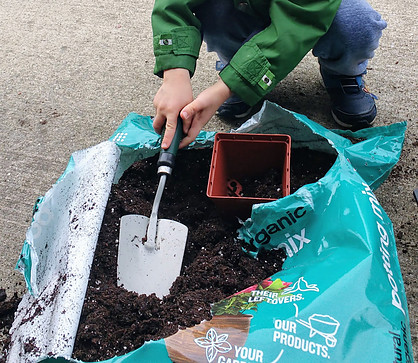 1. Plant something small.

Another alternative to planting a tree is planting something small like an indoor herb garden or patio planter or starting seedlings for a summer garden. Every little bit of greenery helps!
For more on this topic, check out my other posts on Planning A Garden With Kids and Planting Seeds Indoors With Kids.
2. Make an eco-friendly craft like nature art.
Gather your nature materials such as rocks, pinecones, leaves, and sticks. Be mindful not to disturb any living plants.
Choose a simple shape like a flower.
Fill in and decorate with your nature materials.
Enjoy your eco-friendly nature art!
3. Join a community clean up.
Look for community clean up events near you (or organize your own!) here: The Great Global Cleanup.
If your kids are mature enough to handle the task, simply plan a time to visit your favorite park or hiking trail and bring some trash bags and gloves and pick up any trash you may see.
4. Plan some plant-based meals.
Reducing the amount of meat we eat is another way to help the environment. Raising livestock uses more resources and results in more harmful greenhouse gas emissions than growing plants.
As a family, brainstorm what plant-based meals are your favorites and plan to eat more of those. Maybe veggie burgers and sweet potato fries? Vegetarian lasagna and Chocolate Chip Banana Bread for dessert? Black bean tacos with chips and salsa? Plan a specific day each week to have a plant based meal.
5. Make one eco-friendly product switch for your household.
My favorite easy eco swap? Switching from regular toilet paper to sustainable bamboo or 100% recycled toilet paper. Read about my go-to brand here: Who Gives a Crap Toilet Paper Review: Funny Name, Seriously Sustainable.
Happy Earth Day & Arbor Day!
I hope you enjoyed learning more about Earth Day Vs. Arbor Day. To recap, Arbor started first and focuses on the importance of caring for and planting more trees. A century later, Earth Day expanded upon Arbor Day's mission to bring a global awareness to all areas of the environment including air and water pollution and take action to make the world a better place. Both play a part in bringing awareness to the environmental health of our planet and the ways we can improve it.
How do you plan to celebrate Earth Day and Arbor Day this year?