Interested in learning some Lake Michigan facts for kids?
With beautiful beaches and powerful waves, Lake Michigan could easily be mistaken for an ocean. However, as one of the five Great Lakes, Lake Michigan boasts being an "Unsalted and Shark Free" freshwater lake. In fact, the Great Lakes are so massive, they make up 20% of the freshwater supply in the world.
If you love the beauty of Lake Michigan, check out these 12 fun facts for kids that you may not already know all about this amazing Great Lake…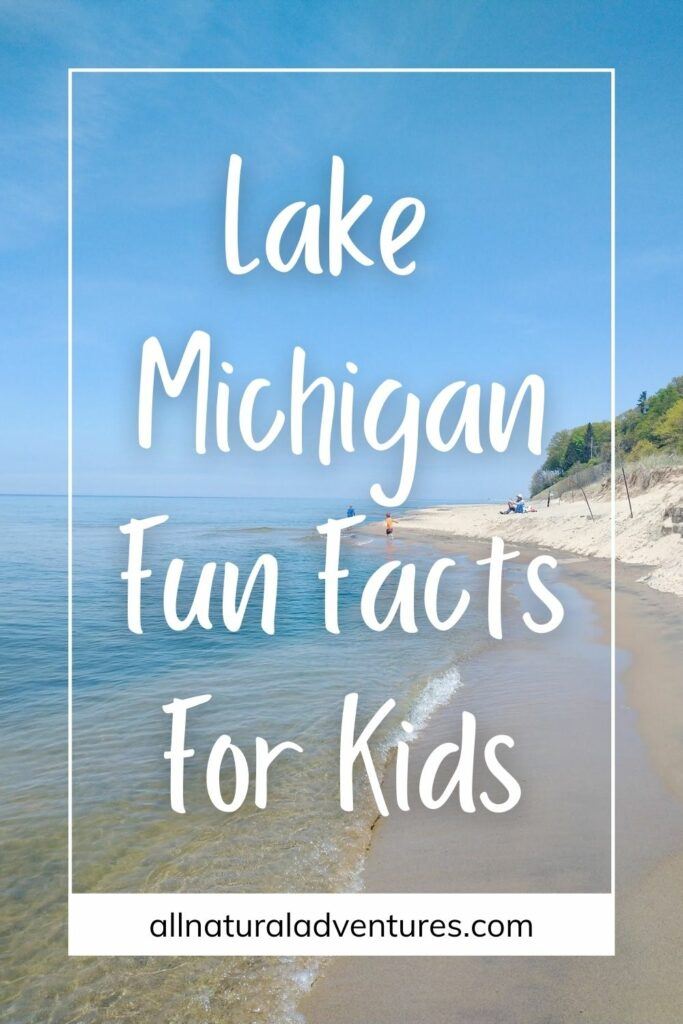 12 Lake Michigan Facts For Kids That May Surprise You
1. The name "Michigan" comes from Native American words meaning "great water" or "big lake".
Indigenous languages influenced many names for states, cities, and bodies of water, including Lake Michigan. Several different Indigenous words may have inspired the Michigan name including:
The Algonquin word "Mishigamaa" or "Mishigamaw" meaning "big lake"
The Chippewa word "Meicigama" meaning "great water"
The Ojibwa word "Mishigami" meaning "large water"
2. Lake Michigan boasts the largest collection of freshwater dunes in the world.
Created by glacier deposits thousands of years ago, freshwater sand dunes cover miles of Lake Michigan's eastern shoreline. These beaches lined with freshwater dunes are uniquely beautiful and fascinating ecosystems.
In particular, the Sleeping Bear Dunes National Lakeshore in Empire, Michigan, is an especially popular destination known for its stunning views.
3. Adventurers can take a dune ride along the lakeshore in designated areas.
Two dune ride tour companies have contracts with the state to operate in the dunes. In Silver Lake, hop on Mac Wood's Dune Rides. In Saugatuck, check out Saugatuck Dune Rides. It's a fun a unique way to experience the Lake Michigan dunes!
4. It's an all American lake.
Lake Michigan is the only Great Lake that is located completely within the United States. The other 4 Great Lakes (Superior, Huron, Erie, and Ontario) share borders with both the US and Canada.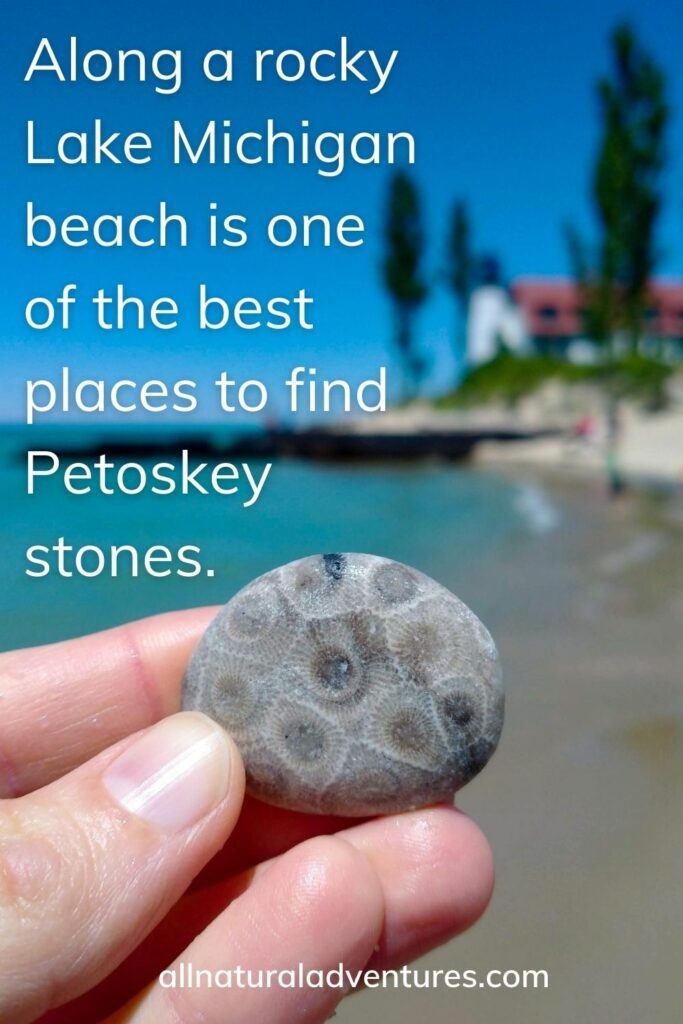 5. Along a rocky Lake Michigan beach is one of the best places to find Petoskey stones.
As the state stone of Michigan, Petoskey stones are unique to the Great Lakes area. Moved by glaciers ages ago, these stones are made up of fossilized coral which creates its distinct pattern.
Hunting for Petoskey stones along the northern shores of Lake Michigan is a popular activity – especially since the stone's pattern is more visible when wet.
6. Four U.S. states border Lake Michigan.
Lake Michigan is surrounded by the state it shares a name with, Michigan, as well as Indiana, Illinois, and Wisconsin.
7. Of all the freshwater lakes in the world, it is the fourth largest by surface area.
At 22,000 square miles, Lake Michigan is the third largest (by surface area) Great Lake and fourth largest freshwater lake in the world. Lake Huron just beats it at 23,000 square miles.
The largest body of freshwater in the world? The massive Lake Superior at 31,700 square miles.
8. Lake Michigan has its own Bermuda Triangle with many mysterious events occurring there.
Intrigued by disappearing ships, ship passengers, and an airline flight? Take a deep dive into the Mysteries of the Lake Michigan Triangle.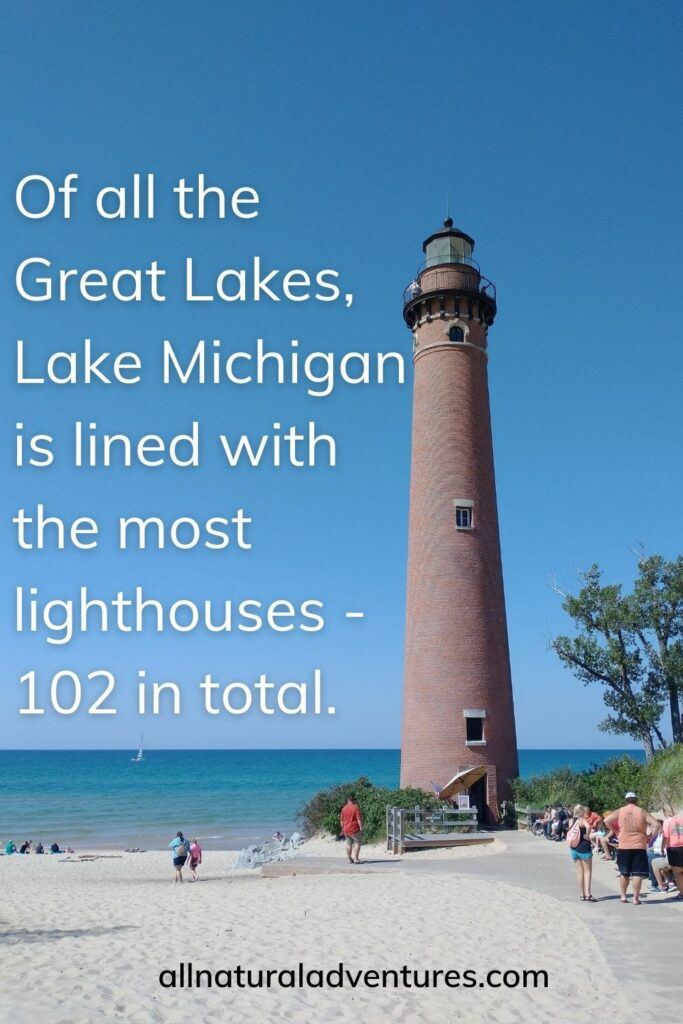 9. Of all the Great Lakes, Lake Michigan is lined with the most lighthouses – 102 in total.
If you enjoy visiting lighthouses, Lake Michigan has plenty! Some you can tour and climb up as well, like the Little Sable Lighthouse in Mears, Michigan pictured above.
Being surrounded by the Great Lakes, the state of Michigan also has the most lighthouses of any other state – 129 total.
10. Two ferry lines take passengers between Michigan and Wisconsin.
Voyage across Lake Michigan from Muskegon, MI to Milwaukee, WI aboard the Lake Express. Or take the SS Badger between Ludington, MI and Manitowoc, WI. Definitely an item to add to your Midwest travel bucket list!
11. About 1,500 shipwrecks rest beneath Lake Michigan's waters.
As a large and powerful lake, unfortunately hundreds of ships in the 1800s and 1900s sank making the voyage across Lake Michigan. These days, ships are much better able to handle the rough waters!
Interested in exploring shipwrecks up close? You can snorkel or scuba dive to see some shipwrecks near Traverse City.
12. Technically, Lake Michigan and Lake Huron are one lake.
The two bodies of water connect at the Straits of Mackinac. However, because of their distinct lake basins, they are generally considered two individual lakes.
Preserving Lake Michigan
If you enjoy the beauty of Lake Michigan, let's work together to preserve this important natural resource for generations to come! The Alliance for the Great Lakes is one community organization working toward preserving our precious Great Lakes.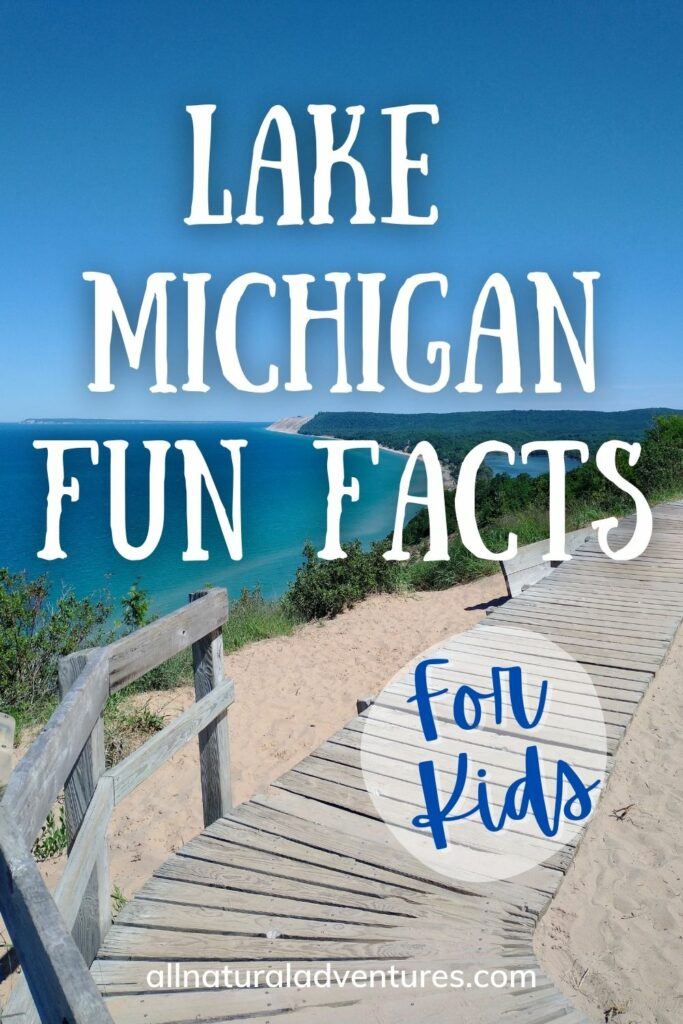 Enjoy The Beauty of Lake Michigan!
Well kids (and grown ups), did you learn anything new from these fun facts about Lake Michigan? Or were you already a Lake Michigan expert?
If you know any other interesting tidbits about Lake Michigan you'd like to share, please leave a comment below!
For some beautiful Lake Michigan adventure spots, check out:
3 Must See Spectacular Hikes In Saugatuck, Michigan
3 Quiet Lake Michigan Beaches To Enjoy The Sunset