If you love exploring West Michigan, check out the beautiful hiking trails in Saugatuck, Michigan. With wooded hikes, dune climbs and spectacular views of Lake Michigan, these 3 trails are must adds to your Michigan hiking bucket list.
3 Spectacular Hiking Trails in Saugatuck, Michigan
Saugatuck Dunes State Park
Mount Baldhead
Crow's Nest Trail (Tallmadge Woods Nature Preserve)
Saugatuck, Michigan Hiking Trails Map
6575 138th Ave.
Holland, MI 49453
Parking: Two medium-sized natural parking lots
Restrooms: Rustic vaulted toilets
Dogs: Allowed
Fee: Included with a Michigan Recreational Passport or $9 daily fee – check here for DNR fee info
Perfect for you if… you like lots of trail options.
Saugatuck Dunes State Park is full of classic West Michigan hiking trail features: sandy, wooded backdune paths over rolling terrain out to a beautiful Lake Michigan shoreline.
With miles of hiking trails along 4 different paths, there are lots of awesome options here. The trails range from 1.5 miles to 5.5 miles out to the lakeshore and back. If you have young children like we do, the yellow Beach Trail is the shortest and easiest hike. It's a great one for kids!
Parking Tips
When arriving at Saugatuck Dunes, there are two different areas to park, either near the Felt Mansion or in the specific state park lot further down the road. Parking in the state park lot is handy if you need to use the restroom first.
769 Park St
Saugatuck, MI 49453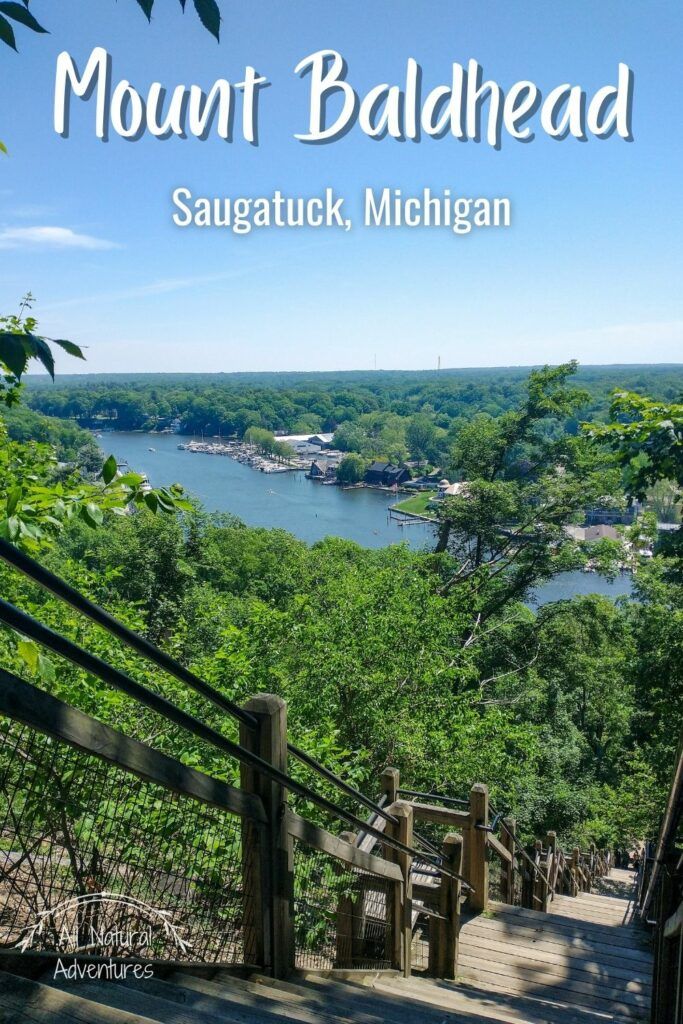 Parking: Small natural parking lot
Restrooms: Modern restrooms
Dogs: Not allowed
Fee: No fee
Perfect for you if… want to stroll the beach during your hike.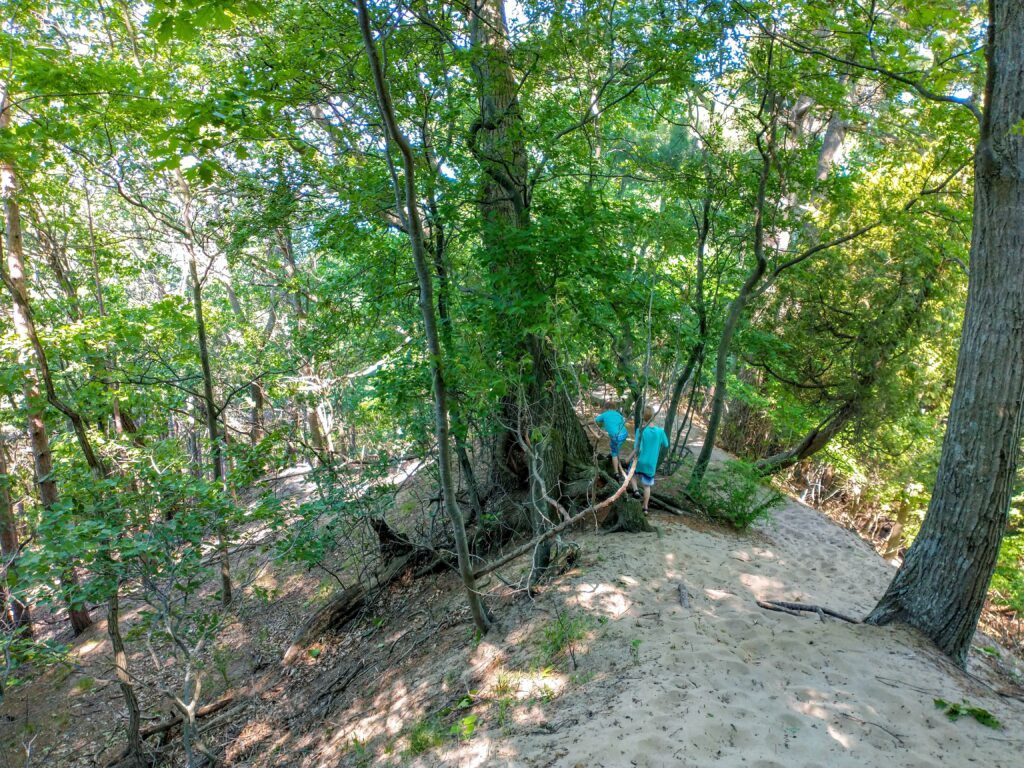 This hike starts out with a short, intense climb up 300 stairs to the top of Mt. Baldhead. At the top, catch your breath at the observation deck and enjoy a beautiful view of the Kalamazoo River.
From there, you can either climb back down the stairs or hike the 1 mile out and back North Woods Trail to the lovely Oval Beach. This moderately difficult trail has a sandy, narrow path and lots of tree roots. All the trees provide lots of shade for most of the journey, which is very helpful on a hot summer day!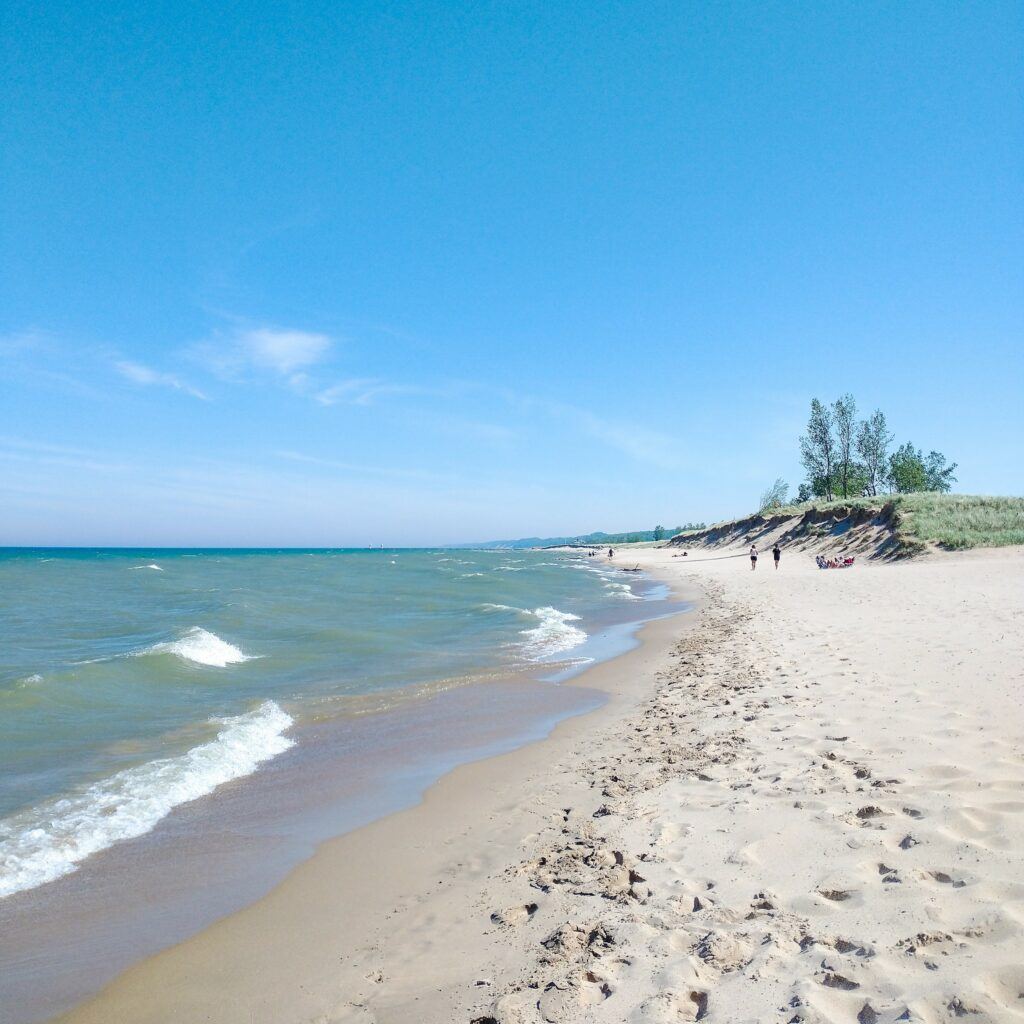 After strolling along gorgeous Oval Beach, head back the way you came, up and over Mount Baldhead. Near the trailhead, you can enjoy a picnic lunch in the pavilion. Or, across the street, rest on a bench along the Kalamazoo River viewing dock.
Crow's Nest Trail/Tallmadge Woods Nature Preserve
1045 Park St
Saugatuck, MI 49453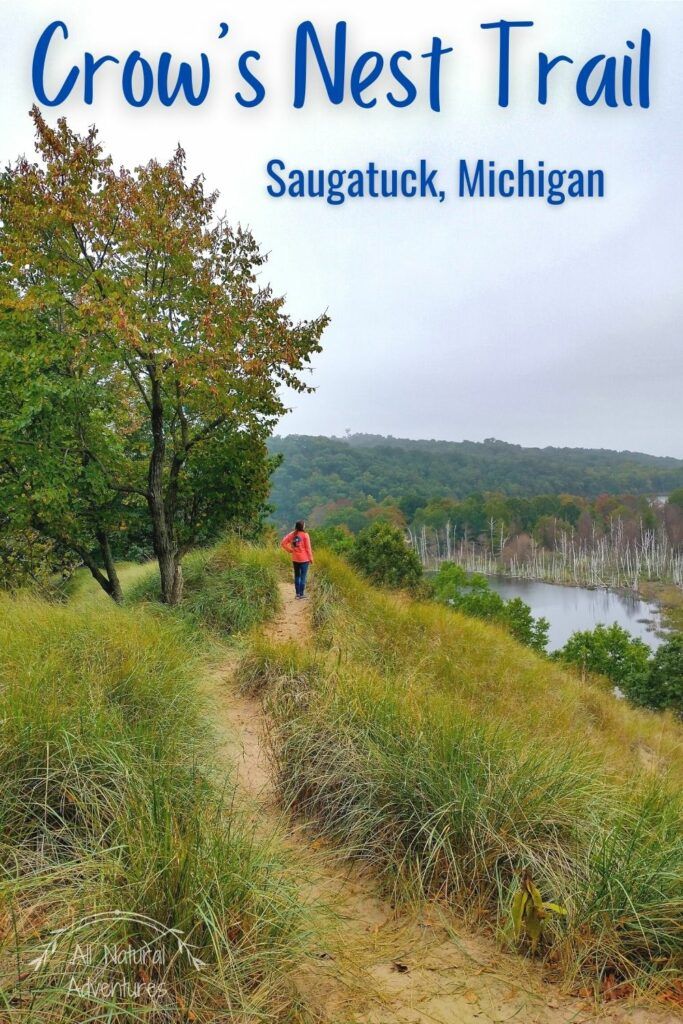 Parking: No designated parking lot – see parking tips below
Restrooms: No restrooms at the trailhead – use the restroom at Mt. Baldhead
Dogs: Allowed
Fee: No fee
Perfect for you if… you love a dramatic overlook.
The Crow's Nest trail through the Tallmadge Woods Nature Preserve leads to one of the most gorgeous vistas in West Michigan. About a 2 mile loop from the trailhead, this moderate trail is similar to Mt. Baldhead with lots of narrow, sandy paths, tree roots and steep inclines.
At the summit, the forest clears and there is a beautiful overlook of the Oxbow Lagoon and Lake Michigan. The day we visited, it was too cloudy for a clear view of Lake Michigan, but we will definitely be back again!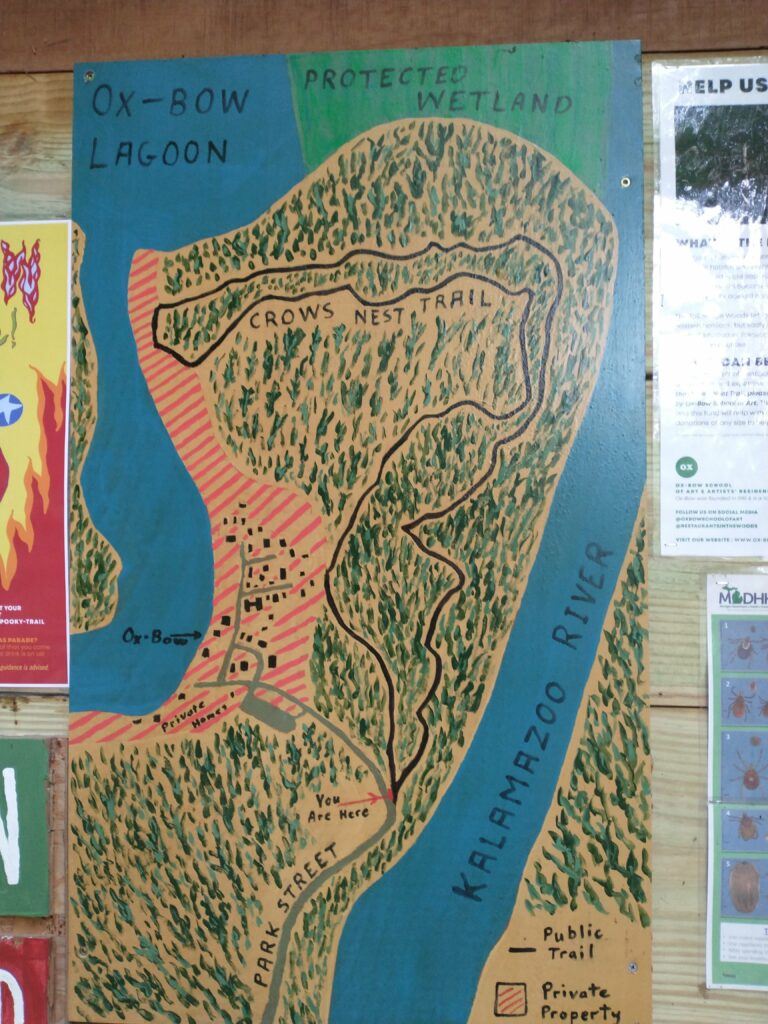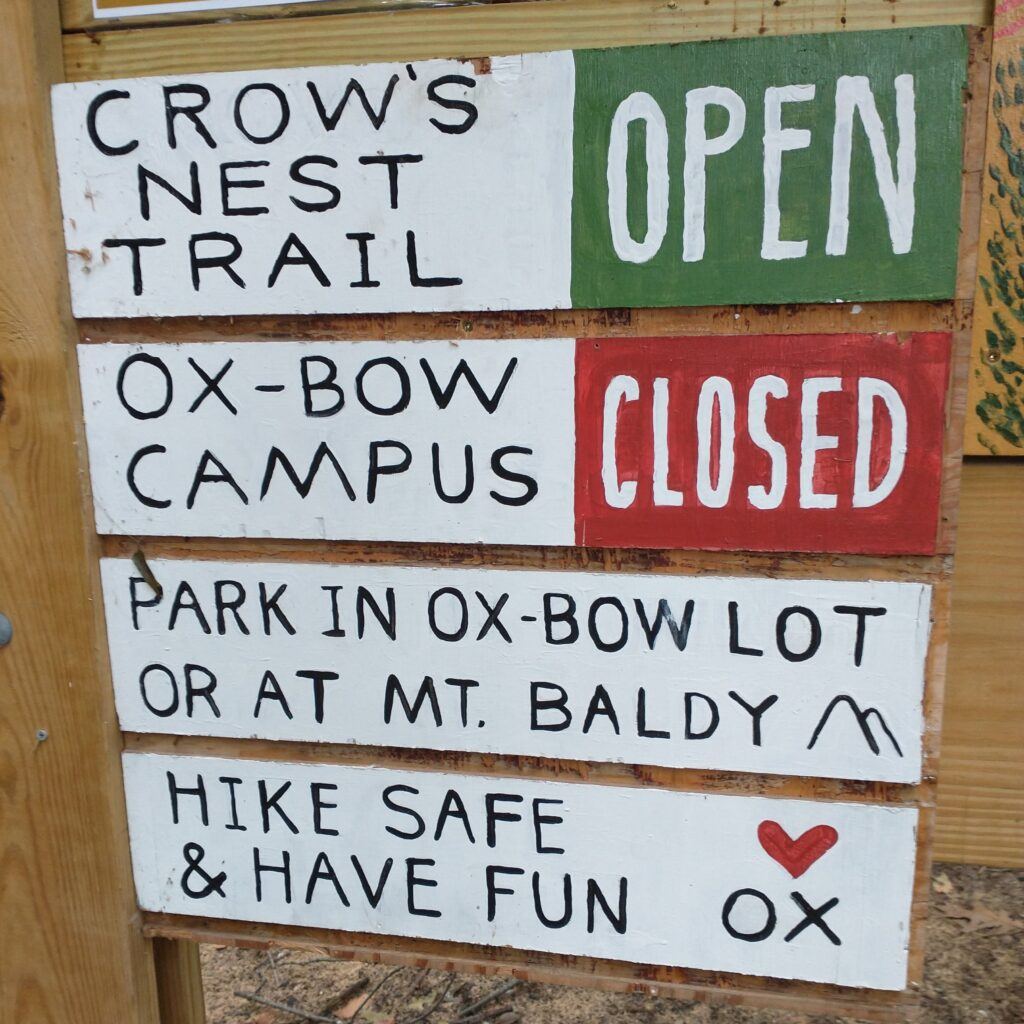 Parking Tips
The Crow's Nest trailhead sign indicates you can park at Mt. Baldhead or in the Ox-Bow School of Art lot as long as the campus is closed. From the Mt. Baldhead parking lot, it is an additional half mile walk each way, making the hike about 3 miles total.
Happy Hiking!
Have you explored any of these spectacular hiking trails in Saugatuck, Michigan? Any other nearby favorites you'd add to this list? I'd love to hear from you in the comments below!
More West Michigan hiking trails:
15 Incredible Lake Michigan State Parks to Explore This Year
Awesome West Michigan Hiking Trails In Ottawa County
Millennium Park (MI): A Year-Round Family Guide