Finding cute, quality, and sustainable children's clothes can be a challenge, but Primary has you covered. Check out this Primary baby & kids clothes review for 5 reasons to give them a try. Plus, a Primary coupon code to save 20% on your first order!
What You'll Find in This Primary Baby & Kids Clothes Review
5 reasons you'll love Primary baby & kids clothes
Primary sizing info and recommendations
Primary coupon code to save 20% on your first order!
For your convenience, I've included direct affiliate links in this post. If you make a purchase through one of these links, I may earn a commission at no additional cost to you.
5 Reasons You'll Love Primary Baby & Kids Clothes
1. Primary makes high quality clothes.
So far the Primary clothes we've purchased have held up well to my kids' active lifestyle. No rips or holes in the first few months of wear!
Having high quality clothes is a win for the environment too. Higher quality means you will need to buy fewer clothes since they last longer. And when you are done with them, it's more likely you'll be able to pass them on for someone else to use.
2. You can rest easy knowing Primary clothes are sustainability made and safe for sensitive skin.
Speaking of the environment, Primary has outlined their Sustainability Initiative, which includes:
Focus on classic rather than trendy pieces that can be worn and handed down for years
OEKO-Tex Standard 100 Certification (free from 300+ chemicals) for most clothing items
Certified Organic Cotton options
Sustainable synthetic fabrics made from recycled materials
Plastic-free packaging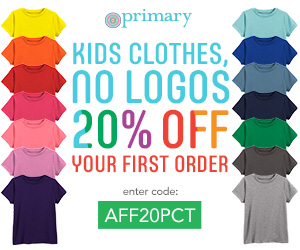 3. Primary's clothes are reasonably priced.
Granted, Primary clothes are not the cheapest on the market, but you get what you pay for. In this case, Primary strikes a great balance between reasonably priced clothes while still maintaining a quality product that is sustainably made.
To make it even more affordable, save 20% and get free shipping on your first Primary order with coupon code AFF20PCT.
4. If you are looking for wardrobe basics in bright, solid colors, Primary is your place.
With a Primary wardrobe, you could dress in any color of the rainbow! Pretty much any item comes in bright solid colors like tangerine orange, cobalt blue or cherry red.
These solid color bodysuits, leggings, t-shirts and sweatshirts are perfect for easily mixing and matching with other items in your child's closet.
Another added bonus…
Using classic pieces in solid colors, Primary clothes make awesome options for comfortable Halloween costumes. Check out these creative ideas: Three Easy Halloween Costumes. So cute and comfy!
5. Primary clothes come in simple and fun patterns too.
If you are looking for a little pizazz beyond solid colors, Primary also carries lots of simple and fun patterns without any logos or patterns.
My one critique is that the patterns available consist mostly of rainbows, hearts, stars, and flowers. Which is great if your child likes those patterns!
However, I would love to see some simple neutral prints in either nature or animal patterns like trees, mountains or bears.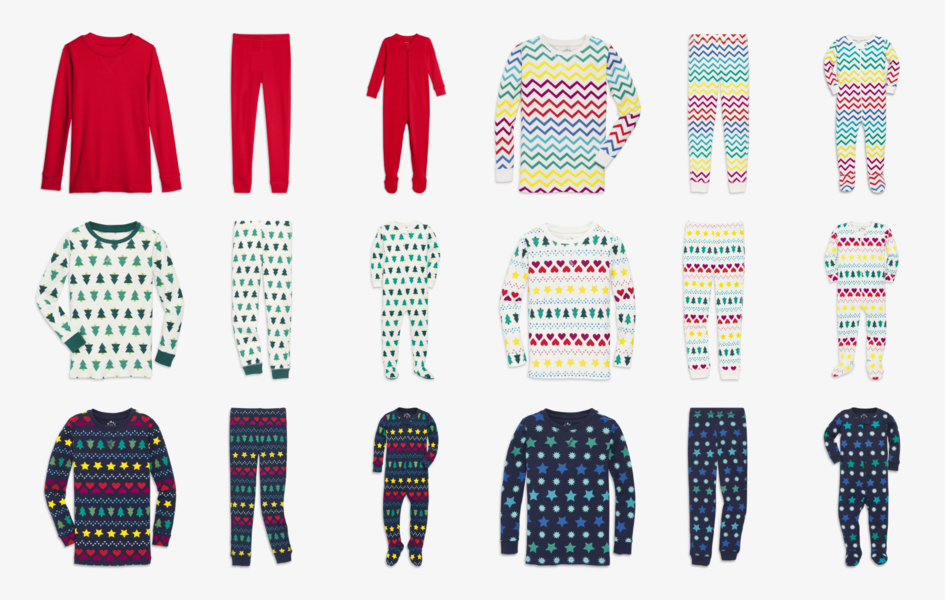 Update for November 2021: Did Primary read my mind about the tree suggestion?! Check out these adorable holiday pajamas for 2021!
Primary Sizing Info & Recommendations
When it comes to sizing, Primary doesn't separate into boys or girls clothes, just baby or kids (or even adult for a few items!).
In my experience, I have found that Primary clothes tend to run long and lean. If your child is built that way, stick to your regular size. If not, size up.
For reference, my long and lean 7 year old fits well into size 6/7. My almost 4 year old is more of an average build and size 4/5 fits him well.
 

 

View this post on Instagram

 
Primary coupon code to save 20% on your first order!
Have you ordered from Primary Kids Clothes before? I'd love to hear your favorite clothing items below!
If you are new to Primary, make sure to save 20% and get free shipping on your first Primary order with coupon code AFF20PCT.
Need an eco-friendly laundry detergent to keep your new clothes fresh and clean? Check out 5 Reasons to Try Earth Breeze Laundry Detergent Eco Sheets.