Giraffes are some of the sweetest and gentlest animals on the planet. If you've never had the pleasure of feeding one of these elegant creatures, here is your opportunity!
Check out these 3 awesome zoos in Michigan where you can feed giraffes:
Binder Park Zoo
Boulder Ridge Wild Animal Park
Detroit Zoo – Giraffe Encounter temporarily closed
Map of Michigan Zoos With Giraffes
Binder Park Zoo
Binder Park Zoo
7400 Division Dr,
Battle Creek, MI 49014
As one of the largest zoos in Michigan, Binder Park Zoo features many interesting animals and exhibits. In particular, the Wild Africa section is a highlight of the park. With six giraffes in a large, open habitat, Binder Park Zoo offers an excellent experience for feeding these lovely animals.
The exhibits are quite spread out at Binder Park Zoo, so be prepared for lots of walking here!
Giraffe Experience
Journey by foot or on the Wilderness Tram to the Wild Africa area. From there, the wooden platform at Twiga Overlook is a beautiful spot to interact with the giraffes.
If you'd like to feed the giraffes by hand, you can purchase lettuce leaves here. For dietary reasons, outside food is not allowed to be fed to the giraffes.
Boulder Ridge Wild Animal Park
Boulder Ridge Wild Animal Park
8313 Pratt Lake SE
Alto, MI 49302
With a safari ride and lots of animal feeding experiences, Boulder Ridge Wild Animal Park is another great spot to visit in Michigan. Being on the smaller size, it's perfect for easily walking around and seeing all of the exhibits.
Giraffe Experience
Of all the animal feeding experiences available (alligators, goats, camels, llamas), the giraffes are always a favorite. At Binder Park Zoo, the two giraffes in residence will happily munch on the veggies you offer them.
Although there is no platform here to get on eye level with the giraffes, you can easily fed them from the path. Boulder Ridge offers stations where you can purchase lettuce or carrots to hand feed the giraffes and other animals. Again, no outside food is not allowed for feeding animals here either.
Detroit Zoo
Detroit Zoo
8450 W. 10 Mile Road
Royal Oak, MI 48067
Probably the most well-known in the state, the Detroit Zoo is full of unique exhibits. From penguins and polar bears to giraffes and rhinos, the Detroit Zoo is a must visit experience.
Giraffe Encounter – Temporarily Closed
To feed the giraffes at the Detroit Zoo, you will need to purchase a ticket for the Giraffe Encounter. There are two feeding times daily with limited tickets available.
During the Giraffe Encounter, guests have access to the elevated platform to view and feed these darling animals.
As of July 2021, all animal encounters are temporarily closed at the Detroit Zoo. Check here for the latest updates: Zoo Experiences – Detroit Zoo.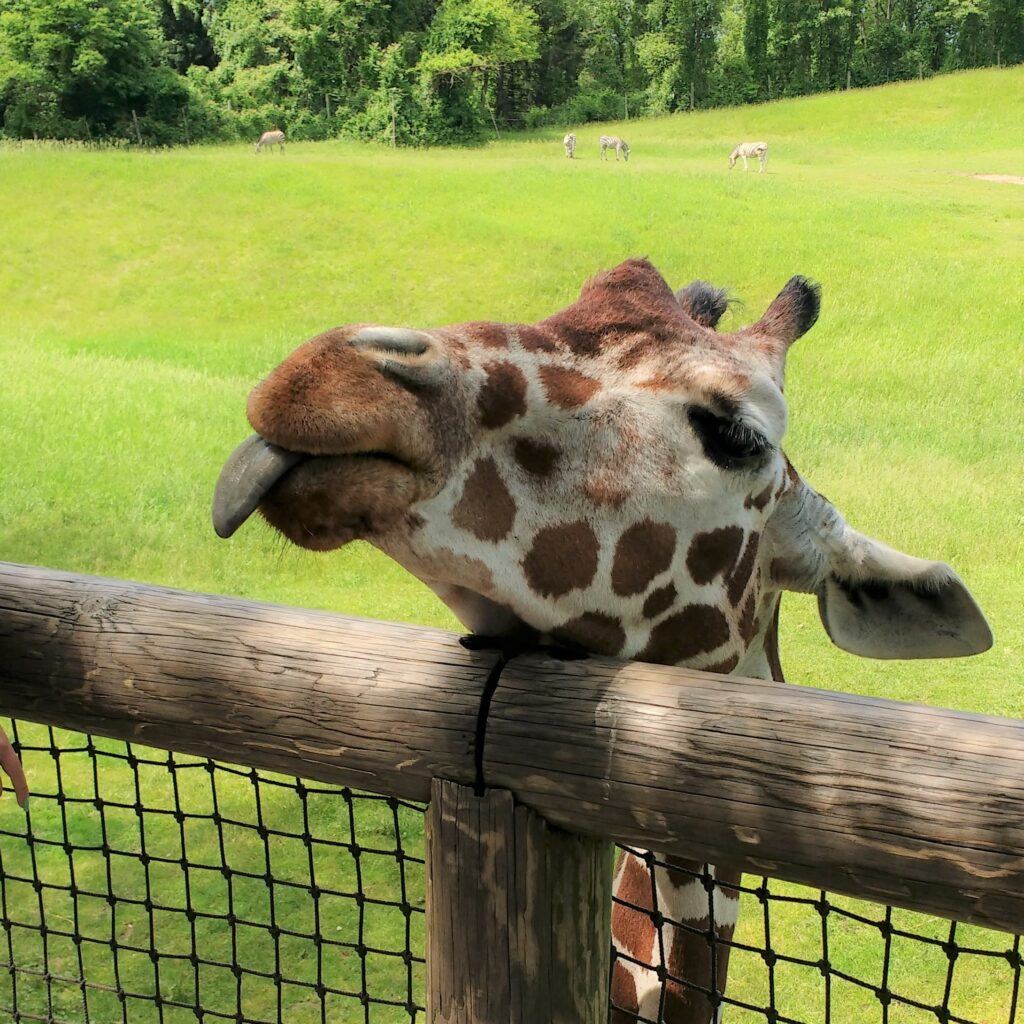 Happy Giraffe Feeding!
Have you ever fed a giraffe at one of these zoos in Michigan or somewhere else? I'd love to hear your stories in the comments below!
For more Michigan summer fun, check out Where To Pick Organic Berries & Cherries In Michigan.