Frederik Meijer Gardens and Sculpture Park is a beautiful, sprawling 158-acre attraction located in Grand Rapids, Michigan. From lush gardens and waterfalls to inspiring artwork and interactive children's displays, there is so much to see and do here for all ages!
To make the most of your visit with your family, check out this insider guide to the best kid-friendly spots at Meijer Gardens.
Meijer Gardens Highlights
Miles of paved paths, boardwalks and nature trails – very stroller friendly!
Sculpture Park with dozens of fascinating art pieces
Massive, interactive Children's Garden
Historical Michigan's Farm Garden
Beautiful Japanese Garden
Largest Tropical Conservatory in Michigan
Unique seasonal events
About Meijer Gardens
Location: 1000 East Beltline Ave NE, Grand Rapids, Michigan, 49525
Hours: Daily from 9am – 5 pm; (Exceptions: closes Tuesday at 9 pm, opens Sunday at 11 am); Extended hours for the Butterflies Are Blooming exhibit
Admission: Check here for current rates
If you are local to the Grand Rapids area, consider getting a yearly membership. Enjoy a leisurely visit without feeling the pressure to see everything all in one day.
Meijer Gardens Map
Sculpture Park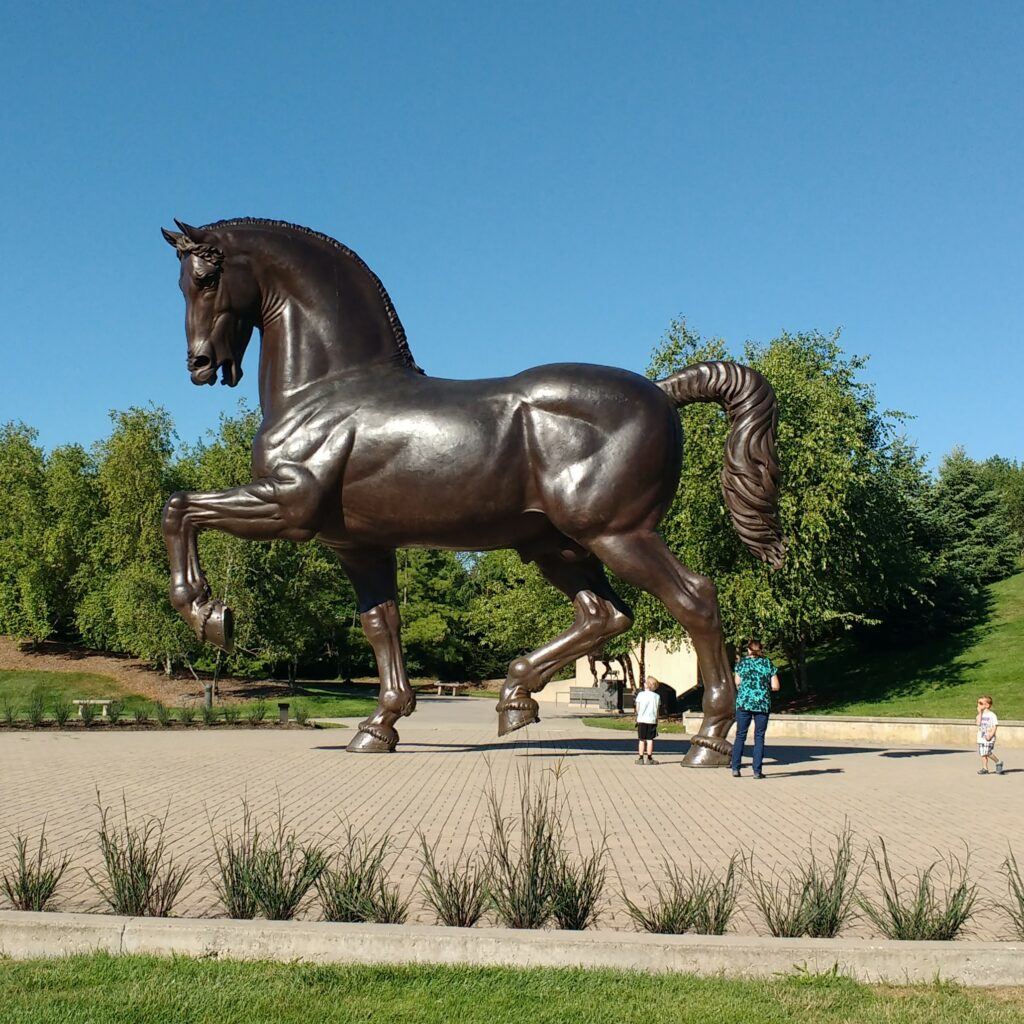 The 30-acre Sculpture Park features many impressive sculptures along several winding paths. For an extra fee, you can hop on the tram to enjoy a full narrated tour of the artwork.
If you want to see the highlights in a short walk, check out our top 5 family favorite sculptures. Start at the DeVos Van Andel Plaza to see The American Horse. Then continue along the path toward The Meadow circling back around towards the Children's Garden.
The American Horse: Seeing this towering 24-foot sculpture up close is a delight for all ages, but especially children. It is an anatomically correct model, so that may spark some interesting comments!
Neuron: A twisty, funky art piece that is fun to observe from a distance or up close.
I, you, she, or he: Sculptures composed of interlinking letters are perfect for young ones learning the alphabet!
Grand Rapids Arch: A beautiful architecture piece that looks stunning against a blue sky.
Scarletti: In the summer, there is a beautiful wildflower meadow by this metal sculpture. Take a short stroll through the wildflowers as you walk the path encircling the Scarletti sculpture.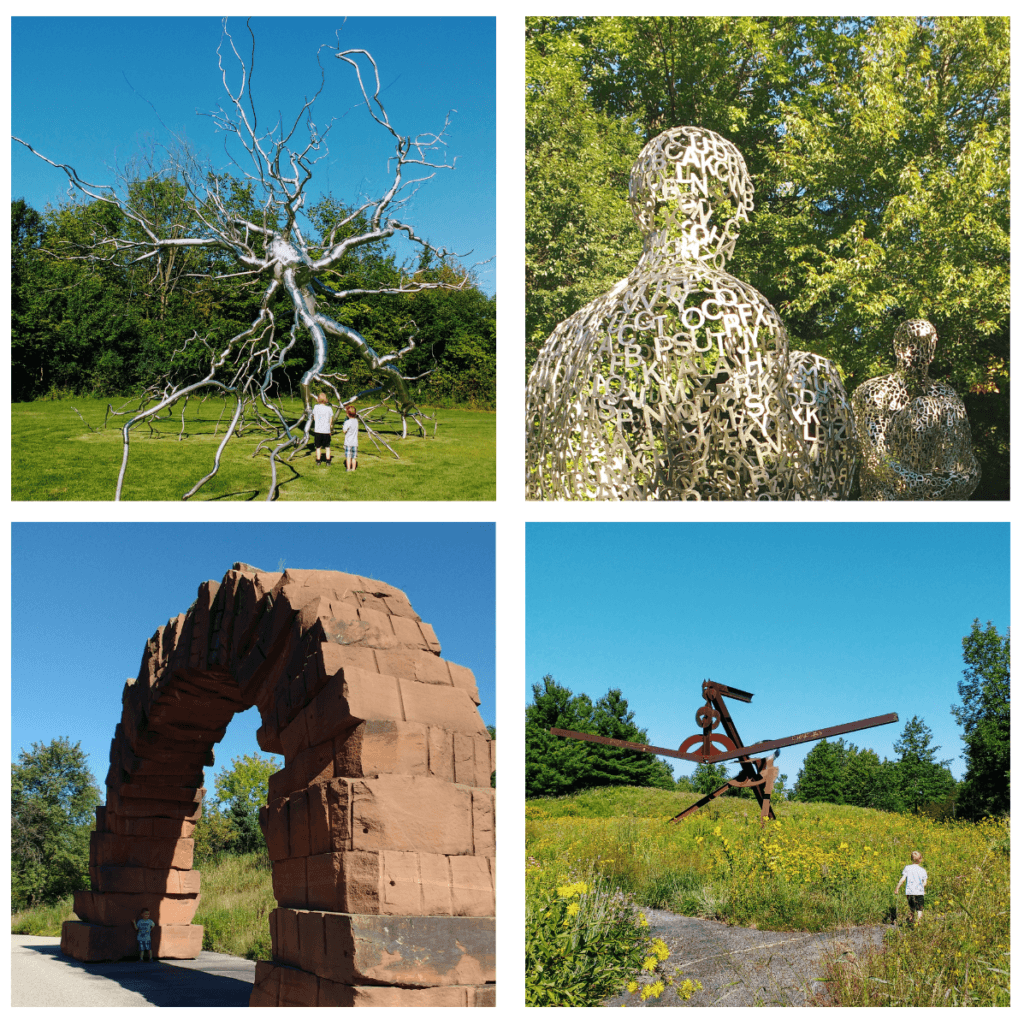 If you have time to walk the outer loop of the Sculpture Park, kids will love stopping by the beautiful waterfall area and watching the koi fish swimming in the pond below.

Tip: The Sculpture Park paths are mostly open and sunny. Make sure to bring the sunscreen for a summer visit. Read about my favorite natural sunscreen here.
Lena Meijers Children's Garden
Honestly, there are so many fun features in the Children's Garden you could spend a whole day just in this section! Kids will enjoy entering the gardens through the adorable, little mouse hole door.
One helpful feature is the entire Children's Garden area is surrounded by fencing, with only the main entrance for going in and out of the garden.
If your time is limited, check out these three Children's Garden features first:
Treehouse Village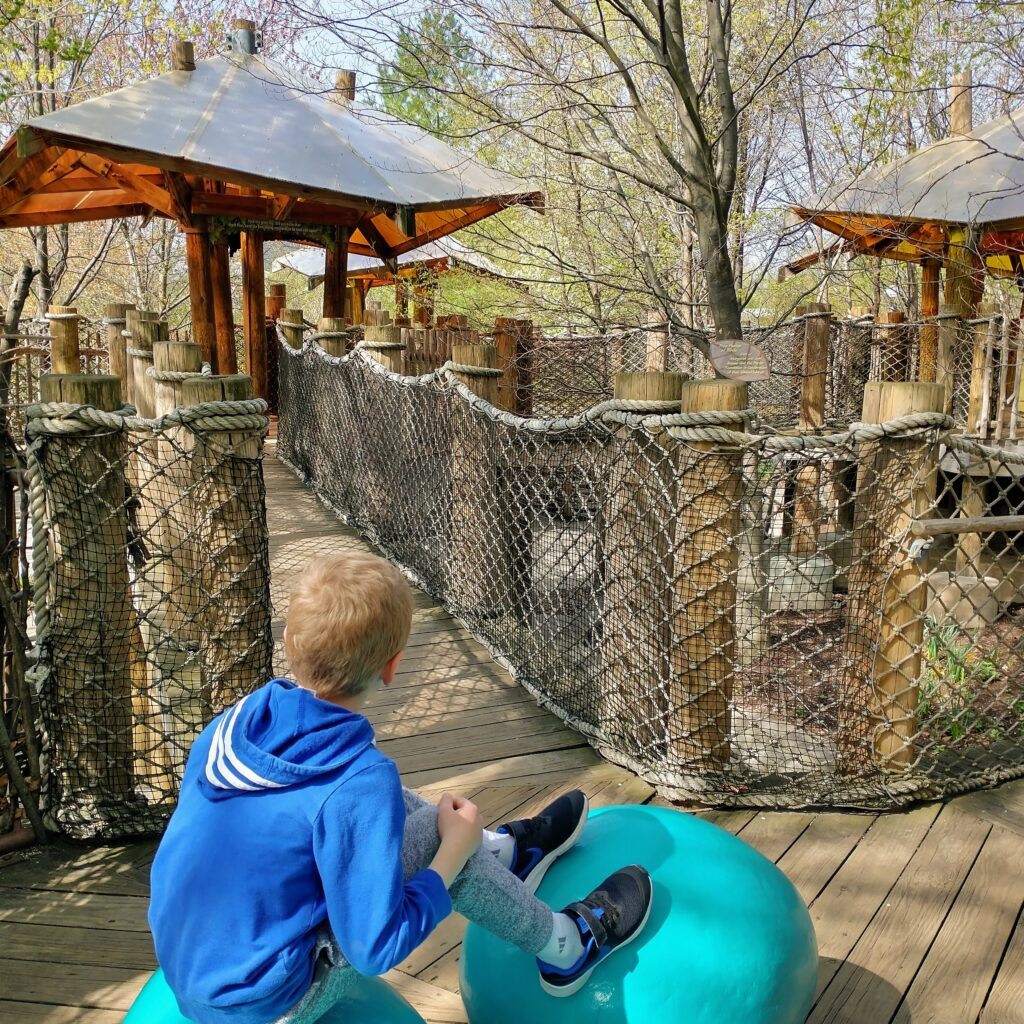 Climb among the trees in this multi-level, wooden play area. Kids will have a blast exploring the four connected treehouses with lots of little carvings and details to find.
Rock Quarry
Any little explorers who love to dig will be enamored with the Rock Quarry section. Try out the moveable metal diggers (younger children will need a grown up to help) or dig in the sand for fossils.
This section is a huge hit for my kids. As a bonus, there are some nice shady spots to sit if your little ones want to stay and play for a while.
Great Lakes Garden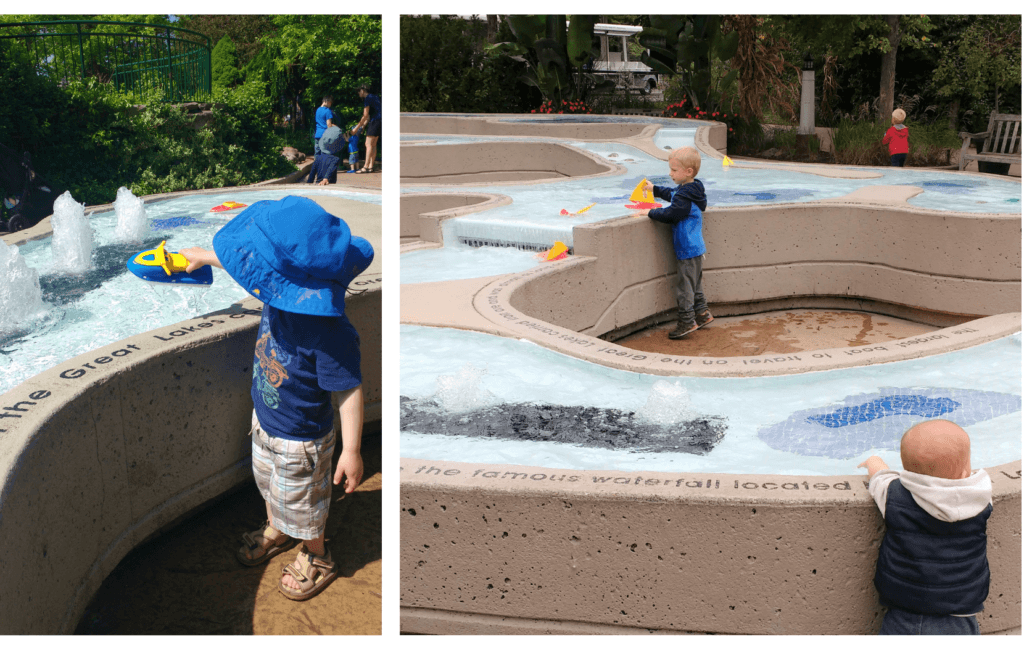 Another kid magnet! Steer a sailboat through this massive water table, shaped in the outline of Michigan surrounded by the five Great Lakes. There are three height levels in different sections which makes it accessible for various ages. Also, look for interesting facts about the Great Lakes printed around the edges.
Tip: Kids tend to get soaked in this area! Save it for the end and either dress your kids in their bathing suits or bring a change of clothes.
Additional Children's Garden Features
Children of the World Fountain: Splash around in this water sculpture fountain if the Great Lakes Garden is busy.
Kid-Sense Garden: Experience a series of fun sculptures that engage all five senses including a giant periscope eye and a popcorn-scented plant.
Butterfly Maze: Explore this small hedge labyrinth and ring the bell at the center of the maze.
Wooded Wetlands: Walk along the wooden boardwalk to visit a child-size beaver lodge.
Michigan's Farm Garden
Set up as a 1930's traditional farm, this section has a replica farmhouse, barn, and vegetable gardens. Bronze farm animal sculptures scattered throughout the farm add a touch of whimsy.
Inside the barn you'll find a nice, shady spot to rest and an educational activity about old-fashioned farm garden tools. My kids love checking out the farm tools and ringing the dinner bell up by the farmhouse.
Japanese Garden
Experience the beauty and tranquility (as much as your kids will allow!) of this traditional Japanese Garden. Wander through the paths, cross the footbridge, and make your way to the gazebo in the center of the garden.
Indoor Exhibits
If the weather isn't ideal for your visit or you need a break from the hot summer sun, there are a few fun indoor spots for kids as well.
Tropical Conservatory & Indoor Gardens

The crowning glory of the indoor gardens is the Tropical Conservatory, which is the largest one in Michigan, and houses over 500 unique species from five continents. Walk under an indoor waterfall and stroll along cobblestone paths surrounded by beautiful vegetation from all over the world.
There are several other interesting indoor sections. Check out the cacti and succulents found in the Arid Garden and wander through the latest garden design in Seasonal Display Greenhouse. Scope out the fascinating Carnivorous Plant House and enjoy the beautiful fountain and trellis in the Victorian Garden Parlor.
Curiosity Courtyard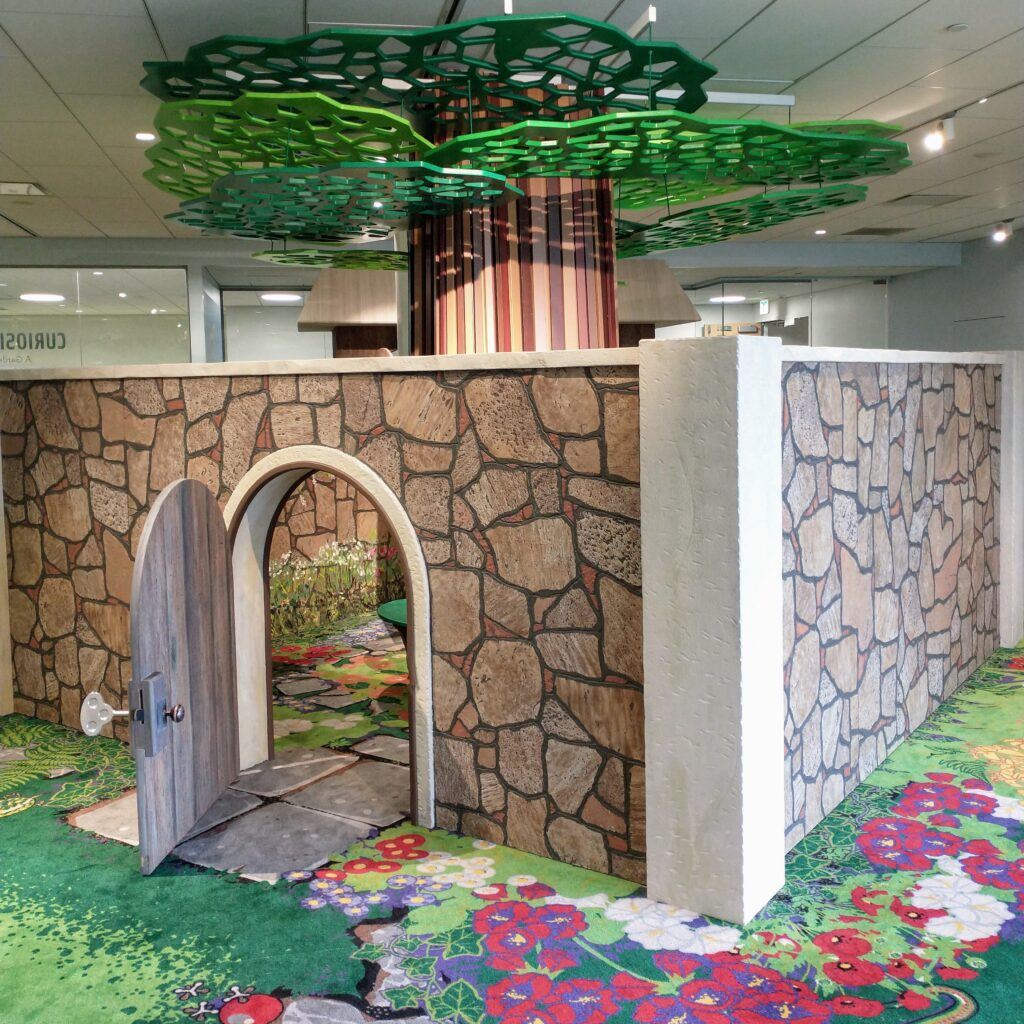 With all the new construction going on at Meijer Gardens, the indoor children's area has been completed redone in a Secret Garden theme. From intricate garden path carpet designs to whimsical play structures including an indoor gazebo and rose garden, there is lots to discover inside as well. The Curiosity Courtyard is a beautiful indoor space that encourages imaginative play.
Seasonal Events
Throughout the year, Meijer Gardens hosts seasonal events that make for an extra special visit. The Butterflies Are Blooming exhibit in the spring and the winter Christmas & Holiday Traditions exhibit are wonderful times to experience Meijer Gardens.
Butterflies Are Blooming
In the spring, the tropical conservatory features a beautiful display of butterflies. Walk through the Arid garden and Seasonal Display Greenhouse to see the monarch caterpillars inching along on the plant life. Then, make your way to the warm Tropical Conservatory to see the butterflies in action.
A couple tips for visiting during Butterflies Are Blooming:
Dress in layers. While it may be chilly in Michigan in the spring, it is quite balmy in the Tropical Conservatory! Plan to take off jackets or sweatshirts while in the butterfly exhibit.
Wear bright colors. Butterflies are more attracted to bright colors, so you may have a little fluttery friend land on you if you resemble a bright flower.
Avoid peak times. The butterfly exhibit is quite popular and space is limited inside the conservatory. If you are able to visit on a weekday, it will be much less crowded than on the weekend. There are members only hours on Sundays in March from 9-11 am that would also be a good time to visit.
Christmas & Holiday Traditions

For the Christmas & Holiday Traditions exhibit, the whole gardens are decked out with poinsettias and other festive holiday decorations. Along the indoor hallways is a display of Christmas trees from various countries around the world featuring unique ornaments. While beautiful, the ornaments are fragile, so keep a close eye on young toddlers in this area.
The highlight for children is the train display in the Seasonal Display Greenhouse area. An extensive railway system weaves in and out of the indoor gardens. In the Tropical Conservatory, holiday lights are strung from the exotic trees. It truly is a magical exhibit.
Additional Special Events
Chrysanthemums & More: A fantastic fall celebration with an impressive fall foliage display.
Summer Concert Series & Tuesday Evening Music Club: Pack a picnic and enjoy the music in the beautiful outdoor Amphitheater. Concerts are tentatively being scheduled for the Summer 2021 season.
Another Grand Rapids Gem: Millennium Park (MI): A Year-Round Family Guide
Happy Adventuring!
I hope this guide helps you plan your next visit to Frederik Meijer Gardens & Sculpture Park with your family!
Do you have a favorite spot to visit or a specific exhibit you are eager to see? Leave any questions or comments below.