Full of colorful illustrations, children's books about rainbows can cover a wide variety of topics – from fun lessons about colors and basic science to adventurous stories and heartfelt messages dealing with big emotions and inclusion.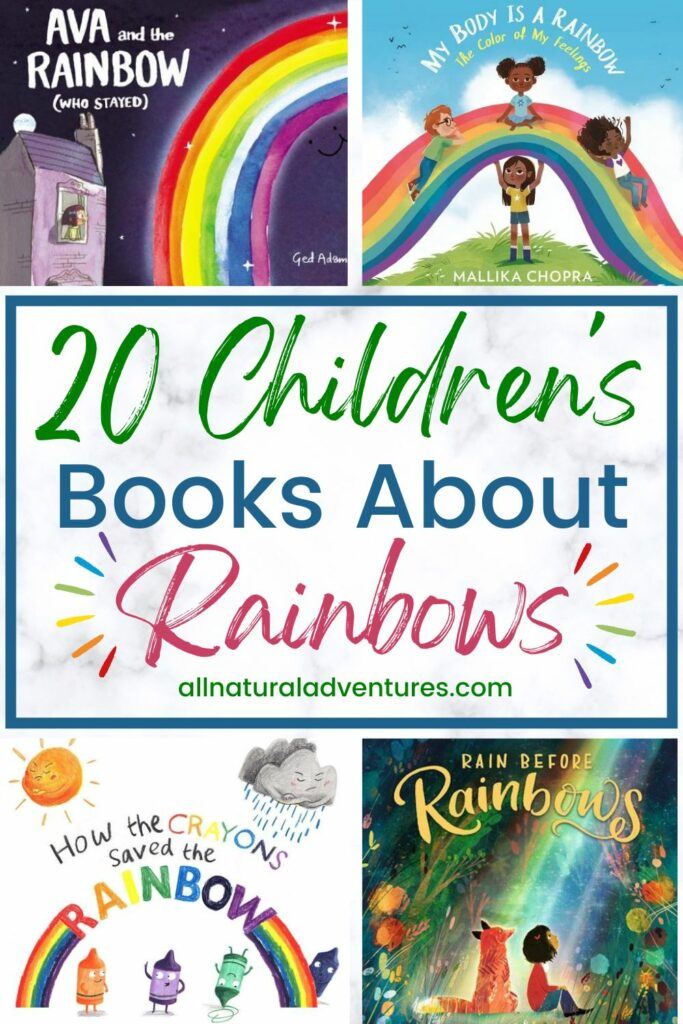 Where to Find Children's Books About Rainbows
For some eco-friendly book shopping, check out my favorite resources:
Local libraries: Perfect for reading a story first before deciding to buy it
Thriftbooks: An affordable way to find used books online
Bookshop: A climate neutral online retailer that supports independent bookstores
Find my whole Children's Books About Rainbows library through Bookshop.
If you make a purchase through one of these affiliate links, I may receive a small commission at no additional cost to you.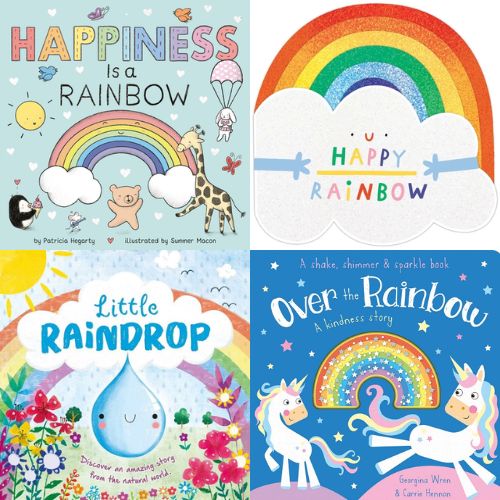 Adorable Board Books about Rainbows
Happiness Is a Rainbow by Patricia Hegarty: Adorable illustrations show how each color can represent a different aspect of happiness.
Happy Rainbow by Hannah Eliot: Rainbow-shaped board book decorated with glitter featuring sweet rhyming text.
Little Raindrop: Beautiful illustrations and story about where water comes from.
Over the Rainbow: A Kindness Story by Georgina Wren: Cute creatures share the importance of being kind. Shake the book to see the sparkles in the puffy rainbow move!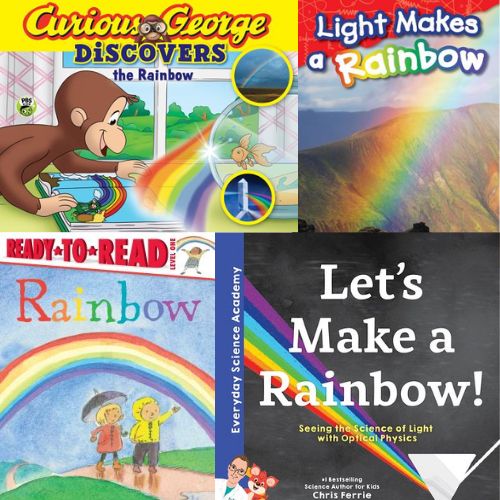 Children's Books About the Science of Rainbows
Curious George Discovers the Rainbow by H.A. Rey: Follow Curious George's classic antics while also learning scientific facts all about rainbows.
Light Makes a Rainbow by Sharon Coan: Non-fiction book developed for teachers with vivid photographs. Explains scientific concepts about light waves at an easy to read (Level H) level.
Rainbow: Ready-To-Read Level 1 by Marion Dane Bauer: Cute illustrations along with simple science explanations are perfect for young readers.
Let's Make a Rainbow!: Seeing the Science of Light with Optical Physics by Chris Ferrie: Dr. Chris shares all about the science of light in easy-to-understand terms for kids.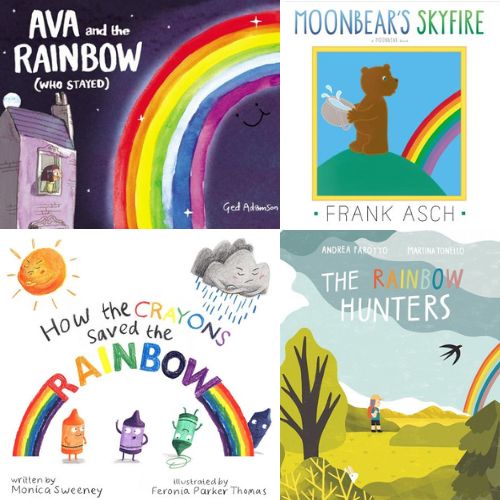 Children's Adventure Stories Featuring Rainbows
Ava and the Rainbow (Who Stayed) by Ged Adamson: A beautiful story of friendship and the importance of rare and special moments in life.
Moonbear's Skyfire by Frank Asch: A beloved classic of Moonbear mistaking his first rainbow sighting for the sky being on fire.
How the Crayons Saved the Rainbow by Monica Sweeney: A tale of teamwork and determination as 7 unique crayons work together to bring color back to their world.
The Rainbow Hunters by Andrea Farotto: Friends chasing a pot of gold at the end of a rainbow leads to an unexpected discovery.
 A Rainbow of My Own by Don Freeman: A classic story from the author of Corduroy of a young boy who uses his imagination.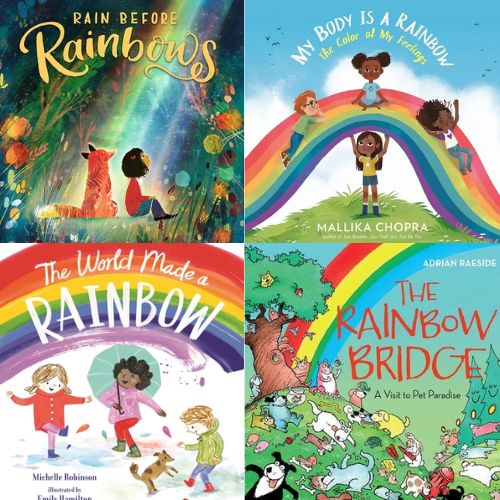 Children's Books About Rainbows & Emotions
Rain Before Rainbows by Smriti Prasadam-Halls: Richly detailed illustrations compliment a story of hope as a young girl journeys through difficult challenges with her animal friends.
My Body Is a Rainbow: The Color of My Feelings by Mallika Chopra: A great wellness resource that encourages children to recognize the rainbow of emotions they experience and use breathing exercises to feel more at peace.
The World Made a Rainbow by Michelle Robinson: A hopeful story of how small actions like painting a rainbow in your window can bring joy and connectedness to others.
The Rainbow Bridge: A Visit to Pet Paradise by Adrian Raeside: After the loss of a beloved family dog, a young boy visits a magical pet paradise. A helpful story for anyone grieving a pet. 
Inclusive Children's Books About Rainbows
The Rainbow Bee by Ricardo Gattas-Moras & Rob Jackson: A lovely story of a unique rainbow bee that teaches the importance of celebrating our differences.
Black is a Rainbow Color by Angela Joy: A young girl reflects on how a whole rainbow of experiences exists within Black culture and history.
We are the Rainbow! by Claire Winslow: The Colors of Pride: Sweet illustrations share what each color stripe means on the LGBTQ+ pride flag.
Pink is for Boys by Robb Pearlman: An empowering story that encourages children to express themselves through all colors of the rainbow regardless of gender.
Happy Rainbow Reading!
Any other favorite children's books about rainbows you would add to this list? I'd love to hear from you in the comments below. Our family is always looking for new book recommendations.
Have kids that love nature? Check out 30+ Awesome Nature Gifts For Kids That Inspire Outdoor Play