How do you decide which car seat to buy? Personally, my top priorities are finding a car seat that is non-toxic, physically safe, and reasonably priced. After doing a bit of research, I found the best option for my family…
If you are looking for a car seat without flame retardants, Britax car seats with the non-toxic SafeWash cover provide the most affordable options on the market.
There are 4 different Britax car seats with the SafeWash cover (infant, convertible, convertible all-in-one, and booster), so you have a handful of options depending on the age and size of your child.
Read on for 5 reasons to choose a Britax non-toxic car seat, as well a couple limitations to be aware of before you buy.
This post contains affiliate links. If you make a purchase through one of these links, I may receive a small commission at no cost to you.
Why avoid chemical flame retardants?
Chemical flame retardants are added to many consumer products, including car seats, to prevent the spread of fires. But, in the long run, they may cause more harm than good and aren't necessary with fabrics that are naturally flame retardant.
According to the National Institute of Environmental Health Sciences, research indicates that these are some of the potential health effects of flame retardants:
Endocrine and thyroid disruption
Impacts to the immune system
Reproductive toxicity
Cancer
Adverse effects on fetal and child development
Neurologic function
In particular, children are more vulnerable to the toxic chemicals because their bodies are still growing and developing. Since children frequently put their hands in their mouths, they are more likely to ingest flame retardant particles as well.
What is a Britax SafeWash car seat cover?
According to the Britax website…
"Our Britax Quality and Fashion teams have sourced a proprietary fabric that is safe to machine wash and dry. Unlike other car seats, which use chemicals that can wash off, our SafeWash fabric has a knit construction that makes it naturally flame retardant. We're proud to provide this solution that maintains safety properties without those added chemicals."

Kelly Thomas, Britax Brand Manager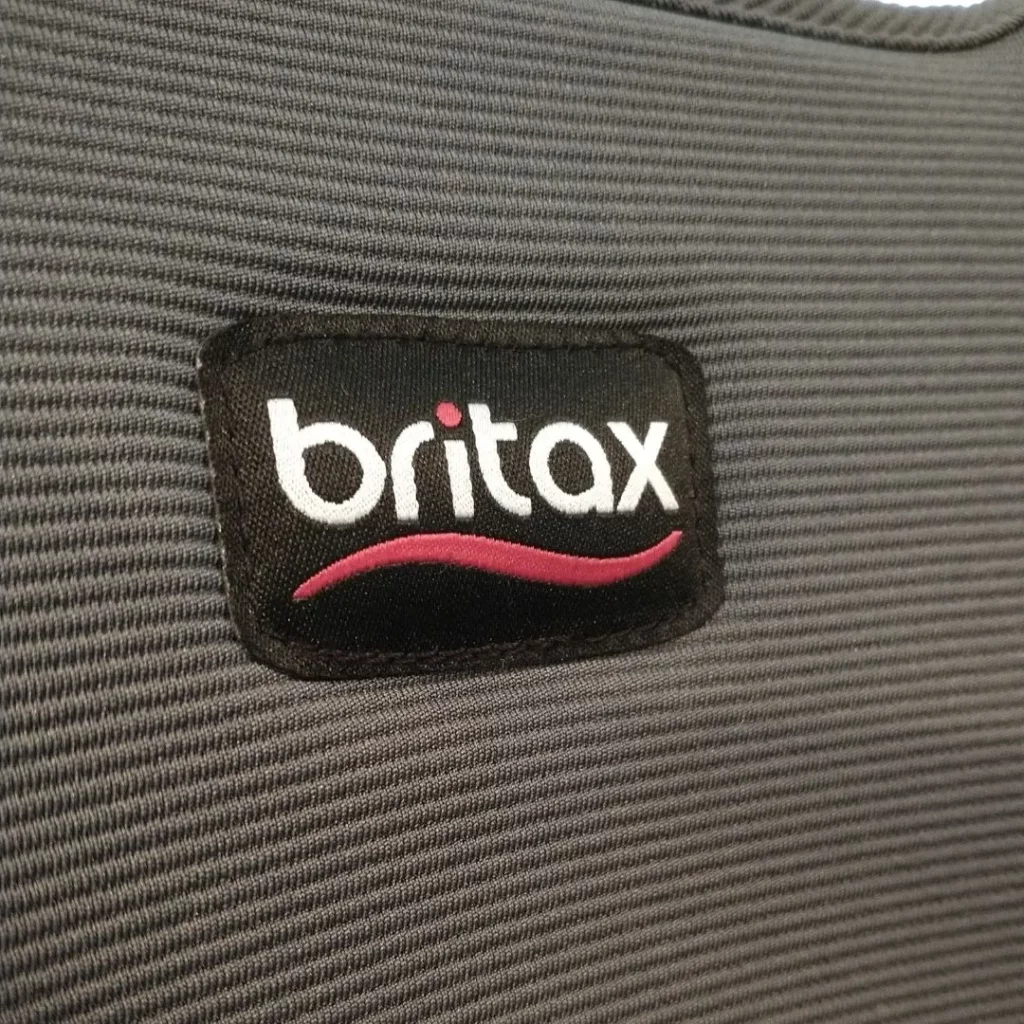 5 Reasons To Choose A Britax Non-Toxic Car Seat With A SafeWash Cover
Non-toxic
Safe
Affordable
Comfortable
Several car seat options
1. It's non-toxic and naturally flame retardant.
Whew, it can be stressful reading about health hazards for your precious little ones! The great thing about the Britax SafeWash cover is that it contains no chemical flame retardants. Instead, the close-knit fabric makes it naturally flame retardant. And the cover is washable up to 30 washes.
2. Britax consistently receives high crash test safety ratings.
Really, the most important factor in choosing a car seat is knowing it will keep your child safe in a car accident. And Britax produces car seats with high safety ratings. For example, the Britax Grow With You ClickTight received a Best Bet rating from the Insurance Institute of Highway Safety.
3. Britax SafeWash are the most affordable non-toxic car seats.
As with most things, safer products are often more expensive than standard products on the market. Most of the Britax SafeWash car seats are in the $200-$375 range. While these are not the absolute lowest prices of any car seats out there, they are the most affordable non-toxic option.
See the Other Non-Toxic Car Seat Options section below for comparison.
4. It's comfortable.
According to my kids, their Britax car seats are super comfortable. We currently have two of the Britax Grow with You ClickTight Harness-2-Booster Car Seats. They are great for longer road trips!
5. There are several different Britax SafeWash car seat options.
As one of the major car seat companies, Britax makes several different car seat models. Check out these non-toxic Britax options based on your child's age and size. Make sure to select the SafeWash cover option before you order as the other cover colors contain chemical flame retardants.
4 Britax Non-Toxic Car Seats With SafeWash Covers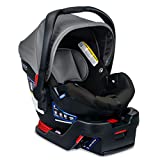 Infant:
Britax B-Safe Gen2 Infant Car Seat, Greystone SafeWash
4-35 pounds/ Up to 32 inches
Compatible with all Britax Single Strollers using the built-in adapter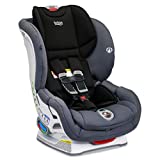 Convertible:
Britax Marathon ClickTight Convertible Car Seat, Mod Black SafeWash
Rear-facing: 5-40 pounds
Forward-facing: 20-65 pounds
Convertible All-In-One:
Britax One4Life ClickTight All-in-One Car Seat, SafeWash Drift
10 Years of Use – Infant, Convertible, Booster
5-120 pounds & up to 63 inch tall
Booster Seat:
Britax Grow with You ClickTight Harness-2-Booster Car Seat, Cobblestone SafeWash
40-120 pounds
Transitions from harness mode to belt-positioning booster mode
A couple limitations to be aware of before you buy…
1. The SafeWash cover only comes in neutral colors like black or gray. Which really isn't a big deal unless you (or your child) had your heart set on a brightly colored car seat.
2. Britax car seats are wide. While their designs are built with safety in mind, they are definitely not made to fit 3 car seats in a back row. With two Britax car seats in the back of our vehicle, the space in the middle is limited.
3. While the Britax SafeWash cover contains no chemical flame retardants, Britax makes no claims about the base of the car seat. Now, the car seat cover is the most important area as it comes in direct contact with your child's skin. However, it's good to be aware of the distinction.
If you are looking for a car seat that claims to have no flame retardants in the entire car seat, check out additional (although more expensive) options below.
Other Non-Toxic Car Seat Options
Nuna
Nuna is the only brand I've found that claims to have a flame retardant free car seat and base. Their products are a bit pricier in the $300-$600 range.
Infant: Nuna PIPA™ Flame Retardant Free Car Seat & Base | Nordstrom
Convertible: Nuna RAVA™ Flame Retardant Free Convertible Car Seat | Nordstrom
UPPABaby
With the UPPABaby brand, the Jordan wool car seat covers are also flame retardant free. These are in the $350 – $400 range.
Infant: UPPAbaby MESA Infant Car Seat -Jordan (Charcoal Melange)Merino Wool Version/Naturally Fire Retardant
Convertible: UPPAbaby Knox Convertible Car Seat – Jordan (Charcoal Melange) Wool Fashion
The Bottomline
While there are a handful options for car seats without flame retardants, Britax was the clear winner for our family. Given the overall safety, comfort, and price, we have been very happy with our purchases.
Happy Travels
Cheers to going on family adventures together and safety transporting your precious cargo!
Read more about all My Favorite Natural & Eco-Friendly Products + Discount Codes.