In the beautiful Petoskey area in Northern Michigan, there are no shortage of options for overnight accommodations. With so many hotels, resorts, and cottage rentals in the area, how do you choose the right one for you?
Here's one lovely option for a romantic getaway in Petoskey – the Terrace Inn. In this in-depth review of the Terrace Inn, I'm sharing all the details from a cozy couple's winter weekend stay.
In This Terrace Inn Review, You'll Find…
Terrace Inn Contact Info
3 Benefits of Visiting the Terrace Inn During the Off-Seasons
5 Reasons to Stay at the Terrace Inn Any Time of Year
Helpful Information to Know Before You Go (Including Is the Terrance Inn Haunted?)
Terrace Inn Contact Info
Address: 1549 Glendale Ave, Petoskey, MI 49770
Phone: (231) 347-2410
Website: The Terrace Inn
3 Benefits of Visiting the Terrace Inn During the Off-Seasons
Heading "Up North" is a popular summer destination for many Michiganders. While the Petoskey area is beautiful to visit any time of year, there are a few benefits of travelling in the non-summer months.
During a late fall, winter or spring visit, you'll find…
More affordable rates
Fewer crowds
Plenty of year-round activities
5 Reasons to Stay at the Terrace Inn Any Time of Year
Whenever time of year you decide to visit, the Terrace Inn makes a lovely spot to stay for these 5 reasons:
Convenient location in the heart of Petoskey
Full of historical charms
Cozy, comfortable rooms
Delicious, hot breakfast included
Stellar customer service
1. Convenient Location in the Heart of Petoskey, MI
Location, location, location. Just a mile from the main downtown area, the Terrace Inn in centrally located near all the main attractions in the Petoskey area.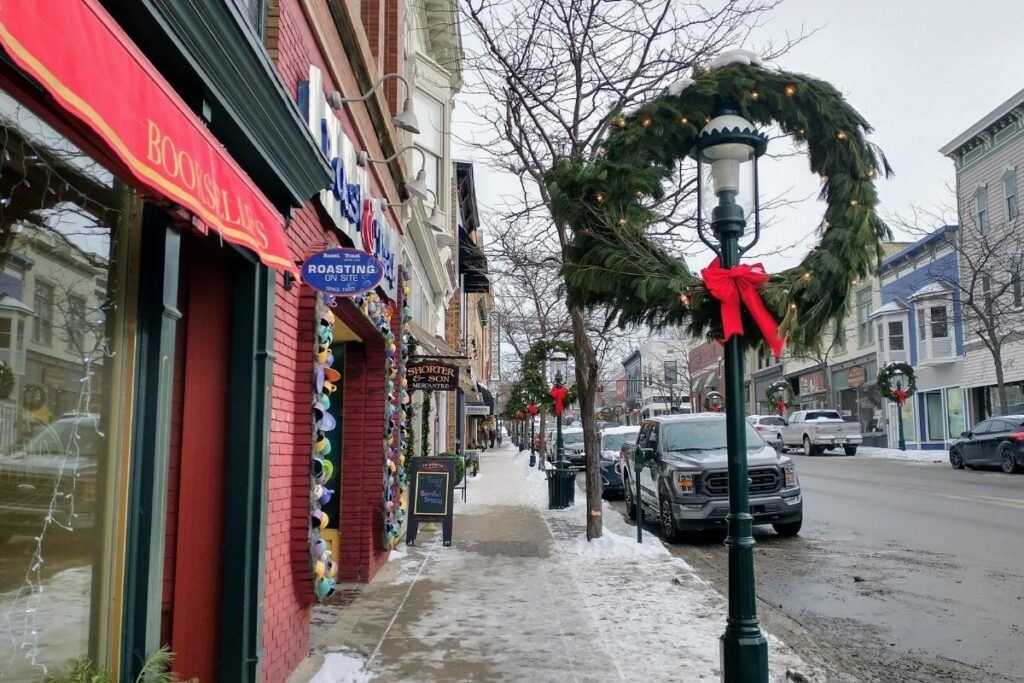 Nearby Attractions
Beaches/Parks

Petoskey State Park
Bayfront Park
Bear River Valley Recreation Area
East Park

Golf Courses

Petoskey-Bay View Country Club
Bay Harbor
Crooked Tree

Ski Resorts

Nub's Nob
The Highlands of Harbor Springs
Boyne Mountain

Odawa Casino
Wineries

Petoskey Farms Vineyard & Winery
Maple Moon Sugarbush & Winery
Mackinaw Trail Winery & Brewery

Restaurants/Breweries

1911 Restaurant (located on the main floor of Terrace Inn)
Petoskey Brewing
Palette Bistro
2. Full of Historical Charms
If you enjoy learning about local history, you'll be right at home in the Terrace Inn. Located within the historic, summer community of Bay View, the Terrace Inn has been providing cozy lodging for over 100 years.
Throughout the inn, you'll find vintage paintings, photos, and antique items like a record player, piano and camera.
3. Cozy, Comfortable Rooms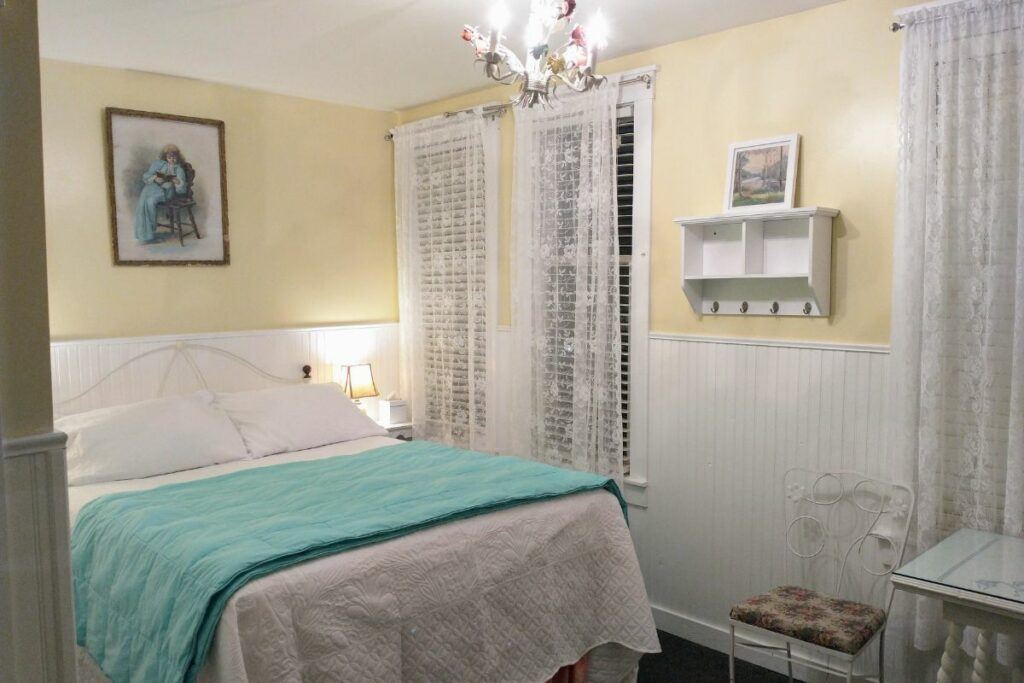 The Terrace Inn strikes an excellent balance of historical flair and modern conveniences. Each room has an updated bathroom, cable TV and free WiFi included. Since rooms accommodate up to 2 guests, the Terrace Inn is the perfect spot for a romantic getaway.
In the queen rooms, the updated bathroom includes a single shower, which is on the smaller side. As another option, the king rooms include either full tubs or whirlpool tubs.
In the upstairs hallways on the guest floors, you'll find mini fridges and microwaves for guest use – another helpful modern convenience.
4. Delicious, Hot Breakfast Included in the 1911 Restaurant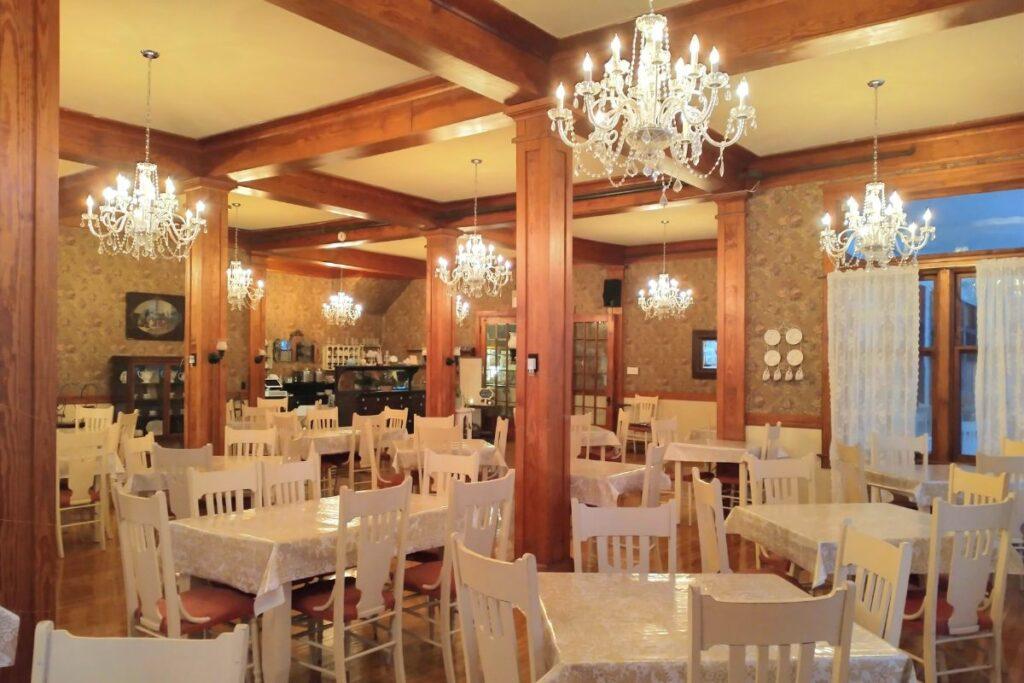 One of the highlights or staying at the Terrace Inn is the complimentary hot breakfast included in your stay. Breakfast is served in the spacious dining room of the 1911 Restaurant on the main floor of the inn. Softly lit with chandeliers and sconces, the dining room is 2,000 square feet, leaving plenty of room for inn guests to spread out during breakfast.
Breakfast included orange juice, fresh fruit, cheesy eggs, potatoes, sausage, bacon, and chocolate brioche French toast with a cherry syrup. Everything was freshly made and delicious.
5. Stellar Customer Service
Every interaction with staff members from the Terrace Inn was helpful and welcoming – from responding to email questions prior to our stay to getting checked in and serving breakfast. Those personal touches really make a difference!
Helpful Information to Know Before You Go
Is the Terrace Inn haunted?
If you enjoy spooky locations, the Terrace Inn is rumored to have a haunted history. According to the Terrace Inn website, there have been some supernatural sightings. Some guests have reported seeing strange shadows and hearing footsteps when no one is around, particularly in Room 211 and Room 308.
Love a Michigan mystery? Check out Mysteries of the Lake Michigan Triangle.
If supernatural sightings are not your cup of tea, don't let that stop you from visiting! Maybe just skip Room 211 and Room 308… We didn't notice anything out of the ordinary during our 2-night stay in Room 206.
Where is guest parking?
Since the Terrace Inn is located in the historic Bay View neighborhood, parking is a bit limited. There is a small parking lot to the side of the inn with 5 guest spots. If those are full, parking is available on the street. 
One benefit of visiting in the off-season is that most of the other homes on the street are summer residences and finding a close parking spot is very easy.
If you have additional questions prior to visiting, the staff at the Terrace Inn is very helpful!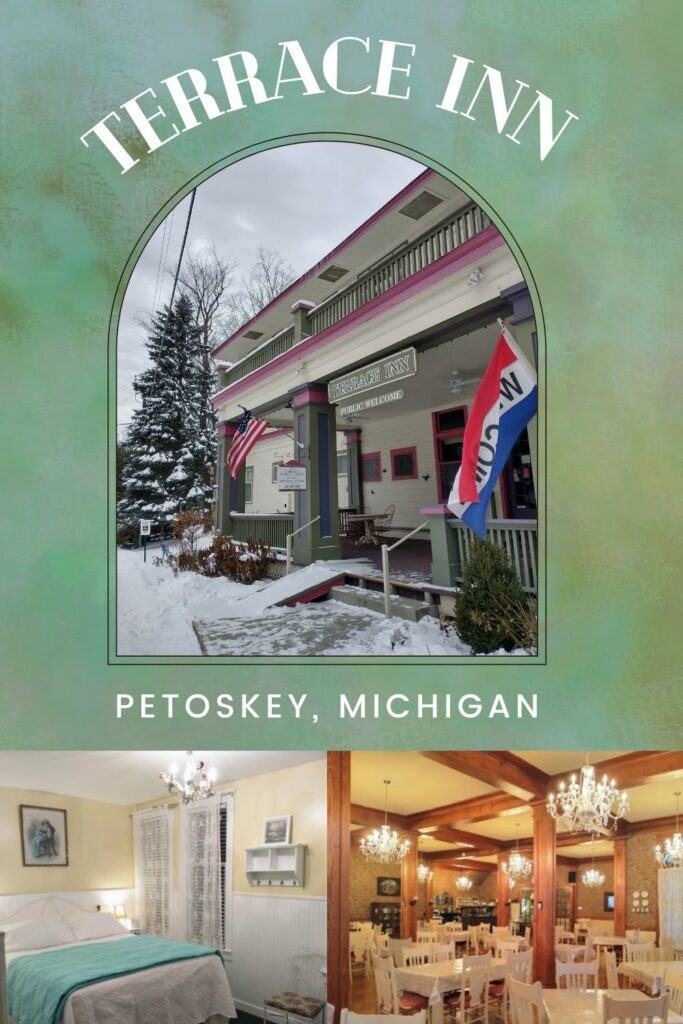 Enjoy Your Stay at the Terrace Inn!
My stay at the Terrace Inn was hosted in collaboration with Awesome Mitten and the Petoskey Area Visitors Bureau. Read more about the full trip here: An Adventure-Filled Winter Weekend Getaway to Petoskey, Michigan.