When camping with children you have enough to think about, so let's keep meal planning and recipes simple. The three best approaches to easy kid friendly meal planning are no cooking required meals, make ahead recipes to eat cold or reheat, and easy camping recipes that cook quickly over a campfire or cooking stove.
The most important step is to plan ahead. An hour or two of prep work before leaving for your trip will make your meal times so much easier and less stressful. Your future self will thank you for the time you are putting in to planning ahead today.
Leave the mess and stress at home and try out these easy kid friendly camping meals instead!
What You Will Need
Before we get to the recipes though, let's talk about camping cooking equipment, food storage, and clean up.
Cooking Equipment
Try to keep it as simple as possible. Most of these meals will only need a fire grill grate and aluminum foil or pie irons. Packing a small portable gas or electric grill along with a small pan or skillet is another option. For larger groups, a small crock pot for reheating can be handy if you have the room to pack it.
Food Storage
With make ahead meals, you will need quality food storage containers. Make sure your glass or reusable plastic containers come with airtight lids to keep your food fresh and prevent leaks. Soggy food in your cooler is no fun!
Clean Up
Paper plates are definitely an easy option but consider using more sustainable reusable camping plates and utensils. A small basin, dish soap, and washcloth make washing and reusing dishes easy. Don't forget to bring bags for your trash and recycling items as well.
No Cooking Required Meals
By far the easiest to make, it is always helpful to plan on some meals that require no cooking. For fruits and veggies be sure to wash and chop at home, so you can skip those steps while camping.
For Breakfast
Yogurt and granola
Bagels and fruit (apples, bananas, clementines, grapes, berries)
English muffins with peanut butter and banana slices
Cereal and milk
For Lunch/Dinner
Peanut butter and jelly sandwiches – try using bagels, English muffins, or buns for the bread to switch things up
Turkey pinwheels – wrap deli turkey slices, cream cheese, and spinach in tortilla shells
Charcuterie board – deli meats, cheese, crackers, olives, sliced veggies (carrots sticks, celery sticks, cucumber slices, bell pepper slices, grape tomatoes, sugar peas)
Hummus and pita bread
Homemade trail mix – peanuts, almonds, cashews, raisins, dried cranberries, and pretzels
Make Ahead Easy Meals (May Need to Reheat)
This is where you can really help your camping meal experience. Take the time to cook a couple of easy recipes ahead of time that can either be eaten cold or reheated over a fire or stove. This is especially helpful for cooking meat so you don't have to handle any raw meat while camping and you can know for sure your meat is fully cooked beforehand. With tin foil meals especially, potatoes can take extra long to cook over a fire so precooking will help get dinner into those hangry bellies faster.
For Breakfast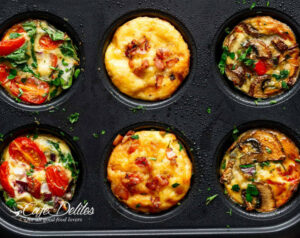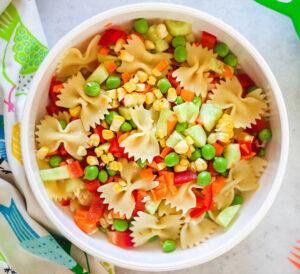 For Lunch/Dinner (Cold dishes)
For Lunch/Dinner (Reheat over campfire, stove or crock pot)
Chicken fajitas

Prep work at home: Precook chicken in taco seasoning.
Reheat: Add in fresh sliced onion and bell peppers (can get mushy if these are precooked) and grill on your camp stove or over the fire in foil.

Meat and veggie kabobs or tin foil meals

Prep work at home:  Precook meat, potatoes, and other veggies with a little salt and pepper.
Reheat: Use wooden or reusable metal skewers or wrap in foil to reheat.

Pulled chicken or pork sandwiches

Prep work: Cook 2 lbs meat in crock pot with 1 cup of BBQ sauce on high for 3-4 hours.
Reheat: For the least mess, use a small crock pot or a camping pot/pan to reheat.

Baked potatoes

Prep work at home: Bake at 425 degrees F for 40-45 minutes (depending on the size of potatoes) until lightly tender
Reheat: Use crock pot or fire grill in aluminum.

Corn on the cob

Prep work at home: Remove husks and boil in a pot of water for 3-4 minutes until slightly under cooked.
Reheat: Wrap in foil or grill directly on your campfire grate.

Easy Kid Friendly Camping Meals
For who love a good hot meal that can be cooked quickly over a campfire or cooking stove, these very simple recipes only require a few ingredients.
For Lunch/Dinner
Pie irons

Pizza: Butter two pieces of bread and top with pizza sauce, cheese, and your favorite pizza toppings.
Panini: Cook your favorite deli meat and cheese combination over the fire.
Grilled cheese: You know the drill.

Quesadillas: Fill tortilla shells with cheese and black beans and/or precooked meat.
Chicken sausages: These make a slightly healthier option rather than hot dogs that offer the same satisfaction of roasting something over a fire on a stick.
Veggie burgers: Sizzle up some store bought burgers in your pie iron.
Meal Planning
Whew, lots of options! Next, you will want to make your meal plan for your specific trip. Check out my 4-Day Camping Meal Planner with daily meal plans, shopping list, and preparation tasks.
Tips for Packing Food
Now that you have all your camping meals picked out and prepped, it is time to load it all up!
Plan on bringing one large cooler and one large plastic storage tote for dry goods.
Make sure your cooler and food storage tote seal up tight to keep out any bugs or other hungry critters. At night or if you are away from your campsite, keep any food items in your vehicle or camper to avoid bringing unwanted visitors to your site.
For condiments, bring the smallest containers sold or put a smaller amount in food storage containers.
Freeze as many items as possible (muffins, make ahead meals, individual drinks) to reduce your need for refilling your cooler with ice.
Happy Camping!
Questions? Comments? Drop a note below!