Two super cute and easy to assemble options for your Easter table this year – the Easter Bunny Veggie Tray or the Carrot Veggie Tray!
With all the tasty Easter treats around, these adorable veggies trays will help bring a healthy balance to the day. Plus, you might even get your kids to eat more veggies with these cute arrangements.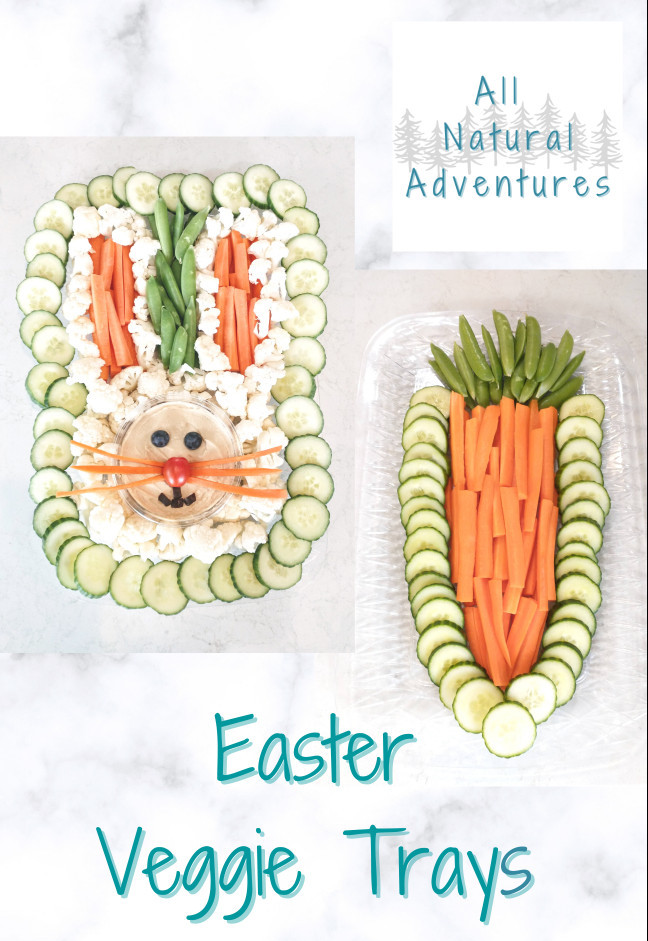 This post contains affiliate links. If you make a purchase through one of these links, I may receive a small commission at no additional cost to you.
Easter Bunny Veggie Tray
For several years when I was a young adult, I would make an Easter Bunny cake for our family Easter party. Shredded coconut, jelly beans, and licorice ropes would cover white buttercream frosting and rich vanilla cake.
Now that I am a little older and more focused on nutrition, I've traded my Easter Bunny cake making for Easter Bunny veggie tray creating. I'm sure my kids would prefer the cake option (don't worry, they'll still get some Easter treats!), but these veggie trays can be just as fun and cute as the dessert kind!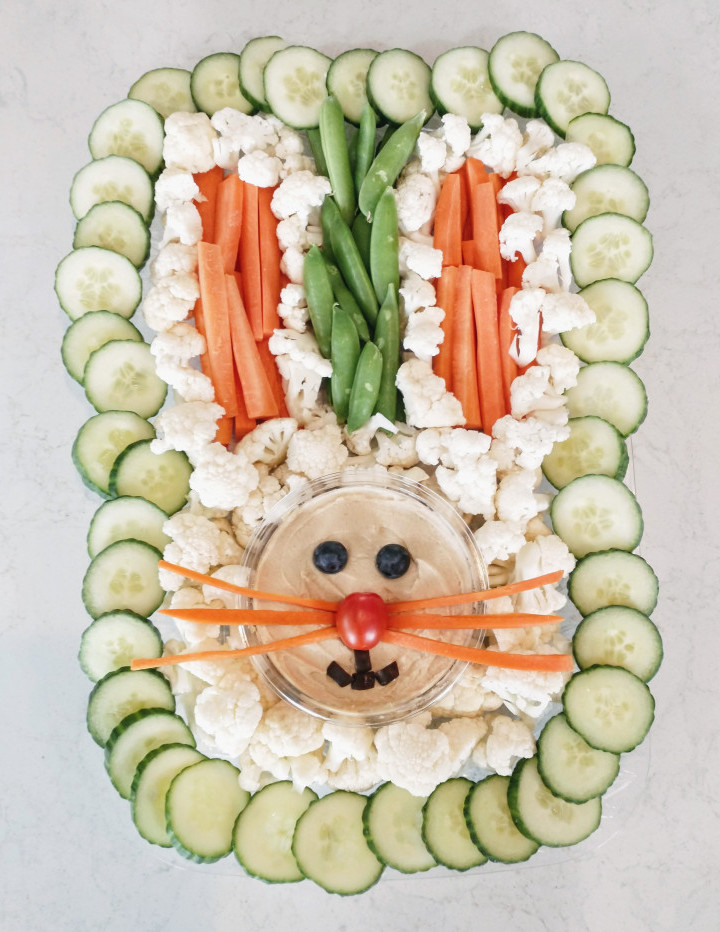 This Easter Bunny veggie tray is loaded with healthy, fresh vegetables in a playful arrangement.
I hope you like cauliflower! Cauliflower is the perfect vegetable for capturing the Easter Bunny's fluffy white fur, so this recipe has lots of it.
What You Will Need
Large platter
Whole cauliflower head
2 cucumbers
2 large carrots or a bag of baby carrots
Bag of sugar snap peas
Small 8 oz container of hummus or veggie dip
2 blueberries
1 sliced olive
1 grape or cherry tomato
How To Make The Base
First, chop your cauliflower, cucumbers and carrots and set to the side.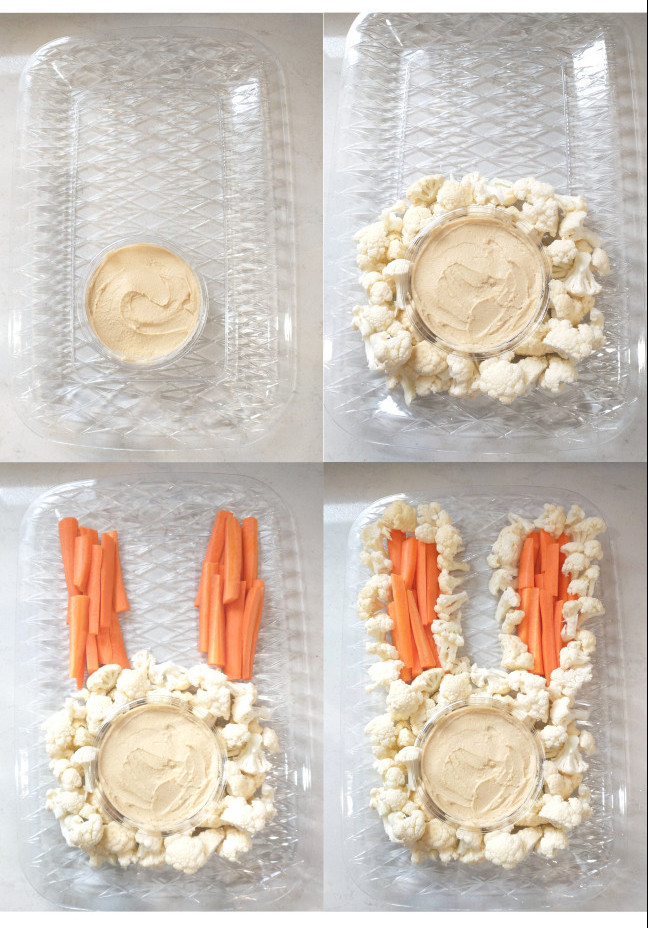 Then, place the hummus or dip container in the bottom third of your platter. Surround your container with a circle of chopped cauliflower to form the Easter Bunny's head.
Add two columns of carrots on either side of the bunny's head for the middle of the ears. Surround the carrots with chopped cauliflower to make the outside of the ears.
Place your sugar snap peas in between the cauliflower edges of the ears.
Surround the entire cauliflower bunny with your sliced cucumbers to form a border. You may need to adjust cauliflower pieces as you place the cucumbers.
It's looking like a little bunny! Now let's add a few more details to make the face.
How to Make the Face
It can be tricky to make a good face out of food. We are going for cute and cuddly, not scary. Have you seen these pictures of 15 Kids Scared – Not Charmed – By The Easter Bunny? Definitely not the route we are going for here. Hopefully your kids have a better reaction to this Easter Bunny!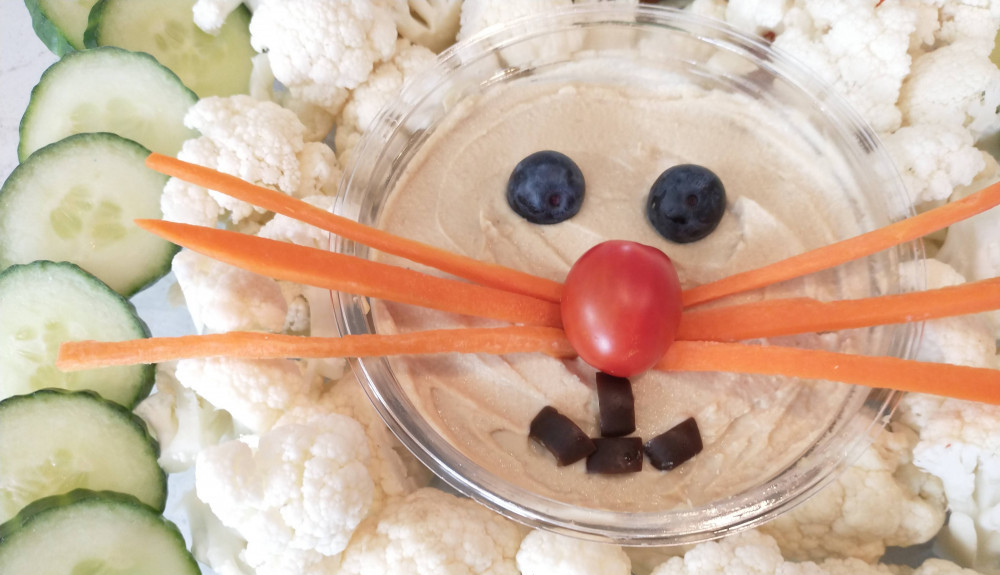 First, grab your blueberries, grape tomato, sliced olive and a carrot.
Place 2 blueberries in the top third of the hummus for the eyes.
Slice the carrot into 6 long, narrow bunny whiskers. Place 3 on each side in the middle of the hummus container. Then place a grape tomato on top.
Cut the sliced olive into 4 pieces. Place one directly under the cherry tomato nose and place the other 3 underneath to form a smile.
Tada, an Easter Bunny Veggie Tray! Just as cute as an Easter Bunny cake, but a whole lot healthier.
Carrot Veggie Tray
If cauliflower is not your favorite vegetable, then the Carrot Veggie Tray may be the one for you.
Baby carrots are a nice, easy option and are great to use if you want to put together a tray quickly. If you have the time though, the taste of freshly chopped carrots is amazing. Besides, what better time to highlight freshly chopped carrots then through a carrot themed veggie tray?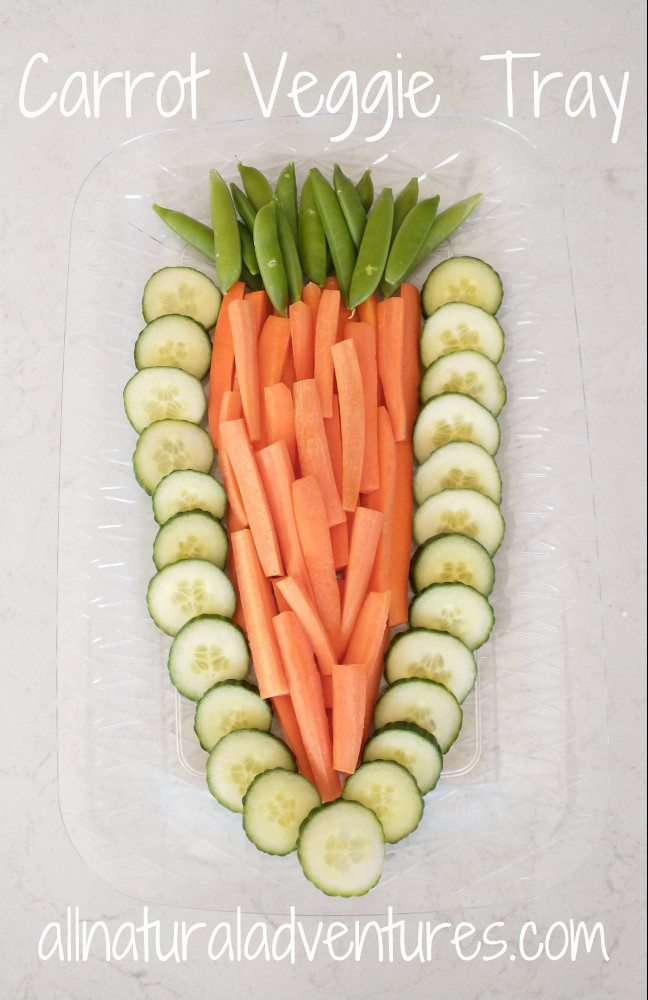 A super simple and easy to assemble veggie tray that still makes a striking platter for Easter.
What You Will Need
Large platter
3-4 large carrots or a bag of baby carrots
2 cucumbers
Bag of sugar snap peas or green beans
How to Make It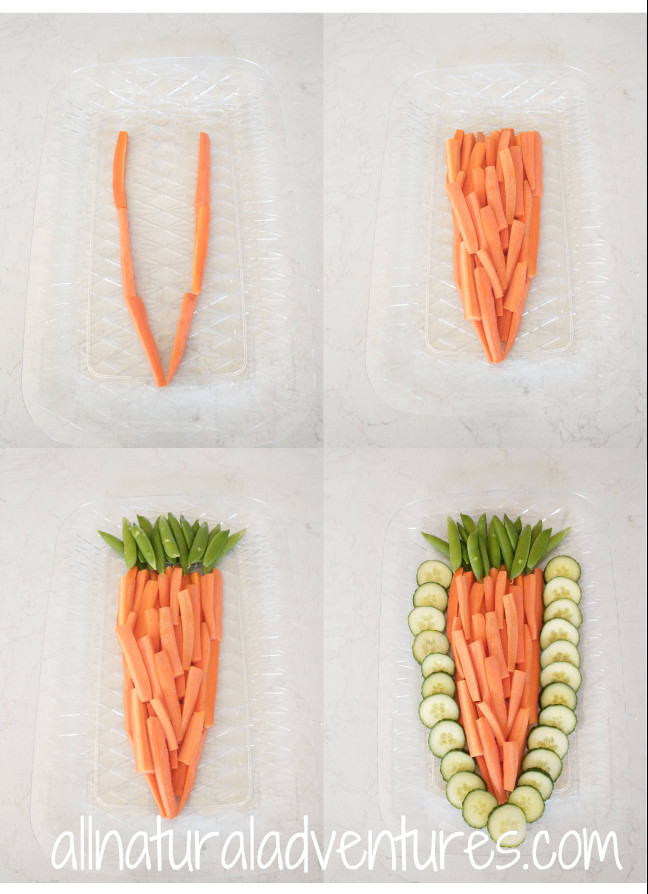 First, chop your cucumbers and carrots and set aside.
Arrange an outline of the carrot shape leaving room at the top for the stem pieces.
Fill in with all of your remaining carrots. Place the snap peas or green beans on the top of the carrot to form the green stems.
Surround the whole platter with a cucumber border.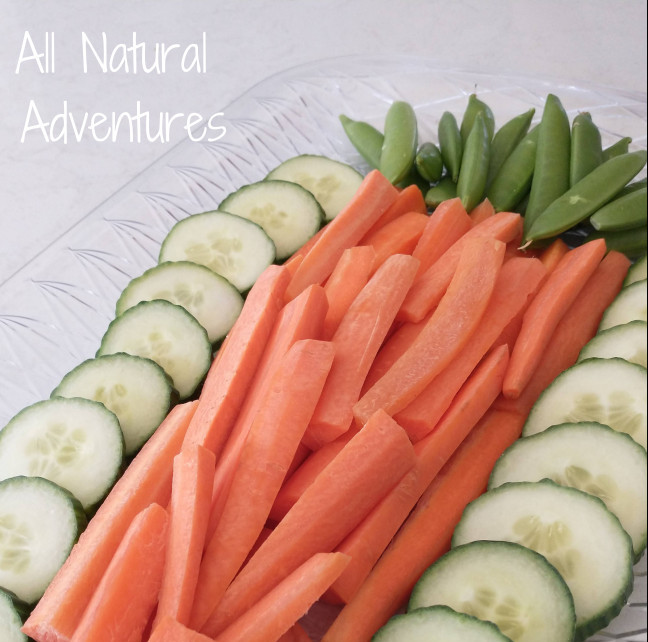 Viola, a quick and easy Carrot Veggie Tray for your Easter celebration!
Can you tell I like cucumbers? These cucumber borders just seems to make these veggie trays pop.
Happy Easter!
I hope you have a wonderful Easter and that you indulge in just as many if not more vegetables than treats this year!
For more Easter celebration ideas, check out: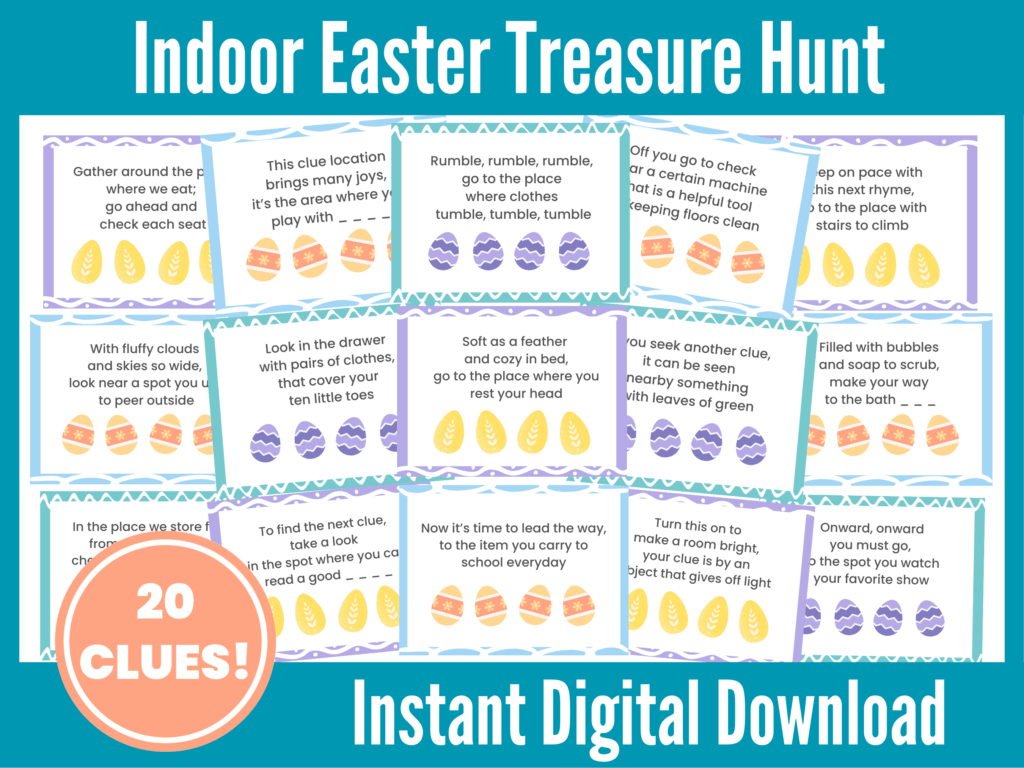 Which veggie platter do you prefer – the Easter Bunny Veggie Tray or the Carrot Veggie Tray? Leave a comment with your favorite one below.